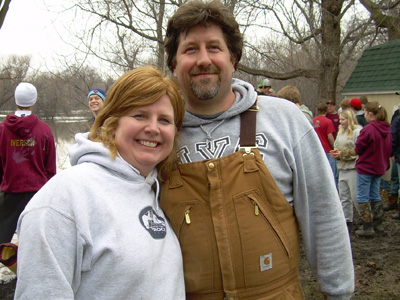 Todd and Donna Morse weren't around for the Great Flood of 1997 — they lived in Coon Rapids then — but they've quickly learned the art of flood protection against a river that has a penchant for taking detours through neighborhoods like theirs in Moorhead.
As she stood next to a backyard swimming pool where the flood of '97 stopped, Donna said her neighbors who were here in 1997 have been saying how surprised they are about how fast the Red River is rising toward them this year.
When I visited with them on Tuesday, they — and dozens of volunteers from a school in Fergus Falls — were putting the finishing touches on the portion of the neighborhood sandbag wall that will stop growing when it reaches 42 feet.
Then they wait.
"(We'll) keep our pumps ready and keep watching it closely and see what we need to do," Donna said. "We've plugged drains in the basement; we've hauled stuff up from the basement in case it breaches on the other side."
They got a boost from the kids on Tuesday morning. "We were out doing it and they came around the corner like the cavalry," she said.

When I took the picture above, I said they looked awfully happy for having a flood on the doorstep. So they gave me this: