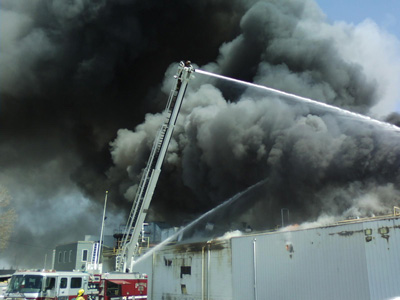 2:03 p.m. The Winona Daily News is reporting that St. Charles, Minnesota is being evacuated at this hour. "A massive fire at North Star Foods is approaching several large chemical tanks, and smoke pouring over the town may already contain chemicals. Authorities say no one is allowed in the city limits," according to the paper.
(h/t: News Cut reader Aaron Perleberg)
2:06 p.m. – Here's the Web site for North Star Foods. It's a turkey processing company.
2:11 p.m. – The Google view of the area: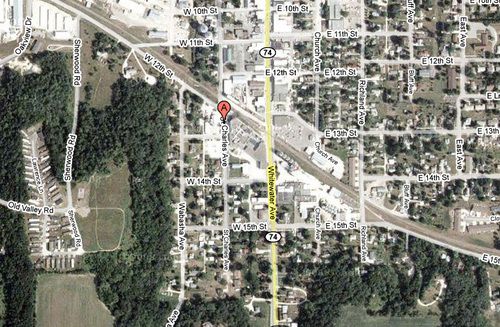 2:17 p.m. – The Rochester Post Bulletin says the fire started in an oven. It also reports residents are already concerned about the future of a major employer in the city. Some photos are also available on the site.
2:20 p.m. – Data on St. Charles. The population is under 4,000
2:27 p.m. – Why are there chemicals in a turkey/chicken processing plant? "Anhydrous ammonia is often used in the refrigeration systems inside poultry plants. But if large amounts leak, it can cause serious respiratory problems and even death," according to the Charlotte News and Observer.
2:30 p.m. – Information on the state of Minnesota's anhydrous ammonia program from the Department of Agriculture. Here's an outline for emergency response to situations involving anhydrous ammonia.
When anhydrous ammonia gas or liquid comes in contact with the human body three types of injuries may result:

1. Dehydration. Is the result of ammonia's great attraction for water. Anhydrous ammonia will extract water from body tissue.

2. Caustic burning. Is the result of the strong base formed when ammonia combines with water from body tissue. Once ammonia extracts water from body tissue it forms ammonium hydroxide that can chemically burn tissue.

3. Freezing. As liquid ammonia vaporizes it pulls heat away from body tissue causing frostbite in an instant. Released liquid anhydrous ammonia has a temperature of -28°F.

There is no antidote for ammonia poisoning. First aid consists of decontamination, maintaining open airway, and respiration support followed by rapid transport to an advanced medical care facility. After decontamination no special protective clothing is required for those caring for the injured.

Be aware that children are much more vulnerable to ammonia injury because of their larger surface area to body weight ratio. Also, a child's respiratory system will suffer the affects of ammonia exposure more so than an adult because children have a greater lung surface area relative to their body weight.
2:44 p.m. – Holly Rognholt, customer service specialist with the city of St. Charles, says people are being asked to go to the county fairgrounds for evacuation. She talked with MPR's Mark Zdechlik.
2:47 p.m. – Here's a University of Missouri extension service document on how to fight fires involving agricultural chemicals.
2:51 p.m. – Civil defense sirens are sounding in St. Charles, according to the Winona News. Some very compelling photos are available on the Post Bulletin Web site.
2:59 p.m. – More pictures from the ABC TV affiliate in Austin.
3:07 p.m. – Background: The last time ammonia caused an evacuation of a city in Minnesota was 2007, when about 100 people in Lake City had to leave their homes because of a leaky railroad tank car.
3:15 p.m. – I know it's a long shot but if there's a St. Charles reader/listener who has taken some pictures, please send them to me via this form or email to bcollins@mpr.org.
3:24 p.m. – MPR's Mark Zdechlik is talking to a St. Charles resident, one of our Public Insight Network members. I hope to have it posted here within a few minutes.
3:41 p.m. – Here's the interview with Tom Ames, the St. Charles superintendent of schools, who was closing up a school when reached by MPR's Mark Zdechlik.
4:39 p.m. – The Post Bulletin has video. It also appears residents will not be let back into the city tonight, according to the Winona Daily News.
4:53 p.m. – Is it time to reconsider the law that prevents Minnesota cities from being able to order mandatory evacuations? Counties can, but cities can't. We saw that up in the flood zone in Moorhead. Walt Kelly of the Winona Emergency Operations Center told MPR News, "You cannot have a mandatory evacuation so they are collecting if anybody refuses or says they are not going to leave they are taking identity information and address and next of kin just in case it is serious they do want people to leave."
5:03 p.m. – Sorry TV copters, the FAA has made St. Charles a "no fly" zone:
ZMP MN.. FLIGHT RESTRICTIONS ST CHARLES, MN. EFFECTIVE IMMEDIATELY UNTIL FURTHER NOTICE. PURSUANT TO 14 CFR SECTION 91.137(A)(1) TEMPORARY FLIGHT RESTRICTIONS ARE IN EFFECT FOR CHEMICAL FIRE WITH ANHYDROUS AMMONIA TANKS NEAR. ONLY RELIEF AIRCRAFT OPERATIONS UNDER DIRECTION OF FAA AND MARK DARNELL – OLMSTED COUNTY SHERIFF ARE AUTHORIZED IN THE AIRSPACE AT AND BELOW 3000 FEET AGL WITHIN A 3 NAUTICAL MILE RADIUS OF 435645N/0920359W OR THE ROCHESTER /RST/ VOR/DME 062.0 DEGREE RADIAL AT 25.0 NAUTICAL MILES. FAA AND MARK DARNELL – OLMSTED COUNTY SHERIFF TELEPHONE 507-285-8580 IS IN CHARGE OF ON SCENE EMERGENCY RESPONSE ACTIVITY. MINNEAPOLIS /ZMP/ ARTCC TELEPHONE 651-463-5580 IS THE FAA COORDINATION FACILITY.
5:33 p.m. – MPR's Sea Stachura has arrived in the St. Charles area. She was on All Things Considered a few minutes ago. I'll encode the audio and post it here.
6:00 p.m. – Here's Sea's report with Tom Crann on All Things Considered.
6:01 p.m. – According to Minnesota's Department of Homeland Security, the ammonia tanks are being emptied into hazardous material containers. Officials say they do not now expect the tanks to explode.
Please check the MPR Web site for the latest through the evening.
6:11 p.m. – I'm not exactly sure what this is telling us, but NOAA has released an animated image showing the smoke plumb.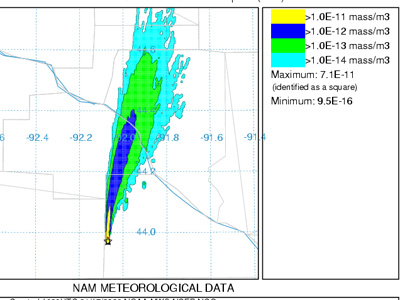 Watch the animated version here.
And this National Weather Service radar image shows the smoke being detected.
9:32 p.m. -Thanks to Chelsa Kern of Dover for these shots: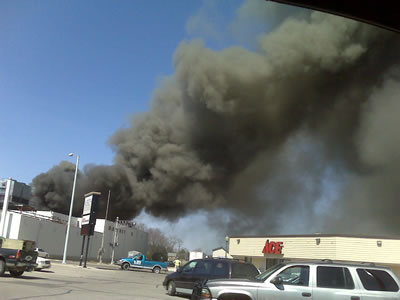 These were taken around 11:30 Friday morning…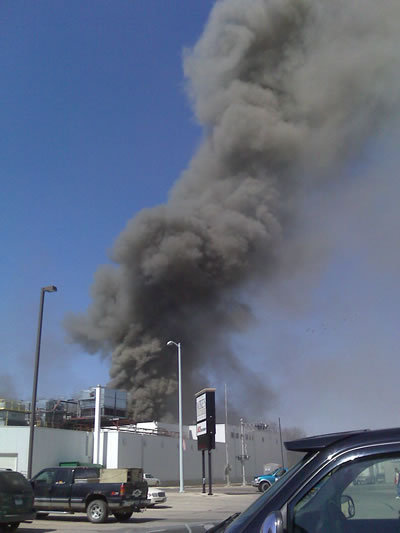 And Craig Hilmer of St. Charles took this picture around 1:30 on Friday afternoon.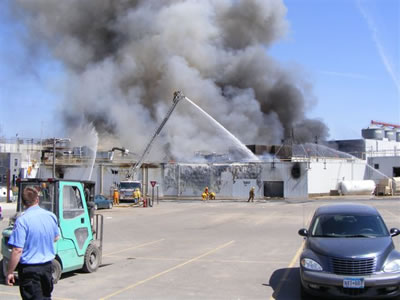 9:38 p.m. – The fire is nearly out, according to MPR's Jess Mador.
Many, many thanks to the News Cut readers who helped us out on this story!