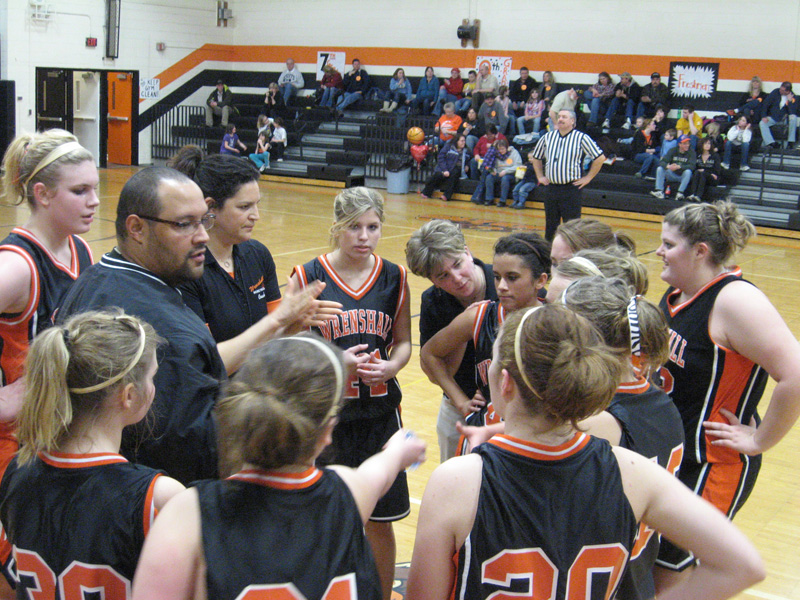 The Wrenshall girls basketball team huddled up in the middle of another loss in 2010.  Bob Collins | MPR News

In the gym at Wrenshall (Minn.) High School, the girl's basketball team stretches before practice with a series of chants that ends with an elusive wish. "Victory!"
A plaque dedicated to a not-long-ago tournament team watches over them. There will be no state tournament for this year's Wrenshall Wrens. Chances are there won't be a victory, either. The Wrens entered the week 0-17 and ranked 18,558th nationally.
In small towns like Wrenshall — population 386 with a high school enrollment of under 100– graduations can rob a team of talent in a hurry. The starters have to play most of the game; players on the junior varsity make up much of the bench, even though they've usually just finished playing their own game.
In December, Wrenshall lost a game to Moose Lake 65-0. The girls have every right to be dispirited. Amazingly, they're not. Not even close. In Wrenshall, you show who you are by showing up.
"Other teams have said, 'Why even show up or try?' You know, we're going to try because we like the sport and we're going to give it our all, because we want to play," says 11th-grader Christine Laveau, who was one of two current players who played on the 2008 Wrenshall state tournament team. Showing up and playing hard, she says, shows respect.
It's something the world didn't give her team when the 65-0 loss made national news. The jokes have died down now. "It's just a game. You're not going to die because you lose 65-nothing," co-captain Maria Burcar says.
No more shutouts
The team set a goal for itself after the Moose Lake game: It wouldn't be shut out again. When Barnum High School, one of the best teams in the state, played Wrenshall last month, the Bombers scored 118 points on the Wrens, who were quick to find the positive; Wrenshall scored 12.
It takes a grown-up bunch of kids to see the value in a 106-point loss.
"Even though we didn't play our best, we still scored points against them and that made us feel better because we scored points against them. So it's like a positive thing for us," Natalie Peeney says.
"They're learning every day and they're open to learning, which is very important with basketball, and they show up. We haven't had anybody quit, and I really commend them for their commitment this year" says Wrenshall coach Michelle Blanchard, who turned to her big brother for help after the Moose Lake loss. Damian LaFave, along with Sheri Nelson, serve as assistants.
"Before every game, they're pumped up like they're the number-one team in the state and after every game, they're smiling and joking around," LaFave says. "They're wiped out, they're tired, but the other team coaches and players get a perplexed look like, "What are they so happy about? The score was this to this?'"
Talk to each Wrenshall girl about their memory of this season, and no one mentions losing. Samantha Gan, a 7th grader, scored a basket at the buzzer in a loss to Cromwell while having an asthma attack.
Transfer student Beth Stewart got the playing opportunity she couldn't get at a bigger school. "I like this school better," she says. "I like the smaller numbers because you don't get much opportunity at Denfeld. Coaches look for players from certain families."
Taylor Dagger picked up 8 fouls in an afternoon's work, playing first for the JV, and then for the varsity in consecutive games.
Franzi Schwarz is playing organized basketball for the first time in her life. She's an exchange student from Germany.
It's all fun, they say, except for the occasional jokes from classmates.
"It's like when we showed up at school the other (day) and and it was like, 'Did you guys win?' No," says Burcar. "And they'd go off and make fun of us and it's like, 'You weren't there, you don't know how we played.' It could be a good game and we lost by 30. But we still played well and we're still going to be positive the next day."
Sportsmanship on the court
What some of her classmates don't appreciate about the Wrens' positive approach, Laveau says, some of her team's opponents do.
"Some of them personally walk up to you and shake your hand and tell you what you've been doing good at," she says. "Even some of the parents have walked up to me and told me my team has lots of spirit and they've been giving their hearts to it." Opposing coaches have also counseled the kids.
Let's be clear here. Nobody likes losing. But "you're there to have fun," says Laveau. "You're not there to win every game. You're out there to have fun. And learn and get more experience doing things like learning from your coaches and teammates. Learning from other people."
Some schools have tried to take it easy on the Wrenshall girls.
"We had one school that wanted our varsity to play their JV and our JV to play their junior high …. and that wasn't going to happen because we're going to play at the level we're at," Burcar says.
The players credit their coaches for never yelling at them. The coaches credit their players for never quitting.
"They're a great group of kids," Blanchard says. "And it's made our losing streak easier because they are a great group of girls. They stay positive and you've seen they work hard. We've had team meetings here and there. In fact, a couple of weeks ago, I just asked the girls, 'How do you feel about us coaches?' It's important to have their perspective, too. I'm not the type of person that just preaches and preaches and preaches."
A chance to break the streak
Monday night was parents night at the Wrenshall gym. The girls gave their parents flowers during introductions. But then it was time for work.
Wrenshall quickly fell behind the Cromwell Cardinals, 12-0. They trailed 29-6 at halftime.
When Blanchard called a time out, she had one piece of advice ("Calm down") and one observation ("You guys are doing awesome…").
If an attitude was all it took, the stage was set for a stirring Wrenshall second-half comeback. But attitude is not all it takes. Cromwell brought 18 players to Wrenshall. They were older, quicker, and, frankly, better.
Wrenshall lost, 54-20, and fell to 0-and-18 on the season. Though they held Cromwell scoreless over the last six minutes, that's not quite as exhilarating as a win. Neither is the fact that a 34-point loss on Monday night is substantially better than their 64-point loss to the same team last month. But it's progress.
The team is back practicing for an upcoming game against their rivals — the Carlton Bulldogs. They predict a win.
Someday, it may be Wrenshall's turn to beat a team, 65-0. They already know what they'll tell their vanquished opponents. "Just keep going. Don't give up, just because you had a bad game," they said.
In other words: Be like the women of Wrenshall.