Higher education reporter Tim Post took some demolition pictures at the University of St. Thomas this morning. The wrecking ball is out for a full-force demolition* because this is a space-clearing measure for new student buildings.
Post kindly sped this photo off to News Cut Headquarters. This slow-motion-smash in a single set is right here: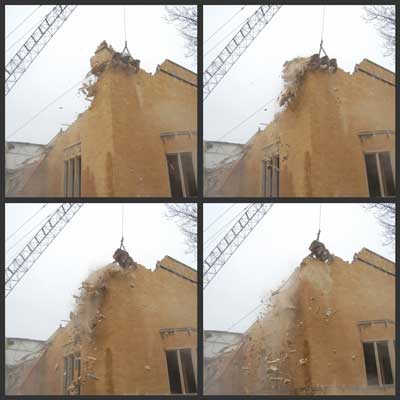 Demolition began Thursday on O'Shaughnessy Hall at the University of St. Thomas in St. Paul. The two week deconstruction job will make way for a sports recreation complex and a future student center. O'Shaughnessy Hall was built in 1940.
While Post is in the field working on other stories, we'll check back with more details. Share your own in the comments – photos or first-hand knowledge especially welcome.
UPDATE 1:33 p.m. Post dropped me another line and provides this info from the UST news release:
Crews from Carl Bolander & Sons Co. will begin to demolish the 70-year-old building after 7 a.m. Thursday and expect the job will take about two weeks. Most of the remaining material – limestone and concrete – will be recycled and used at other construction sites.
That means two weeks of activity, so if you're in the area and have your camera handy send us your photos!
*The News Cut Dictionary says: Demolition and deconstruction differ. Deconstruction preserves some structural or even design elements for a new use.