1) Politifact, the award-winning political fact-checking site of the St. Petersburg Times, takes on the new Arizona law that's causing a nationwide backlash. Specifically, it fact-checks columnist George Will's assertion that the law mirrors federal law.
Opponents are adamant that the bill is unconstitutional. For instance, the Mexican American Legal Defense & Educational Fund wrote in a letter to Brewer that the new law will "require or permit public officials to investigate and determine individual's immigration status. These provisions regulate immigration and are impermissible intrusions on Congress' exclusive constitutional powers."

They also argue that the Arizona law would allow local enforcement authorities to arrest those suspected of being in violation of the law without a warrant. But without a formal agreement with federal authorities, states are prohibited from enforcing civil violations of immigration law, they argue.

The legal scholars we spoke with told us to take a close look at two key sections of Title 8 of the U.S. Code. Section 1304e requires that "every alien, eighteen years of age and over, shall at all times carry with him and have in his personal possession any certificate of alien registration or alien registration receipt card issued to him." Those who fail to comply will be guilty of a misdemeanor and will be fined $100 and can be imprisoned up to 30 days.
That explains the problem with people who are in the U.S. illegally, but what about people who are U.S. citizens? If they can be stopped for being "suspected" of being here illegally, would they feel compelled to carry passports with them at all times "just in case"? You probably don't carry your passport with you at all times. And that's one of the problems. For practical purposes, some U.S. citizens will be required to carry documentation with them at all times; some won't.
A News Cut reader tells us:
I am a true American, having served my country in Desert Storm and with a viable historical ancestry in California longer than most white American's, I understand the need to secure our country, I fought for my country and would do it again, but, this is personal. My children, because they look Mexican, will always be looked at suspiciously when traveling to Arizona, that is why I will not buy, nor support anything coming out of Arizona. This is not the American I fought for in Desert Storm and those that support it must be non-Americans and are using this bill as an excuse to be racist against anybody that looks Mexican. Wow. WW11 Germany in America?
The New York Times today talks to migrants on the other side of the border, who say they'll continue to try to get into the U.S.
"We work for the people of Arizona and now they don't want us," fumed Miguel, who said he was part a group of several dozen people caught by the Border Patrol in the desert this week and bused back to the border. He said he would be making another attempt — his eighth in recent years — soon.

Relatively few migrants said the law would keep them from crossing, though they planned to steer clear of police officers even more than they did before.
While the law's supporters say it's needed because the federal government won't enforce existing law, it appears some local cops won't enforce it either. "If I tell my people to go out and look for A, B, and C, they're going to do it. They'll find some flimsy excuse like a tail light that's not working as a basis for a stop, which is a bunch of baloney," Sheriff Clarence Dupnik of Pima County (Tucson) said.
Mrs. News Cut and I were in Arizona a month ago. We noticed that, unlike in Minnesota, many people seem to follow the speed limit and they don't run red lights. Now we know why.
2) Driving home from work last evening on Robert St., a St. Paul police car came screaming up from behind. Everyone pulled over. A bit later, came another one. Again, everyone pulled over. Even though it's the law, it still a good feeling when people put themselves second to whomever needed the police. I followed them up Robert Street ,and onto George. When I got to Hall Avenue, a fire truck was in the road. So was a kid's bicycle. I expected the worst.
Fortunately, the young man was on the ground and was OK. The first responders from the fire department — maybe four of them — were asking the boy his name and doing the things first responders do. A moment later, the ambulance arrived with two paramedics. About four or five police officers were directing traffic and talking to people, asking if they'd seen what happened. Several residents piped up. He'd been hit by a car. The driver, apparently, had gone around a car that was stopped, not knowing the car was stopped because there was a kid on a bicycle.
We spent a lot of time yesterday talking about the role of government, thanks to the usual political debate. Sometimes it's a good idea to notice that someone's tax dollars were well spent yesterday, making sure a little kid on a bike was OK.
3) Hal and Bob Datta are finally going to see the memorial dedicated to them. The Winona brothers are heading out on a Freedom Honor Flight, the program that pays for vets to go to Washington to see the World War II Memorial, the Winona Daily News reports.
Bob became a pilot and Hal, a radio operator. Bob was stationed at Okinawa. Hal was later stationed about 10 miles down the road. When Hal learned of his brother's whereabouts, he hitched to the base and found the shack Bob and a friend had built to live in. Hal hid in the closet until Bob returned from the shower.

"That was they best surprise I could have gotten," Bob said Wednesday, clutching a small black-and-white photo of he and Hal in front of the shack.
KTTC has a profile of a Lewiston man who is also going to Washington.
4) It appears the Minnesota Legislature really is going to do it — bring a bill to the floor to build the Minnesota Vikings a new stadium, according to the Pioneer Press.
"We're planning on rolling something out next week," co-sponsor Sen. Julie Rosen, R-Fairmont, said Wednesday.

The bill includes two major options, including rebuilding on the site of the Metrodome using taxes currently being raised for the Minneapolis Convention Center. The second option, while not site specific, would pre-authorize a menu of local taxes and set up a stadium commission. If it passed, any local government could select from that tax menu to put together a financing package with the team and seek approval from the commission.
The Star Tribune, meanwhile, reports the state has started closing facilities aimed at helping people with mental illness in the state. Ironically, the same lawmaker is quoted in both of these stories:
Legislators turned testy with a state agency official Wednesday when they learned that the Pawlenty administration will eliminate the jobs of 72 mental health workers on Friday and close or downsize four mental health facilities — just as lawmakers are crafting laws to keep the services going.

"Why did you do this before the end of the session?" asked Sen. Julie Rosen, R-Fairmont, at a meeting of the Senate Health and Human Services Budget Division.
The Minnesota Budget Bites blog, meanwhile, evaluates the Health and Human Services bill that passed out of committee on Wednesday.
5) Some ideas seem brilliant at the time, but history often proves otherwise. Take the burning of St. Paul's streetcars, for example.
Check out Cathy Wurzer's tour of the Minnesota Streetcar Museum.
After the piece aired this morning, a listener wrote to recommend this definitive book on the subject.
Bonus: MPR's Tom Weber was in Butterfield, Minnesota this week when this obvious question presented itself: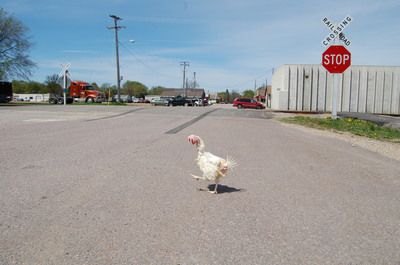 The answer to the question: To get away from the chicken processing plant from which she had just escaped.
TODAY'S QUESTION
Planners say the Twin Cities area can't solve its congestion problems simply by building more roads. What transit options would you like to have?
WHAT WE'RE DOING
Midmorning (9-11 a.m.) – First hour: Infectious diseases spread from continent to continent faster than ever before as our society becomes more mobile. Two physicians with experience in tropical medicine make the case for re-thinking how we teach and provide medical care to new immigrants and world travelers.
Second hour: A recent article in the Wall Street Journal suggests that as companies rely on leaner staffs, young professionals are being handed new responsibilities and getting more experience under their belts. The drawback is that the extra work doesn't always come with extra compensation.
Midday (11 a.m. – 1 p.m.) – First hour: Former Sen. Norm Coleman and former congressman Vin Weber discuss the past/present/future of the Republican Party.
Second hour: Ray Suarez hosts a special report about the deficit, featuring highlights from Wednesday's National Commission on Fiscal Responsibility and Reform.
Talk of the Nation (1-3 p.m.) – First hour: Who is the Tea Party?
Second hour: Inside the scandal at the L.A. Archdiocese.
All Things Considered (3-6:30 p.m.) – The Central Corridor series continues. The Central Corridor would benefit some of the poorest and diverse neighborhoods in the city of St. Paul. The problem is many members of those communities say they don't even want it. MPR's Laura Yuen will have the story.
The Muslim academic, Tariq Ramadan, was banned from the U.S. for six years. Now, he's on his first visit to the U.S. since the ban was lifted, explaining to American audiences why he calls Islam a Western religion. Accused here of being too much a Muslim, in traditional Muslim countries, he's regarded as too Western. You'll hear from Ramadan this afternoon.
If not sooner…