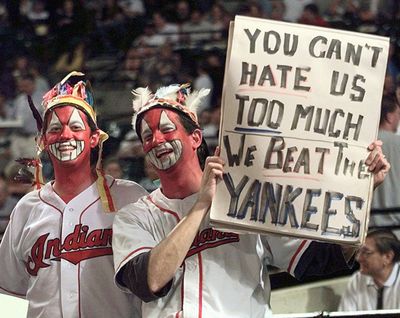 Minnesota fans, you really don't hate the New York Yankees. You hate the Cleveland Indians.
So says an "Internet algorithm" built by Nielsen Company, the Wall Street Journal reports. It calculated what baseball team is the most despised. Finally, the Indians won something.
No team registered a negative mark on Nielsen's "sentiment scale," which ranges from -5 to 5, but the Yankees (1.8) were one of only six teams to score lower than 2. The Mets finished four spots higher, making them the ninth most-hated team. "Even Yankee fans don't hate the Mets these days," says Benjamin Kabak, a writer for the River Avenue Blues Yankees blog. "We just feel bad for them."

The San Francisco Giants (4.5) and Oakland Athletics (4.2) were the most-liked teams on this scale, suggesting that laid-back Northern California fans are the most accepting. But the Cleveland Indians' MLB-worst 0.9 was a bit of a surprise. They simply haven't done a lot over the past 13 years to warrant that much attention. "I can believe that though," says Ed Carroll, who runs the Deep Left Field Indians blog. "The team does a lot to alienate its fans." The unheralded Cincinnati Reds (1.5) and Houston Astros (1.8) were also in the basement.
The Twins? They're not even in the top 10. They are, however, the #1 team in the increase in sentimental value since spring training, according to Nielsen, moving up to #7 in overall love.
team that has
Part of that could be because the local squad has the best chance of beating the Yankees in the postseason.