Julia Schrenkler, interactive producer for Minnesota Public Radio, time traveled to the exotic land of South St. Paul yesterday, from where she filed this report.
There's history in Minnesota. Some stories are undiscovered, and others can be found if you're willing to visit Hangar #3 at Fleming Field in South St. Paul.
The Minnesota Wing of the Commemorative Air Force tends and flies some of the aircraft that shaped history. The goals: preserve and educate. They restore, maintain and show the planes. The Quonset hangar a short distance from the Twin Cities International Airport is the home base for the flying machines and the people who love them.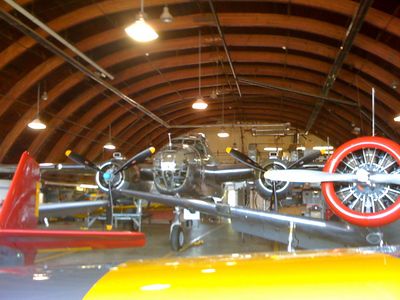 The planes dominate the aircraft entrance area while maintenance tool chests are scattered around the edges. In the back are historical displays (complete with propaganda and a collection of unopened rations) and where the men in uniform were waiting.
These men aren't pilots. They're not a functional flying crew. They're re-enactors and they were willing to deliver a crash course on their passion for history.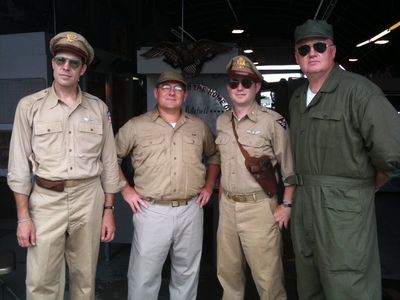 The pursuit of historical truth
"We're research geeks," Eric Cheever said, "I've always been obsessed with history, and I read as much of it as I could." Cheever seems to favor researching mid 20th century events and explained his father's friends were WWII veterans, "To sit and hear this history from a participant – you can't get that from a history book." He explained that once he started re-enacting, his understanding of what these people did "took a quantum leap in understanding."
But you may get it from someone willing to research it, experience it, and expose you to it.
The search – and perhaps rescue – of lost information is a first focus for the group. Troy LaFaye has ten years of reenacting experience. He simply stated, "If we are not historically accurate, it defeats the point of the hobby." LaFaye carefully elaborated that this activity isn't a glorification of war, but to demonstrate the people involved in the war and life at that time suffered. It is also LaFaye's goal to share that knowledge, "A lot of people that join think it's like playing airsoft or paint ball, but the whole point of reenacting is not to go out and 'play Army' by shooting blanks – although that's fun – the whole idea is to commemorate the men and women who were involved. The purpose is to teach history to other people, like a live version of a history book."
Gearing up to be living history
Eric Cheever suited up, gives a gear lesson.

It comes across as an intense hobby. While Michael Wells recorded the video of Cheever (above) re-enactor Darren Byrnes showed me some of his aviation gear. One piece, the packed parachute, looks like an overstuffed and unwieldly heavy messenger bag. I picked it up to get a sense of its weight and Byrnes laughed a little, "It's stuffed with a pillow." The parachute container is a mass of clips and webbed handles, designed to be quickly attached to a crew member. Byrnes showed me that they were actually stowed within arm's reach or loosely clipped at chest level, unlike the backpack-style system most people associate with parachutes. His next project relates directly to that life-saving device: working with Cheever to create their own parachute harnesses to complete their period-correct aviator uniforms. eBay was a source for the harness webbing, and the men will stitch them from scratch. Eventually a parachute equivalent will be in the pack, although Byrnes noted it would clearly not be safe or functional equipment.
Going to market
Not everything is hand-sewn or perhaps a family hand-me-down, there are collectors and sellers actively trading in historical pieces. Steve Shumaker tells me that the cost varies. "It depends on the market." He explained that a wealthy or avid collector can quickly and perhaps unwittingly create demand and drive up prices. Culture and media can affect cost, as even history has trends and fads. Shumaker gave an example, "'The Pacific' came out on HBO, and the Marine stuff is really big now!" Shumaker also notes that authenticity is expected, and that the group was onces called to task about their uniforms,"'Line up and let me see what you got wrong' the WWII vet said. After looking them over for a couple minutes, the vet shrugged and said 'Not a thing.'"
Meeting the Miss Mitchell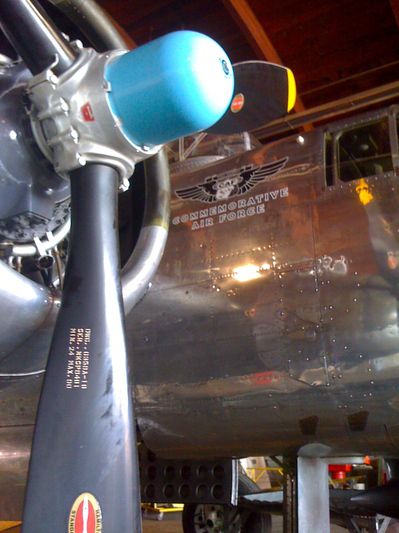 The group eventually moved towards the big plane, the main draw, the Miss Mitchell. A B-25 bomber, she looks big from a distance but surprised me with her actual size in the hangar. Aside from wing span, the plane actually seemed… small. I bet her main body couldn't be more than 12-15 feet longer than an average city bus. Although her physical size surprised me, her solidity didn't. Her panels are heavy under hand and riveted at consistent distances, giving her an armored appearance at certain perspectives.
I saw the re-enactors gravitate to her. LaFaye couldn't seem to resist looking at the plane or keep from smoothing the panels. They kept moving around the aircraft, explaining the crew's experiences and different roles between quiet gazes at the plane.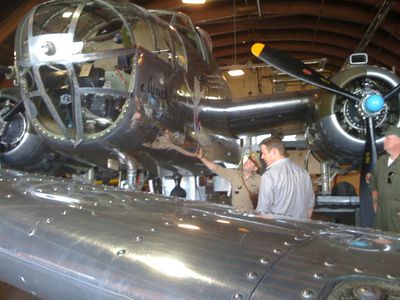 Boarding the plane is done alone. There's no jet bridge on a bomber, but multiple drop ladders that allow for one person to get into place at a time. We took breaks between entering the different assignment seats. Everything is a tight fit. Shumacker is 6'4″ and broad-shouldered, but he showed no hesitation moving into the pilot's seat. I gamely tried to be graceful in the tight spots like the steel tunnel to the bombadier's position, but compared to the light and open space in the hangar the B-25 is dark and almost counter-intuitive inside. Everything seemed at odds with my perception of where I was actually at in the plane.
For example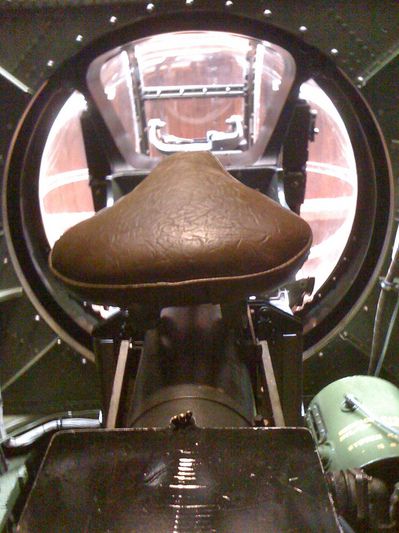 The mid-gunner's seat, shown here currently stowed perpendicular to the body of the plane. During flight, the seat ratchets up to 90 degrees. (Independent video of the turret in operation) It probably tested the best stomachs during banked turns.
It wasn't until I took the tail gunner's position that the re-enactors' messages finally clicked for me. Sitting on the equivalent of an old bike seat, with a 280-degree view but a small gun sight, trigger handles close and only one small constructed exit in an odd and difficult spot behind me… I got it. The vulnerability and violence in such a small space was overwhelming.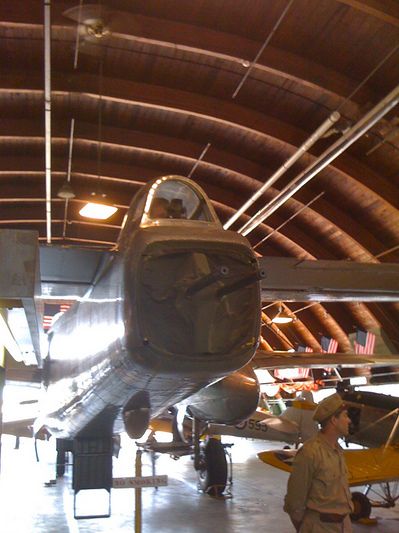 The crew member that staffed this position was likely half my age at the time of the war. He straddled a small seat with steel under him and clarity to the sides and above, seeing the entire flight mission move backwards away from his perspective. At any moment he could possibly be the first to spot enemy fire coming directly towards him. His tools were two machine guns mounted to the frame but practically in his lap, their workings literally zipped-in with nothing but heavy military fabric to the tail of the plane so they could be maintained without removal. I remembered the plane's enormous engine and exhaust noise from a different visit to Fleming Field, I considered what it would have meant to think about that fabric barrier but a foot or so away, and the threat of a forceful wartime death at so young an age.
Those impression aren't in this slideshow, but are a direct result of this history visit. I owe that moment to the re-enactors.
The Minnesota Wing of the Commemorative Air Force has open hours and hosts events at the hangar, such as charity open houses and food & drink events, like "Hops & Props."