Football is the only way to tell the wind story, the bones of Lowertown, calling all nukes, it gets better at Facebook, and is it too soon to talk about after the election?

1) IT'S NOT THE WIND, IT'S THE… NO, IT IS THE WIND
Wind storms are no fun. You can call your relatives elsewhere during a blizzard and impress them with the scale of it all. Same with a flood. It's all very photogenic. A wind storm? It's been no picnic for any of us, but it's particularly excruciating for those of us trying to impress others with "We dropped 24 millibars in less than 24 hours!" or "We set a record in Grand Rapids with a barometric pressure of 28.28!"
But people get football. So the best video award for documenting the unseen villain comes from KARE.
That's Woodbury's ball. It traveled at least 10 yards before it didn't.
A photo gallery on the Duluth News Tribune site also documents the joys of a football game in Hermantown. MPR's Paul Huttner has the science of it all on his Updraft blog.
By the way, Mary Lucia on The Current yesterday asked me why only one runway at the airport was open and I gave her a stupid answer. The real answer is that there's only one runway that points in the general direction of where the wind is coming from (the southwest). When the wind turns closer to the northwest, the parallel runways can reopen. According to the latest winds forecast, that should be late this morning or early this afternoon.
2) THE BONES OF LOWERTOWN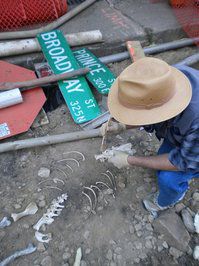 You're going to have to get up a little earlier to fool what remains of the mainstream media. The plot of Lowertown fans in St. Paul was unearthed by the Pioneer Press' City Hall Scoop, which details an effort to try to convince the media that some sort of archaeological dig and the discovery of bones was holding up work in St. Paul's Lowertown area, where light-rail preparations are underway:
A different reporter had pressed Nancy Homans, Mayor Chris Coleman's go-to gal on the Central Corridor. Homans acknowledged to the Scoop that at first she bought it, hook, line and sinker.

"I believed all of it," Homans said with a chuckle. "But I was surprised I wasn't getting contacted by the Met Council. Actually, I was getting a little ticked about it because I'm supposed to be told if construction is halted." Eventually, Homans, stomped down to Lowertown herself, surveyed the scene, and figured out that nothing added up.
The news here is that nobody in the mainstream media bit on the hoax. And Lowertown is still an impossible place to maneuver these days.
3) CALLING ALL NUKES
For 45 minutes on Saturday morning, launch control officers at F.E. Warren Air Force Base in Wyoming couldn't reliably communicate or monitor the status of 50 Minuteman III nuclear missiles. An Air Force officer says there's no reason to worry. "Something similar happened before at other missile fields," he said. Ah.
4) MORE "IT GETS BETTER"
Facebook employees are the latest people to post to the "It Gets Better" campaign:
5) IS IT TOO EARLY TO TALK ABOUT AFTER THE ELECTION?
The latest from Nate Silver's Quija Board: Republicans will gain 52 seats and control of the House. But the Democrats will retain the Senate. The next two years will provide a neat experiment: Will a divided government be more bipartisan than a single-party-dominated government was?
Meanwhile, MPR's Lorna Benson has profiled the scant detail from gubernatorial candidates on the issue of health care spending. We'll find out after we elect one of them, apparently.
The politicians got all the ink for building the health care bill, but it's the people with the green eye shades at the Internal Revenue Service who'll determine its full impact on you. Yesterday, the IRS determined what is and isn't a covered medical expense under flexible savings accounts.
Denture adhesive? Yes. Breast pumps for nursing mothers? No. (New York Times)
While breast-feeding supplies weren't allowed under the old regulations either, one major goal of the health care overhaul was to control medical costs by encouraging preventive procedures like immunizations and screenings.

Despite a growing body of research indicating that the antibodies passed from mother to child in breast milk could reduce disease among infants — including one recent study that found it could prevent the premature death of 900 babies a year — the I.R.S. has denied a request from the American Academy of Pediatrics to reclassify breast-feeding costs as a medical care expense.
Bonus: Really? A bomb threat? Over Juan Williams? On Public Radio?
TODAY'S QUESTION
Iran has begun loading fuel into its first reactor, but has refused to allow inspectors to
verify that its nuclear program is peaceful. What should be the U.S. stance toward Iran?
WHAT WE'RE DOING
Midmorning (9-11 a.m.) – First hour: The new electric cars: Are they game changers?
Second hour: More than 30 years after the publication of "The Eden Express," a revealing tale of surviving mental illness, Mark Vonnegut returns to the literary scene.
Midday (11 a.m. – 1 p.m.) – First half hour: 7th District congressional candidates debate.
Second half hour: Attorney general candidates debate from TPT.
Second hour: Gubernatorial debate sponsored by Debate Minnesota, recorded last night in Mankato.
Talk of the Nation (1-3 p.m.) – First hour: NPR political editor Ken Rudin looks at the latest polling in House, Senate and gubernatorial races.
Second hour: Historian Joseph Ellis talks about what he calls, "the premier husband and wife team in all of American history:" John and Abigail Adams.
All Things Considered (3-6:30 p.m.) – -Most big companies these days are looking to boost the number of women- and minority-owned firms they do business with. Their motivation is not to give a break to these firms. Instead companies such as Supervalu and General Mills see diversity in business partners helping boost their bottom lines. MPR's Marty Moylan will have the story.
Chris Roberts follows up with some of the black voters he talked to right before the 2008 election. While they believe President Obama's been treated more harshly and unfairly because of race, they tend to attribute it to dramatic changes the nation is going through.