This image was taken nearly 40 years ago,: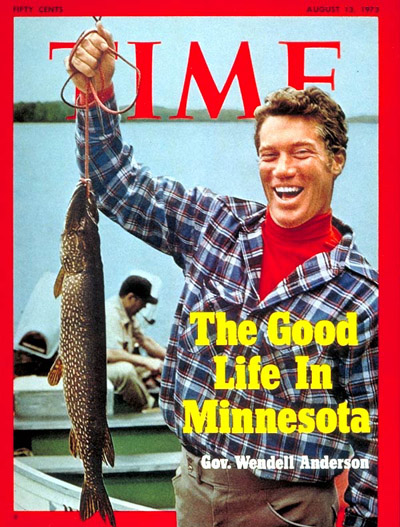 So it's probably time for an update, no?
Lars Leafblad is an incredibly well-connected Twin Cities businessman who is keenly interested in innovation and thinks a lot about why Minnesota is great and how it could be better.
In a recent interview with The Line Leafblad says that it's time to start thinking differently about what defines the Minnesota identity:
When you think of this region, there are so many great ingredients in the pot, but what hasn't emerged is a clear image. Remember the cover story on our state in Time magazine in 1973–"The Good Life in Minnesota"? The cover photo was Governor Wendell Anderson by a lake with a northern pike in his hand. It was Time's shot, of course, and I think people interpreted "the good life in Minnesota" in a lot of ways–but many people could say, that photo visualizes on a very visceral level why we love this place…

We're in a "white-paper" community. We have a lot of smart, well-educated people here, thinking and creating. We produce white papers and task forces and reports and strategic plans. But is there an image, a visualization of what we're trying to become? It would be interesting to try to come up with it. Maybe as a contest. What's the new snapshot? What's the new cover shot for "The Good Life in Minnesota"?
So what would you put on the cover to capture life in Minnesota? Leave your idea in the comments or share a photo here.
(h/t Andrew Haeg)