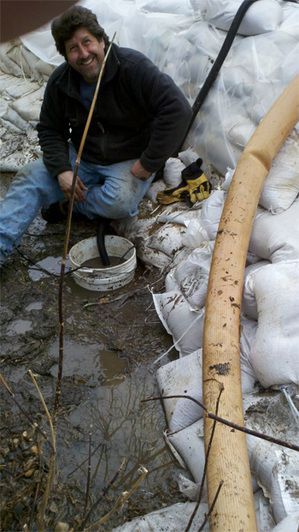 I've learned over the years that nobody can put a happy face on a flood like Todd Morse of south Moorhead. It's not that there aren't a million things he'd rather be doing this weekend than babysitting the Red River, but he's the poster boy for the "see the problem, fix the problem" spirit that's the only way to get through flood season here.
When the media — that's me — come flying in to cover the major drama, this isn't usually the type of thing we focus on — a man and his sump pump. But this aspect of holding back a river is every bit as important as a line of sandbagging volunteers.
Once the dikes are built, the work doesn't stop; it can't. It turns, instead, to what small weak spot that doesn't seem to an outsider worth paying attention to, is worth paying attention to.
It's little "leaks" like this.
The solution: A five gallon bucket drilled with holes set into the ground slightly, a sump pump you hope won't burn out, a nearby electrical outlet that's probably overloaded, considering the number of similar contraptions that are required, and — preferably — a good relationship between man and mud.
This scene is being repeated up and down the Red River this weekend. The word this morning is that the river is likely to crest earlier than expected — probably today — lower than expected.
That, of course, is good news except that officials remain worried that homeowners, whose every sentence these days seems to end with "compared to 2009," will get overconfident and start thinking about doing a million other things.
They needn't worry about Todd Morse.