The fight to save Riverside Circle in Moorhead in 2009 will undoubtedly be one of the most enduring memories of a career in the news business. It was that dramatic and that heartwarming to follow three families who threw everything they had at the Red River.
Their stories made them plenty of fans among NewsCut readers. They were so friendly and of such good spirit, that it could almost make a news blogger long for rising water, for the opportunity to visit again. They taught me — and, hopefully, you — valuable lessons about just getting done the things that needed to get done.
As it turned out, even though the Red River was beaten back in 2009 and again last spring, the river — or more accurately, the threat of the river — is eliminating the neighborhood.
One of the families I followed in 2009 took a buyout on their home last February.
Today comes word that a second family — Todd and Donna Morse — are leaving.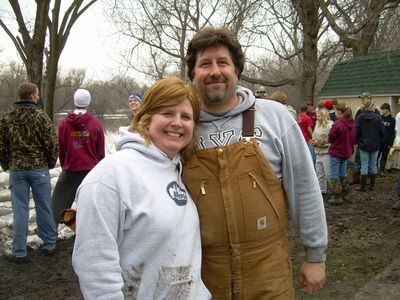 "It was really tough working with the city and walking away from our home. If there were any way we could have seen to make sense to stay, we would have," Donna said in an e-mail today. "This whole process has been so strange and sad. It certainly has been a situation that has brought our neighbors close together again, mainly by grief."
The City of Moorhead, understandably, is tired of holding the river back, and slowly the riverfront neighborhoods are being emptied. But in its battles against the river, the city has never put its best foot so far forward, neighbors have never reminded us more of the value of watching out for each other , and Minnesota has never more shown what it means to pull together for a good fight more than it did when the River River came calling.
Financially and practically, abandoning a neighborhood may make sense. But there's an overwhelming feeling that much more than homes have been lost forever.