Today, the United States declared the Iraq War officially over (although 2,600 Minnesota National Guard members will remain in Kuwait until May). To mark this event, Jeff Jones and Jeff Severns Guntzel, part of American Public Media's Public Insight team, have been asking Iraq War veterans one simple question: What did you leave behind in Iraq? Jeff Jones shared this story with us:
Raymond Camper left something in Iraq. A lot of things, actually. But one thing comes immediately to his mind. A pocket Constitution. The same little book that members of Congress hold up all the time in floor debates or when they talk to school kids.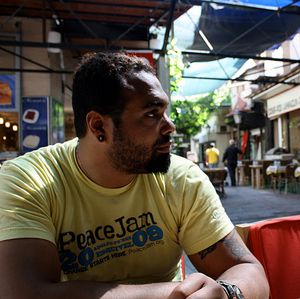 Raymond, who now lives in Minneapolis, hadn't paid much attention to the Constitution before his National Guard unit deployed.
"Being deployed to Iraq really made me reexamine what it meant to be an American and what we were supposed to be standing for and all these things we say we believe in and try to do and hold as truths. I decided I really needed to figure out what that was, exactly, and if we were in fact doing those things."
The Constitution he picked up in college helped him do that. And it helped him start conversations with other soldiers at the base in Ramadi.
"I'd ask my fellow soldiers and Marines there, 'Why are we here? Have you thought about that?' And it really surprised me how few people had actually been thinking about that."
He struck up a friendship with a Marine. They discussed and debated why the war started and what America's role was in the country.
"He revealed to me one day that he had never actually read the Constitution. And I was like, 'You know what? Here you go.' For some reason it meant a lot to me that people actually read that document and kind of understood it."
So Raymond handed over his pocket Constitution and left Iraq not long after. He has no idea if the Marine still has it or if he passed it on to someone else.
Raymond speaks out against the war now, in part because of the messages of human equality he sees in America's founding documents. He knows that other people may read those documents very differently. He's mostly glad they're reading them at all.
If you're one of the 1.5 million Americans who served in Iraq, click here and tell us about something YOU left behind – or about something you brought home. You can read more stories here.