Minnesota singer and legend Bobby Vee announced on his website today that he has Alzheimer's…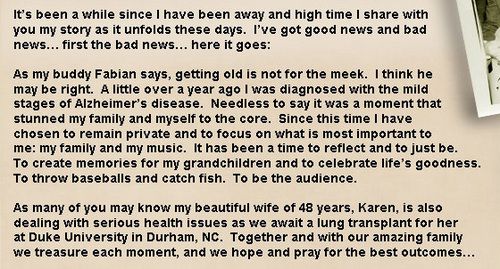 Vee also posted video of some recent recording sessions in Arizona…
Hard to believe, but it's been 13 years since Bobby Vee was interviewed on Minnesota Public Radio. In 1990, writer — and former MPR reporter — Leif Enger profiled Vee, who was playing in Storm Lake, Iowa on the 40th anniversary of the plane crash that killed Buddy Holly.
Fargo, North Dakota in the mid-1950s was hardly rock-and-roll country. In fact, it was country-and- western country. Bob Velline grew up going to the Moorhead Armory to see Johnny Cash, Ernest Tubb, Hank Snow.

Vee: I remember very clearly listening to the Lem Hawkins show on the radio in Fargo. And one day he played a song by Elvis Presley called "That's all right Mama". They didn't call it rock-and-roll, I just thought it was really good country music

As rock-and-roll gained steam (and a name), the Vellines put away their trumpets and trombones and acquired guitars. Pretty soon Bill Velline and a few friends started a band; not to perform, just to play. Bobby was five years younger than Bill. He wasn't invited.

Vee: My brother would go and he'd come back all pumped about this music: "aw, man, it was great", "well, what'd you do Bill? " "Aw, we did some Elvis songs and some Buddy Holly. " "Bill, you gotta bring me along! " And I was five years younger. "Yeah, okay, just be quiet! " And I got there and what I realized, listening to them play, was that nobody sang. They just played the music. So they'd be playing some Gene Vincent song or something, and nobody sang, so they'd get lost in the music. And I would say, "Bill, it's the bridge, it's (sings): well I wanna wanna lotta lotta lovin', "oh, yeah, thanks! ", and little by little I started singing the songs.

It was the sort of thing that was happening all over; the television 50s, only real; teenagers in 10,000 garages were strapping on guitars, mimicking and mangling riffs off their 45s, producing enormous noises and parental apprehension. And then, unlikely as it seemed, several performers at the top of the charts undertook a midwestern tour: the Winter Dance Party, it was called. Holly and the Crickets, Ritchie Valens, the Big Bopper, Dion and the Belmonts. The Vellines and their buddies bought tickets.
Vee's band played the Moorhead event that Holly and his entourage were to play at.
More recently, Vee talked with TPT's Minnesota Original series…