Shooting messengers, leaving no soldier behind, a tribute to institutional competence, mysteries at the foul line, and the junk we toss in the Mississippi.
It's Nate Silver v. The Baseball Crank! Baseball stat-freaks-turned-political-poll-freaks have been among the most interesting changes in elections in the last few years. Nate Silver, who started as a baseball projector and now runs FiveThirtyEight, is insisting President Obama has about a 77% chance of winning re-election, based on his magical calculations of daily polls.
Mr. Obama's lead in the Electoral College is modest, but also quite consistent across the different methods. The states in which every site has Mr. Obama leading make up 271 electoral votes — one more than the president needs to clinch victory. The states in which everyone has Mr. Romney ahead represent 206 electoral votes. That leaves five states, and 61 electoral votes, unaccounted for — but Mr. Obama would not need them if he prevails in the states where he is leading in the polls.

But perhaps national polls tell the right story of the race instead — meaning that the state polls systematically overrate Mr. Obama's standing?
If you're an Obama person, you probably swear by Nate Silver. If you're a Romney type, you probably come down on the side of The Baseball Crank, who analyzes Silver's methods and determines, instead, that "Obama is toast."
Take a deep breath before you wade in, though, because there's a lot of reading ahead…
My thesis, and that of a good many conservative skeptics of the 538 model, is that these internals are telling an entirely different story than some of the toplines: that Obama is getting clobbered with independent voters, traditionally the largest variable in any election and especially in a presidential election, where both sides will usually have sophisticated, well-funded turnout operations in the field. He's on track to lose independents by double digits nationally, and the last three candidates to do that were Dukakis, Mondale and Carter in 1980. And he's not balancing that with any particular crossover advantage (i.e., drawing more crossover Republican voters than Romney is drawing crossover Democratic voters). Similar trends are apparent throughout the state-by-state polls, not in every single poll but in enough of them to show a clear trend all over the battleground states.

If you averaged Obama's standing in all the internals, you'd capture a profile of a candidate that looks an awful lot like a whole lot of people who have gone down to defeat in the past, and nearly nobody who has won. Under such circumstances, Obama can only win if the electorate features a historically decisive turnout advantage for Democrats – an advantage that none of the historically predictive turnout metrics are seeing, with the sole exception of the poll samples used by some (but not all) pollsters. Thus, Obama's position in the toplines depends entirely on whether those pollsters are correctly sampling the partisan turnout.

That's where the importance of knowing and understanding electoral history comes in. Because if your model is relying entirely on toplines that don't make any sense when you look at the internals with a knowledge of the past history of what winning campaigns look like, you need to start playing Socrates.
Baseball Crank, by the way, is Dan McLaughlin, a lawyer and editor at RedState.com. He's also a Mets fan, though he presumably doesn't want that held against an otherwise fascinating essay.
The remains of veterans in the Northland have been sitting on shelves waiting for burial. They either had no close family left alive or their families had been short of funds to bury them. But that's not right to Joe Penney of Superior, who launched a fund drive to bury the veterans.
"I'm not leaving anybody behind on this," Penney said.
They'll all be buried this weekend, thanks to him and businesses in the area.
3) A TRIBUTE TO INSTITUTIONAL COMPETENCE
(may not be suitable for the workplace)
But it could all get ugly in a hurry. This might be a more common occurrence in New York. (New Yorker)
It's likely to get a lot worse before it gets better…
RT @jasonader: NJ staff reporting 3hr gas lines and rationing; NYC car service reporting drivers after 12pm expect to be out of gas! #Sandy

— Heidi N. Moore (@moorehn) November 1, 2012
Here are some of the most incredible photos you'll see today – before-and-after pictures of New York and New Jersey.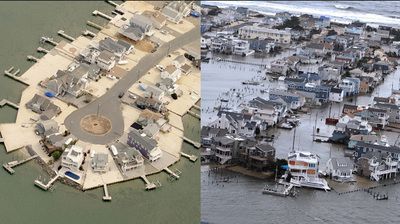 A small-airplane pilot launched yesterday to get a look. He provides incredible images here: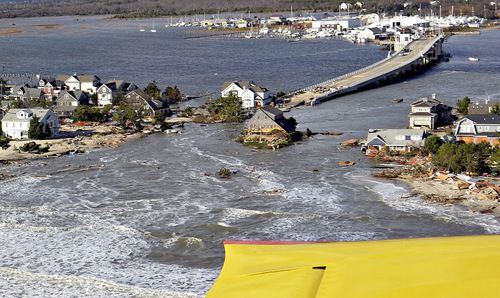 We're just a little more than a day away from the home opener for the NBA Timberwolves, which requires us to read up on our science, specifically: why do players miss free throws?
"The bottom line result is everybody's problem was different. There's no one thing that everybody is doing wrong," said a researcher who has studied a season's worth of data. "If you look at [Dallas Maverick] Dirk Nowitzki's misses, they're completely different than [New York Knick] Tyson Chandler's misses. It's a completely different thing that needs to be worked on."
They did not study, however, whether people waving their arms and making noise had anything to do with the misses. The research was detailed on LiveScience.com.
5) THE JUNK WE TOSS IN THE MISSISSIPPI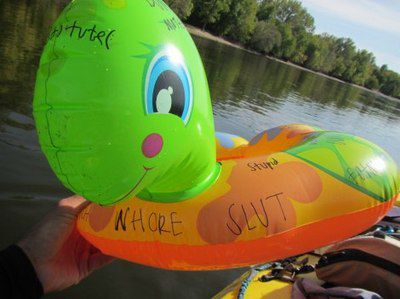 We put a lot of junk in the Mississippi River, America's longest sewer system. Our pal, Daniel Alvarez, kayaking the river this year, is finding a lot of it…
I've found all kinds of things along the shore of the Mississippi. I found an old milk jug like they use in carnival games at the state fair. I found rusted out cars and bicycles. I found a basketball which I picked up and then lost half-a-day later when it rolled off the boat and floated away again. I even found a turtle float with dozens of insults written all over it in permanent marker, things like "whore," "prostitute," and "slut." I have no idea what that turtle did to deserve all those names, I can only imagine it was enjoying life so much that the other turtle floats got jealous of all the fun it was having.
Meanwhile, a Grand Marais couple is on its own odyssey via kayak. They're kayaking the Atlantic along the East Coast. The Duluth News Tribune reports today that they evacuated a home in which they were seeking shelter during the hurricane, leaving their kayaks to fend for themselves.
Bonus: By answering 13 questions on a quiz show, Sushil Kumar won more money than he'd otherwise make in 800 years of work. He was also the subject of an acclaimed movie a few years ago — Slumdog Millionaire. What's happened since? He's paid off his brother's debts and is building house for his extended family. And he's not giving it away, the BBC reports.
TODAY'S QUESTION
MPR News is sponsoring a series of debates in St. Paul's Fitzgerald Theater this week. Tonight, the topic is the marriage amendment. Today's Question: Which way will you vote on the constitutional amendment that would define marriage as only between a man and a woman, and why?
WHAT WE'RE DOING
Daily Circuit (9-12 p.m.) – First hour: What would an Obama second term look like?
Second hour: Americans tend to picture successful entrepreneurs as young, bold risktakers. Think Mark Zuckerberg. But, as Chris Farrell points out in a recent Bloomberg Businessweek column, older entrepreneurs start companies too. We discuss the trend of aging entrepreneurs.
Third hour: Kerri Miller moderates a debate between the candidates for the seat representing Minnesota's 6th Congressional District, incumbent Rep. Michele Bachmann and challenger Jim Graves.
MPR News Presents (12-1 pm): The final 8th District Congressional debate between Rep. Chip Cravaack and challenger Rick Nolan. (recorded yesterday in Virginia, MN)
Talk of the Nation (1-2 p.m.) – When to leave Afghanistan. The war goes all but unmentioned by both campaigns. But public opinion turns ever more negative on America's longest war amid continued insider attacks. Many ask why we continue to risk American lives. Retired General Jack Keane argues it's not about the Afghans. "We're in this for our own security," he says.
All Things Considered (3-6:30 p.m.) – Humorist Joe Queenan is big on books; he's written 11 of them. And he's read about 7,000. It's amazing that he has any time to write. But he's authored another one. This one is about his life-long obsession with books and reading. NPR has a review.
About the blogger
bcollins@mpr.org • @newscut
Bob Collins retired from Minnesota Public Radio in 2019 after 12 years of writing NewsCut and pointing out to complainants that posts weren't news stories. A son of Massachusetts, he was a news editor 1992-1998, created the MPR News regional website in 1999, invented the popular Select A Candidate, started several blogs, and every day lamented that his Minnesota Fantasy Legislature project never caught on.