The message a Michigan school doesn't want kids to hear, a dad's dream meets a dad's reality, the declining tax burden examined, castle laws and dead teens, and the nationwide search for 'the hat.'

1) THE MESSAGE A MICHIGAN SCHOOL DOESN'T WANT KIDS TO HEAR
A performing arts teacher in Michigan has been suspended for letting a student play a song. The song was about being gay.
The song, "Same Love," was written by rapper Ben Macklemore. (ed. note: Mark Wheat of the Current points out they have two sold-out shows at First Ave., tonight and tomorrow)
"I really love my kids and I never want to hurt them, but I also know that there's a lot of bullying and there's a lot of gay bashing and racial issues going on in our country and I want the kids to feel comfortable in my class no matter who they are," the teacher said.
Here (language warning):
(H/T: Andrea Swensson)
Related: The Supreme Court today may decide to take on the same-sex marriage issue once and for all. Or not.
2) A DAD'S DREAM MEETS A DAD'S REALITY
Former AP White House reporter Ron Fournier's son didn't turn out the way he imagined. He was different and eventually he grew to be embarrassed by his own son. "Eventually I began to realize that he was mortified about his failure to live up to my expectations," he writes in the National Journal. "I was not just embarrassed about Tyler's manners; I was embarrassed about being embarrassed," he writes.
If you're the parent of a special needs kid, you probably know this story. But you don't often see fathers writing about it.
You also don't often hear about how two U.S. presidents helped him learn to deal with "love, guilt, and fatherhood."
Tyler was terse, even rude, but Bush was solicitous. Rather than being thrown by Tyler's idiosyncrasies, he rolled with them, exactly as he had in the Oval Office nine years earlier. He responded to every clipped answer with another probing question. Bush, a man who famously doesn't suffer fools or breaches of propriety, gave my son the benefit of the doubt. I was beginning to think that people are more perceptive and less judgmental toward Tyler than his own father is. Bush certainly was.
It's the best article you'll read today.
Americans in 2010 paid far less in total taxes than they would have paid 30 years ago, the New York Times claims today in a new analysis of the claim that governments are taking more and more of what we earn. The biggest declines in tax burden, it said, are people making more than $200,000.
It also said the federal income tax accounts for less than a third of our total tax burden.
Related: Minnesotans may be asked for to pay more taxes to fund transportation projects. (Star Tribune)
Do stand-your-ground laws put teens at risk? The killings of two teenagers who apparently broke into a Little Falls home is one of several recent incidents nationwide in which kids were killed by people who were protecting their castle.
The Christian Science Monitor today tackles the issue…
These new laws "are going to disproportionately result in more consequences to teenagers that are beyond the scope of what the kids were really doing," says Kathleen Stilling, a former Wisconsin circuit judge and currently a lawyer in Brookfield, Wis. The worry, she adds, is that teenagers doing things "that are not capital offenses end up facing deadly consequences."

Those dynamics were highlighted by the first test of Wisconsin's castle doctrine law in April, when a teenager fleeing a party busted by police in Slinger, Wis., hid on an enclosed back porch. The startled homeowner shot the "intruder." Prosecutors decided not to press charges against the homeowner.
Related kids: "There's a storminess in teens."
When you stop to think about it, this Christmas tree stuff is pretty strange. Sam Cook, the Duluth News Tribune columnist, has stopped to think about it and remains puzzled about taking a perfectly fine tree and executing it, sometimes the old-fashioned way…
And then there's my friend John, whose family tradition is to go out and — this is true — shoot a Christmas tree. He takes his 12-gauge along, and when he sees the right tree, he blasts it.

"It's surprising how many shots it takes, even at 6 inches away, to bring down a Christmas tree with birdshot," he said.

He's been shooting the family tree for years.

"There's really no reason to do it anymore," he said the other day.

Which made me wonder what the reason was in the first place.

"I didn't have a saw," he said. "I was out grouse hunting one day and saw the perfect tree."

So, he shot it and brought it home.
Bonus I: Bridget Hughes of Las Cruces, N.M, lost her hat at an airport in Phoenix.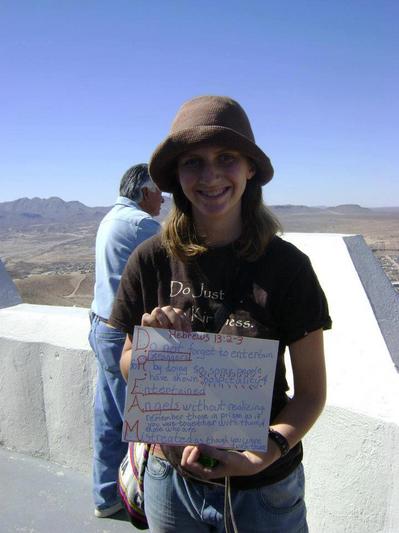 So she posted the picture on her Facebook page because the hat is special…
My name is Bridget Hughes and on Monday November 26 at around 12:30 a.m. I was at the B7 gate in Phoenix Sky Harbor International Airport waiting to board U.S. Airlines flight 2918 to El Paso. My flight was cancelled. In all of the chaos that ensued me getting my new ticket and my hotel voucher I lost one of the most valuable things I own. It is a simple knit brown floppy hat from the Gap (pictured below). My mother passed away from Breast Cancer when I was 7. This is the hat she wore most often during her chemo treatments. My aunt gave it to me when I moved away after I graduated from college. It was one the only possession of hers I could constantly carry with me. I checked the gate the next morning, the hotel, and my shuttle van. It was nowhere to be found. I've contacted the Phoenix Airport Lost and Found, but I doubt I'll hear back from them. So, I've turned it over to the power of social media, all for a hat that represents the fierce goofy independent spirit of a woman that is my mother. If anyone is willing to just share this status, I'll be really grateful.
And while that's a story, it's not necessarily the story. The story is that the story has gained traction and now people all over the country are doing what they can to find the hat.
Bonus II: More on that police officer who bought boots and socks for a homeless man. Pay attention to what prompted him to get more involved — people walking by the man laughing at him. (CBS)
Bonus III: Psst. Want to get in on the ground floor of the new website for The Current?
TODAY'S QUESTION
A working group has recommended that Minnesota move away from its reliance on levy referendums as a means of K-12 education funding. The Education Finance Working Group says that the levies promote inequality among school districts. Today's Question: How should Minnesota finance K-12 education?
WHAT WE'RE DOING
Daily Circuit (9-12 p.m.) – First hour: Friday Roundtable focusing on political topics.
Second hour: BBC documentary "The Age We Made – Part 4"
Third hour: Musician Charlie Parr.
MPR News Presents (12-1 pm): Conservative columnist David Frum, speaking at the MPR Broadcast Journalist series, hosted by Tom Crann.
Science Friday (1-2 p.m.) – What does Obamacare mean for you as a
patient?
All Things Considered (3-6:30 p.m.) – NPR considers why city-owned utilities are having a better time of it in the wake of Hurricane Sandy. The biggest utility companies struggled for weeks to restore power after the storm. But residents of some New Jersey towns had their lights back on in days.