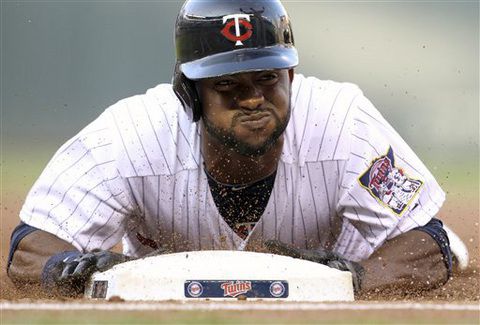 The Minnesota Twins sent Denard Span to that place pro athletes seem to go when they leave this state — heaven, or what passes for it in pro sports: a winning team.
Span was dealt to the Washington Nationals for a pitcher with an apparently bright future but not one that's going to be particularly obvious to us for a few seasons. Alex Meyer, the former first-round pick of the Nationals, is now a Twin — or probably a Kernel (the Cedar Rapids Kernels are the Twin's Class A affiliate. You knew that, right?).
Span was no Hall of Famer, but he was one of the best offensive weapons the Twins had in a lineup that is fairly poor at the endeavor. His departure — and the failure of the Twins to get any immediate help for him — signals that the team is willing to lose — and lose big — in the short term. This will come as crushing news to Metro Transit, which this week blamed the performance of the Twins for declining ridership.
But the team really didn't have much option but to dump one of the few valuable players it had. It has a horrible pitching staff and will be a losing franchise for the next several seasons. Could the Twins have gotten more for Span? Chances are if they could have, they would have. Teams pretty much know what the Twins need to do and the team isn't in any position to play hard to get.
But now the attention needs to turn to what happens to Joe Mauer and Justin Morneau, the last two players with any value and big contracts. At this point, the Twins are wasting what remains of their careers. Assuming both want to play on winning teams, they have little chance of doing that in Minnesota at their ages. Rumors have started flying that Boston might be interested in Mauer, but they're mostly sportswriter-induced.
Mauer has it good in Minnesota, but he's done the play-before-family-thing already and at some point, doesn't a professional athlete want to win a championship? And, besides, many Minnesota fans and media give Mauer a lot of grief for not being better in some category — hitting for power, for example. He'd get that in spades in Boston, too, but a champagne party in the clubhouse is known to take that sort of sting away.
And that brings us around to the fans. The team has basically said there's no immediate hope of seeing winning baseball at Target Field. That'll make it hard to generate any buzz. The good fans will probably keep going to ballgames. The bandwagon fans — and you know who you are — will look for alternatives.
But it could always be worse, Minnesota. You could be Cleveland, where the Cleveland Indians president told fans last week if your decision on whether to go to games depends on seeing the team win, "don't come."
"Baseball has to mean more than just being a fan when you win," Mark Shapiro said.
In Cleveland, it does. Baseball means paying too much money to a team that is only interested in taking it.
Give credit to the Twins. At least they're doing something.