Should Hennepin County have painted over a mural on the Midtown Greenway? It was being painted as part of a neighborhood art event. Its creators said they got permission from the area businesses, they just didn't know they needed one from the county. The county painted it over yesterday, KARE 11 says.
It's not easy getting permits, though. You can't just ask the county. Just ask the county. According to a post on Hennepin County's Facebook page:
Permits for murals on the Midtown Greenway are issued by the Hennepin County Regional Railroad Authority (hcrra@co.hennepin.mn.us). Any request to install art on the Midtown Greenway, or anywhere in Minneapolis, goes through the Minneapolis Arts Commission (https://www.facebook.com/MPLArtsComm) prior to the HCRRA granting a permit.

We are aware of the most recent incident of painting over a mural at Blaisdell. Our graffiti crew painted over it because it was not a permitted mural. Somewhat fortunately, the crew ran out of paint mid-job and have been instructed to leave the mural as-is while we work with Minneapolis and the artist on next steps.
Public art's supporters are not amused, however: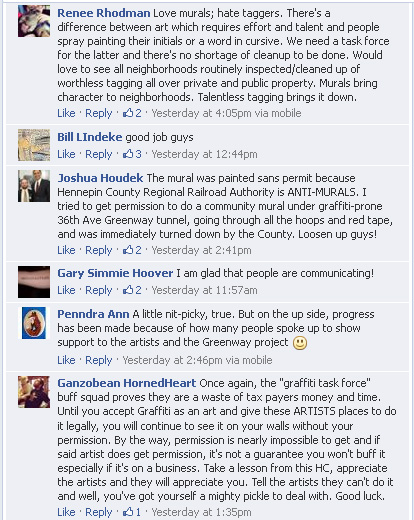 Meanwhile, the county is involved in another controversy over public displays. It's refusing requests to light the Lowry Avenue bridge in rainbow colors to celebrate Pride weekend. Proponents of the expression say it's been lit to honor the Vikings and Election Day, but the request to light it as a rainbow was rejected because the county board wants to develop a policy on the issue.
More Americans die by their own hands than by homicides and war combined, the New York Times reports today in its profile of Mathew Nock, a "suicide detective." More middle aged people are killing themselves than ever before. More soldiers kill themselves than are killed by their enemy.
And yet, Nock says, we've gone two centuries without really figuring out — or trying hard to figure out — why.
"We've never gone out and observed, as an ecologist would or a biologist would go out and observe the thing you're interested in for hours and hours and hours and then understand its basic properties and then work from that," Matthew K. Nock, the director of Harvard University's Laboratory for Clinical and Developmental Research, told the Times. "We've never done it."
3) DO YOU NEED TO UNPLUG CHARGERS?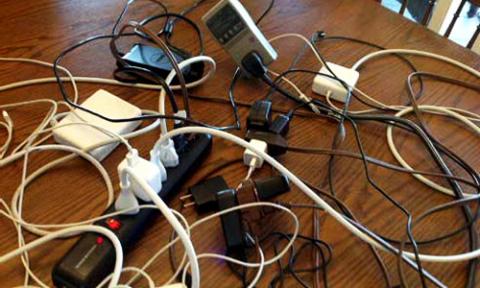 Chances are your cellphone gives you a message when you remove the charger each day: "To conserve energy, unplug your charger." Don't bother.
Dr. David Schmidt of the the University of Minnesota's College of Food, Agricultural and Natural Resource Sciences, conducted a study in his own home to determine how much "phantom power," is being used in his own home. Phantom power is the energy that's used by electrical devices when they're turned off. His study was profiled on the Clean Energy Resource Teams website.
He found that keeping devices on a charger uses phantom power, even after they're charged. But he said the amount of energy a charger uses when left plugged in his negligible.
(h/t: Sara Meyer)
It's true. At one time, television networks pre-empted their profitable programming to show the lottery which would determine if you ended up in Vietnam.
With nowhere near the fanfare, Curtis Tarr passed away yesterday. He created the draft lottery.
"Tarr made the draft more equitable and understandable to young men, particularly the operation of the lottery and guidelines on conscientious objection," said Richard Lam, a Tarr family friend. "He could not gain Congressional approval for the most critical change he felt was needed — the elimination of college deferments."
5) POLITICS, ART, AND FILIBUSTERS
A political filibuster doesn't usually inspire slam poetry but that's what Texas Sen. Wendy Davis did for Minneapolis rapper and spoken-word poet Kyle "Guante" Tran Myhre.
"There's something inherently ableist about the Texas State Senate's filibuster rules; so when I talk in the poem about 'standing up,' I hope it's clear that I mean that as a metaphor– it's about being active, taking a stand, getting your hands dirty, etc.," he writes on his blog.
Davis' filibuster may not have worked after all. Gov. Rick Davis Perry ordered lawmakers into special session next week to approve the abortion restrictions that Davis' actions derailed on Tuesday night.
Evan Smith of The Texas Tribune says the bill will likely pass, but Davis' legacy is assured.
"Wendy Davis is the folk hero that everyone views her as," he told PBS NewsHour. "And her celebrity is on the rise. Her political prospects have risen. And for the first time, really — again, I go back to Ann Richards, Gwen — for the first time since Ann Richards, the Democrats have somebody they can rally around as a candidate who may begin to turn the clock back."
Bonus I: Ari In Africa.NPR's Ari Shapiro's Tumblr as he follows President Obama's trip to Africa.
Bonus II: Will Minneapolis' next mayor seek a municipal energy utility?(Midwest Energy News)
Bonus III: America the Beautiful: 50 States in 50 Photos «TwistedSifter.
Bonus IV: This is the last week that Google Reader will be on the planet. Google is shutting it down. You need to find a new RSS reader soon, especially if you read NewsCut on Reader. What are your options? Here, read this.
Bonus V: Oh, no reason, really, other than the fact we need more puppy videos.
WHAT WE'RE DOING
Daily Circuit (9-12 p.m.) – First hour: Reaction to the Obama climate change plan.
Second hour: How flying on the airlines is changing.
Third hour: Dessa talks about her songwriting process and her new album "Parts of Speech."
MPR News Presents (12-1 pm): NPR's Supreme Court special report on the affirmative action, voting rights and gay marriage decisions this week.
Talk of the Nation (1-2 p.m.) – TBA
All Things Considered (3-6:30 p.m.) – Ticket scalping puts the good seats beyond the price range of many concert-goers. Some economists say performers could fight this by simply
raising the face value of their ticket prices. But at least one major musician has found his own way to level the playing field. NPR looks at the economics of ticket scalping.