White Bear Lake has dropped 10 seven feet in the last seven 10 years, a harbinger of things to come in which we don't take water for granted. People are pumping the lake dry, from all accounts, and now the White Bear Chamber of Commerce is asking businesses to stop using so much water, the Pioneer Press reports.
John Lupo said he has temporarily shut off the sprinklers outside his business — Grandma's Bakery — and is getting quotes on permanent investments, such low-flow toilets.

Lupo scoffed at the notion that the small changes might not matter.

"It's got to help. Every little bit helps," he said. "We created the problem. We can solve it."

So for Thursday, about 30 businesses pledged to use less water, according to chamber president Scott Mueller. His business, Mueller Memorial, a funeral home, was one of them.
More climate: A one-page solution to climate change. (NPR)
Duluth's first electric car charging station unveiled. (Duluth News Tribune)
2) LEARNING TO ACCEPT A GAY SON
Friday is Story Corps day and NPR provides the story of Samuel Taylor, who was raised in a religious family. When he came out to his mother, Connie Casey, she sent him to a series of conversion therapy ministries affiliated with Exodus International, the Christian organization that folded this month and apologized to the gay community for trying to "correct" same-sex attraction.
Audio not found
If you only paid attention to major news outlets, you'd think there were only two significant rulings from the U.S. Supreme Court this week that could cause a ripple or two in Minnesota. But that's incorrect.
Twin Cities Daily Planet looks at several of the decisions, including the Indian Child Welfare Act, on which the court ruled a girl does not have to remain in custody of her Native American father:
ICWA was created partly as a response to the long years when American Indian children were forcibly removed from their homes and sent to boarding schools or to white adoptive families. The wounds imparted by that legacy are still open in Minnesota, a state with one of the highest concentrations of American Indians in the country.

According to Shannon Smith, director of Minnesota's ICWA Law Center, the majority of cases to which ICWA applies in the state are unrelated to adoption. A case similar to Baby Veronica's could arise here, but Smith said it's uncommon. ICWA is more frequently used in child protection cases. When a county intervenes in cases of domestic abuse, mental health issues, or chemical dependency in an American Indian home, ICWA mandates that the tribe have a say in what happens.
4) HOW A MODEL RAILROAD FIGHTS CANCER
After her husband succumbed to cancer, Peggy Keyes decided to simultaneously honor his memory and raise awareness. She bought a building, and she created a model railway. The museum she built raises money to fight pancreatic cancer.
Now, she's fighting cancer, too.
Related: Minnesotans volunteer to crack code on cancer .
In health care reform, art keeps patients in the picture | Marketplace.org.
5) WHY NEWS PHOTOGRAPHERS MATTER
How has the Chicago Sun Times' decision to fire its photography staff and depend on freelancers worked out? When the Chicago Blackhawks won the Stanley Cup this week, it provided a yardstick, as offered by the Tumblr SunTimes/DarkTimes.
Here's the Sun Times: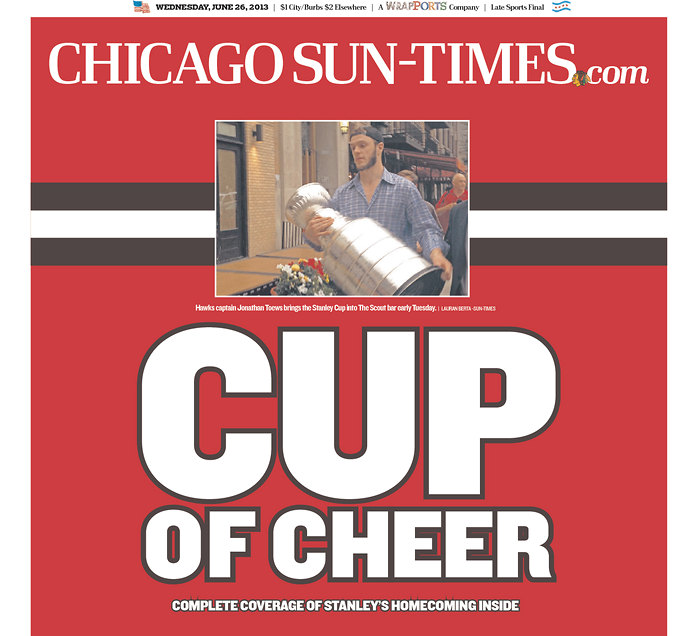 And the rival Chicago Tribune: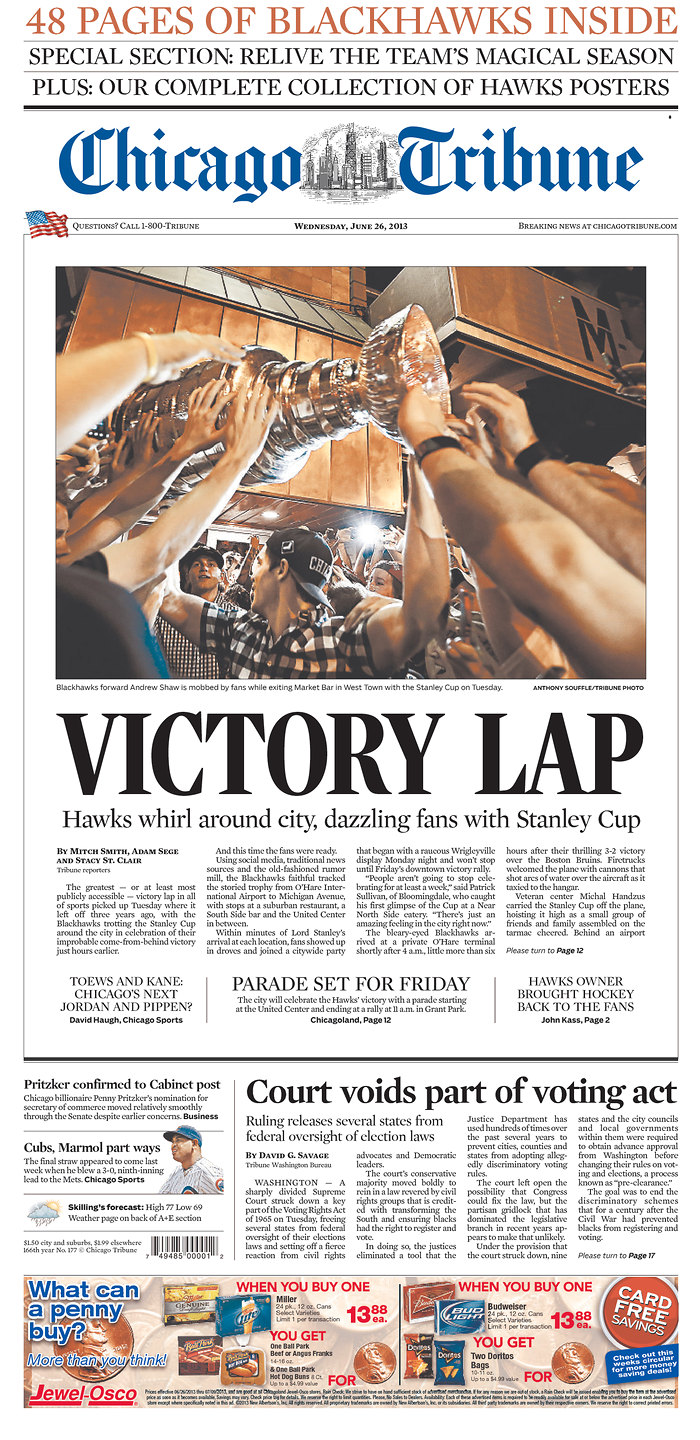 Hug your local photojournalist today. (h/t: @mnBibes)
Related: You want classy? This is classy. The Chicago Blackhawks took out a full-page ad in today's Boston Globe thanking the city.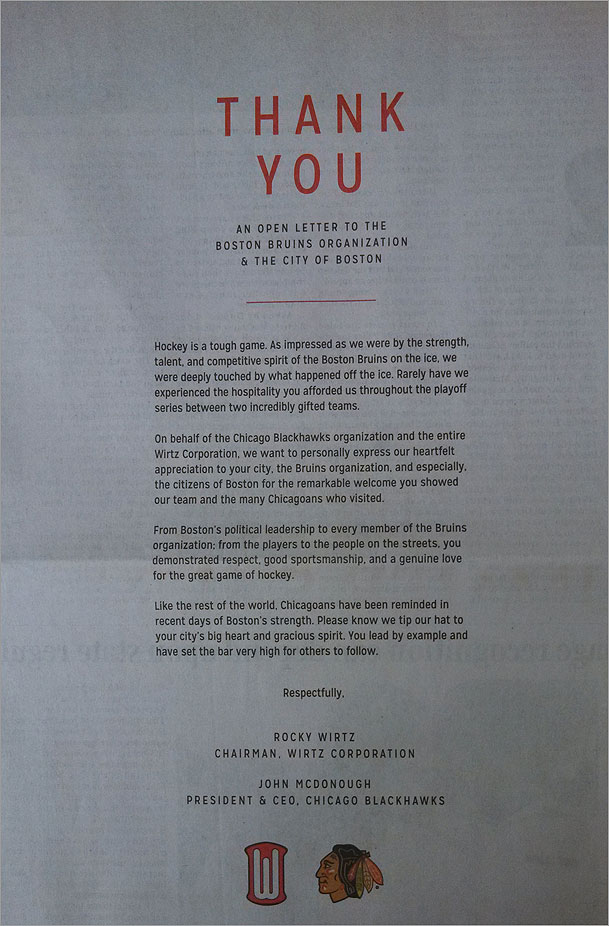 Bonus I: Then and Now: Metropolitan Stadium.

Bonus II: It's Paul Bunyan Day.
Bonus III: What if we didn't know how the economy is doing and what the unemployment rate is. The sequester is taking its toll even if you don't think it is..
Bonus IV: Hey, Batter Batter! Press Defeats Congress in Charity Softball Game (PBS NewsHour).
WHAT WE'RE DOING
Daily Circuit (9-12 p.m.) – First hour: Friday roundtable panel includes a marriage therapist and a Twin Cities "power couple" talking about the mystery of marriage.
Second hour: Rising student loan interest rates.
Third hour: Chris Kluwe, former Vikings punter.
MPR News Presents (12-1 pm): Retired Episcopal Bishop Gene Robinson's speech, given Thursday night in Minneapolis at the Westminster Town Hall Forum.
Science Friday (1-2 p.m.) – A look at President Obama's climate change plan. Plus: tiny batteries from a 3D printer: why batteries hold the key to our electric future.
All Things Considered (3-6:30 p.m.) – 9-1-1 calls can save peoples lives. But many non-emergency calls on that line can keep police unnecessarily tied up. What's being done to perfect the way this old system is used? NPR will report on Miami's solution.