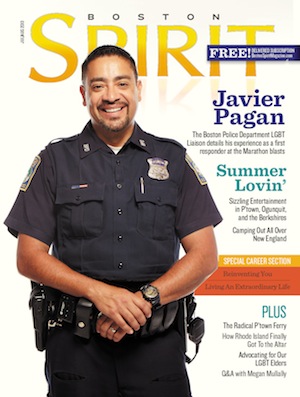 This magazine cover story about the Boston Marathon bombing probably won't get much attention, but the exploits of Boston Policeman Javier Pagan are well documented in the latest issue of Boston Spirit, the cover of which features his smiling visage.
He was at the finish line when the two pressure-cooker bombs went off. You may recall this photo of him at work. That's him on the right.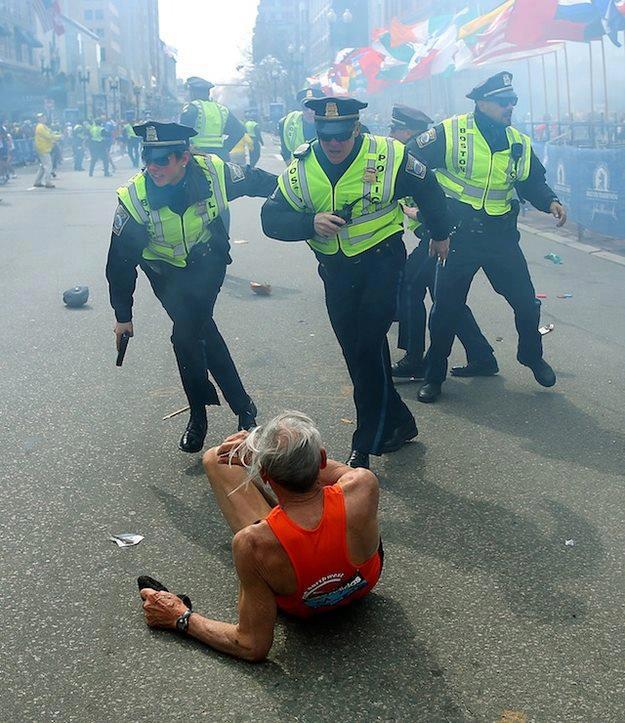 "Police officers, firefighters, EMS … it's our job to run into these things," says Pagan. "But for everyday people who don't train for it, for them to go in and do that is amazing."
"They were incredible," says Pagan. "It really showed the best of people, even in such a dark time."
Officer Pagan is gay.
"The thing is, what if I had died?" says Pagan. "The fact is that I'm married in Massachusetts, but get no federal benefits. Things like this are a reminder [to politicians] that this is not a game you're playing: these are real people's lives you're making decision about from where you sit in Washington, D.C."