The Monday Morning Rouser:
Has anyone heard a nice description of North Dakota's Oil Patch, or is it just a petroleum hell that people — mostly men — willingly subject themselves in the interest of taking care of their family? You'll read no better description than yesterday's story from Curt Brown of the Star Tribune, who followed a Wisconsin man on the train from Minneapolis to the place where he plans to leave as soon as his family is out of debt.

The psychological roller coaster, he says, is more wearing than the physical toll of his job. Back in Ridgeland, Tiffany is too busy to fret. She's chasing the kids, getting the well connected, painting Avery's room in a princess theme with glow-in-the-dark dragonflies and sparkled pink and purple walls.

"I look at this as something Andrew likes to do and does a really good job at," she says. "I just keep thinking there's a light at the end of the tunnel here, and it's coming shortly. Even if you don't call a couple years short, it's short."

The kids miss their dad but they've grown up with him being away in North Dakota, so that's all they know.

"I've missed so much that I'm never going to get back," he says. "But I've got my part to play and she's got hers."
Is it worth it? Discuss.
Related: Stenehjem says he'll release list of 'extraordinary places' for protection from energy development soon (Fargo Forum).
How Fracking's Ups And Downs Affect Pennsylvania's Economy (NPR)
2) DO YOU TRUST YOUR NEW DRIVER?
Your teen just got her driver's license. Do you trust her to drive carefully or have you opted to snoop on her?
The Milwaukee Journal Sentinel reports on the ethical considerations surrounding gizmos like DriveCam, which records video whenever a young driver makes mistakes.
Jeff Pierson, a driving instructor in Milwaukee who owns Safety First Driving School, thought his teenage son was a great driver. Then, one day, he trailed him as he drove with friends.

"I tell parents, two weeks after they've got their license and they know friends are going to be with them, follow them. I was so shocked. As soon as two girls were on the ride, he burned rubber," Pierson said. "When you get three to four kids in a car, it's a party. It's just play time."

While teen monitoring devices aren't popular, more insurance companies are offering a greater array of products since the devices emerged around seven years ago, said Loretta Worters, a spokeswoman for the Insurance Information Institute. For example, Progressive has a black box, Snapshot, that records speeds and braking times, 21st Century offers a GPS monitoring system called MobileTEEN that lets parents set location boundaries, curfews and maximum speed limits.
Not all parents buy into it, however:
Mike Gonzalez of Waukesha, whose 17-year-old son, Chris, got his license Thursday in Pewaukee, said he wasn't considering using any technology for monitoring.

"They have to make their own decisions and make their own lives," he said. "A driver's license means he's mature and he has to learn more about life."

"You need to teach them and then trust them to be able to do the right thing," said Mary Beth Mills of Fox Point, whose 16-year-old son is learning to drive.
3) THE STUFF PEOPLE STILL TRY TO SNEAK ONTO PLANES
The weekly TSA blog post about the weapons and such confiscated from people trying to get on airplanes carries this little number from Minneapolis-Saint Paul. A knife strapped to a razor.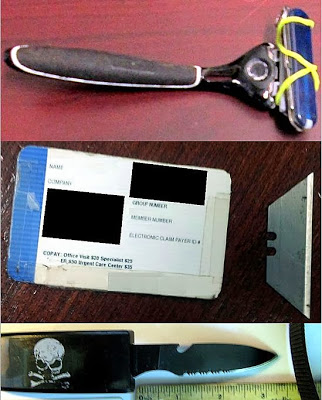 Thirty-nine guns were taken from passengers last week. Most of them were loaded.
4) HOW 35,000 PEOPLE COMFORTED A DYING MAN
Brian Curtis' favorite color was "sky-blue pink," because he loved sunsets. So when Brian's lung cancer was detected in April and his time on the earth was estimated to be six months or less, his son set up an online campaign to plaster his dad's room in Nebraska with the colors.
That's when perfect strangers took over, according to Mashable.
Brandon arrives at the Lincoln airport close to midnight, ready for the hour and a half drive to Harvard, a modest Midwestern town of fewer than 1,000 people. Brian is "holding strong," reports Cindy via text. He hops into a silver Honda truck driven by longtime friend Trevor Meyer. Together, they speed west along Interstate 80 for 60 miles, then south on Nebraska Highway 14.

Around 1:30 a.m., Brandon walks into his dad's dark room at Harvard Rest Haven. Brian is sitting up in bed with Cindy holding his hand. A bathroom light dimly illuminates the hospice bedroom. On every wall, on the door and in two binders, more than 3,500 #SkyBluePink cards, paintings, photos and even elementary school art projects from 105 countries surround the family.

"I sat next to him," Brandon recalls. It's his 16th visit to the bedside in 15 months.

"I held his hands. I started crying. It felt so good to see him. I'll never forget that night."

"I held his hands. I started crying. It felt so good to see him. I'll never forget that night."

As they talk, Brian is feeling an "intense" amount of pain. Brandon's in the same red t-shirt and jeans he wore during the Skype call some 14 hours ago, but he's relieved he could be here this moment.

Brandon and Cindy let him sleep, and Brian passes away hours later on Aug. 13, just one day before Brandon's 30th birthday.
"It may sound silly, but with media and politics often telling us we're all so different, it was a great reminder — that despite any real or contrived differences — we're all people and we actually have a lot in common," Brandon told Mashable. "We all have feelings, emotion and compassion. #SkyBluePink was just one way to unlock this."

More people: An anonymous donor has paid more than $30,000 of gas bills owed by the struggling operator of two Chicago area shelters for battered and homeless women, and the gas has been turned back on. (Chicago Sun Times)
How One Church Fed An Entire Town Destroyed by Sandy (TIME).
Kidney transplant patient in Brownsburg finds perfect match — and more (Indianapolis Star).
Are smartphones making us Bad Samaritans? (Wall St. Journal)
One of the best parts of high school football season is when we get these stories: the "cool" kids who look out for the special needs kid.

Bonus I: Kasson man among area's first paragliders. The guy, who sells cars, flies to work (Rochester Post Bulletin).
Bonus II: Watch Red Shirley, Lou Reed's Short Documentary on His Fascinating 100-Year-Old Cousin (2010) (Open Culture).
Bonus III:Camouflaging An Airplane Factory (Mental Floss).
TODAY'S QUESTION
Are you happy with your job?
WHAT WE'RE DOING
Daily Circuit (9-12 p.m.) – First hour: But if we want more poor people to move up economically and socially, does that mean some people are going to have to move down economically and socially?
Second hour: Before digital technology and open office plans became the norm, one could separate professional and personal lives. These days, however, your professional life is never left behind with the advent of smart phones, and open office spaces; even team outings don't give one much privacy. The new normal presents new questions regarding quirky situations requiring tactful manners. Miss Manners and her son, Nicholas, pair up to advise worker bees in their new book "Miss Manners Minds Your Business".
Third hour: Fall gardening.
MPR News Presents (12-1 pm): Malala Yousafzai, the 16 year-old Pakistani girl who was shot by the Taliban for promoting the education of girls. She spoke at a JFK Library event in Boston.
The Takeaway (1-2 p.m.) – TBA
All Things Considered (3-6:30 p.m.) – Enbridge Energy is taking the next formal step toward building a $2.5 billion pipeline across northern Minnesota, to carry oil from North Dakota's booming Bakken fields to its terminal in Superior, Wisconsin. The route the company prefers would cross prime farmland in Carlton County, south of Duluth and Cloquet, home to a burgeoning local agriculture movement. Landowners there are fighting the proposal. They say the company should opt for a less intrusive northerly route. Enbridge wants the pipeline to help relieve the growing bottleneck of crude oil leaving North Dakota. The company is also pushing for an expanded pipeline called the Alberta Clipper to carry Canadian tar sands oil through Minnesota. Enbridge is looking to spend around $4 billion in the next few years in the Upper Midwest alone to transport more and more oil from the region. MPR's Dan Kraker will have the story.
Parents today know that babies often take naturally to high-tech media. Infants are easily engaged with pictures on a smart phone, games on a tablet, or reacting to loved ones on video calls. Being technologically adept at an early age can give kids an advantage. But its unclear if that can also hinder their healthy development. NPR will have the story.