An attempt to honor veterans is revealing an ongoing — and somewhat generational — split among veterans over the question of who can salute the flag.
The latest skirmish started innocently enough. A retired Navy officer, Robert Griffith, has been trying to get the NFL to encourage veterans to stand during the national anthem and salute the flag. But only the Tampa Bay team is embracing the idea. The NFL says it's planning other ways to honor veterans over the Veterans Day weekend.
The NFL shies away from controversy which may explain why it wants no part of this one. Until fairly recently, only veterans in uniform were allowed by the U.S. Flag Code to salute the flag. That changed in 2008. But in its story on the movement today, the Chicago Tribune says some old-timers like the old rules just fine:
Legion members passed a resolution last year asking Congress to restore the old standards. While he understands the intent of the updates, American Legion spokesman and flag expert Mike Buss said they create a slippery slope. When veterans out of uniform start saluting, Buss said he worries that children or others who haven't earned the privilege are likely to follow suit. Civilians are not supposed to make a military salute.

"When Grandpa goes to the ballgame and he does the military salute, they'll think 'I can,' and really they can't," Buss said. "Of course, they're not going to go to jail. But it's not proper etiquette."

Griffith, of Arlington Heights, takes another approach. He believes that inviting vets to salute at football games would give fans the chance to honor them. Though no invitation is required, Griffith said many veterans are hesitant to salute alone. Others, he believes, simply haven't heard about the changes.

"This is something that Congress has recognized and given them the opportunity to do it and it just hasn't happened," said Griffith, 79. "My goal is to … make these guys feel comfortable as they see one after another standing up and it just becomes part of what they do."
The mixing of military and sports has increased in recent years, to the unease of some.
Indeed, the question of how and when to intertwine the flag and a game is fueling a little debate today now that the University of Minnesota has unveiled its helmet for Saturday's game against Penn State.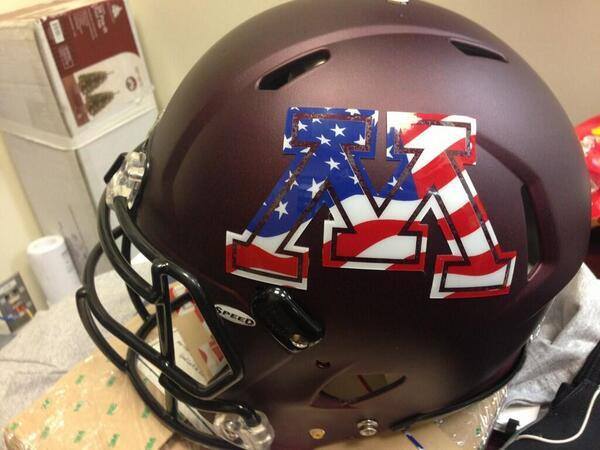 "As a Vet x2, I am tired of this stuff," one commenter on the Facebook page said. "I don't think I am alone in saying that recognition is nice, but I didn't serve to be recognized. I think helmets like these make the non-Vets feel good, and probably generate some $$$ for the school. If it were up to me, the "Veterans please stand and be recognized" before the kick-off is more than enough."
"ANY school that recognizes me or my military brothers (past & present) means a GREAT deal," another said. "Thanks for thinking of us – SKI U MAH! Go Gophers!!!"
Update 2:43 pm – Here's Northwestern's weekend outfit. Perhaps veterans should simply salute the gloves.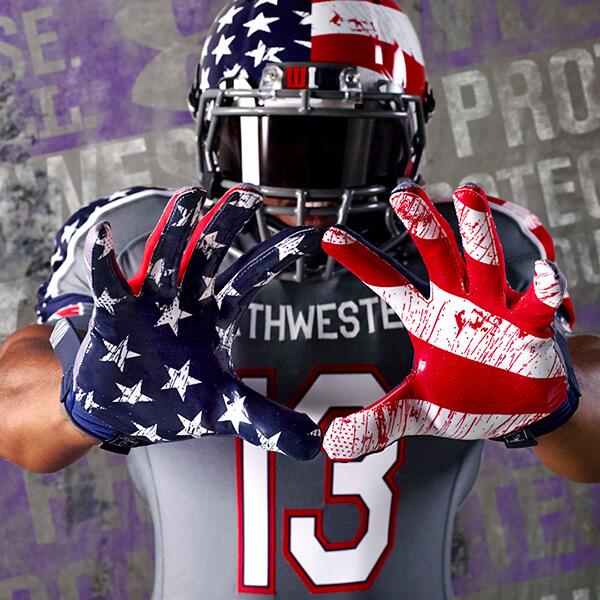 Update 3:27 p.m. – I asked Richard Gideon, who is an expert on the U.S. Flag Code, whether a cutout (i.e. logo, in this case) using the American flag, is itself a "flag" under the definition of the Flag Code. His reponse:
As to whether the cutout qualifies as a flag and therefore is subject to the U.S. Flag Code; no. It may suggest a flag; it may even suggest the flag of the United States – but a flag it is not. The University of Minnesota football team may travel to "Happy Valley" this weekend without worrying about whether their helmets will draw the ire of the "flag police" – although I can't guarantee that someone might question it, but you probably would get that kind of thing wherever you go.

As to the "Flag Code"; while it seems easy enough to understand, there is one huge caveat – there are no penalties provided in the code. For example, if you put a U.S. Flag outside at night without lighting it the only thing that will happen is that the flag will flap around all night in the dark. However, local ordinances are another thing, and some towns try to regulate the use of the U.S. Flag.

Let me give you another, more interesting example. In 1912 President Taft signed Executive Order 1556 and, for the first time in the nation's history, officially coded the Flag of the United States in terms of design and proportions. The Order applied to the (then) new 48 star flag. It established an official aspect ratio (length divided by width) of 1.9:1, established proportions for star sizes, and how to place the stars. True, his EO only applied to the executive branch and the military (although the military had a long history of flag design), but it carried over to all subsequent flags. President Eisenhower issued two Executive Orders of his own in 1959 – 10799, which applied to the 49 star flag (Alaska), and 10834, which would be effective on 4 July 1960 and apply to the 50 star flag (Hawai'i).

But something more interesting – and less well know – happened on 7 July 1976. The Congress passed Public Law 94-344, which incorporated Eisenhower's EO10834 as part of the law of the land. Bottom line: the rules concerning design and proportion that were adopted by the executive branch now apply to everyone. The ubiquitious 3′ x 5′ flag that may be purchased in almost any general merchandise store in the USA is NOT A CODE FLAG! Just divide five feet by three feet and you'll see why. But how many people know this? And how many people go out of their way to fund such flags? (I've been campaigning about this issue for some time – see http://www.gideonflags.com/Flag%20letter-2.pdf. I sell the proper U.S. Flags but, except for my military clients, I get few requests for them.)