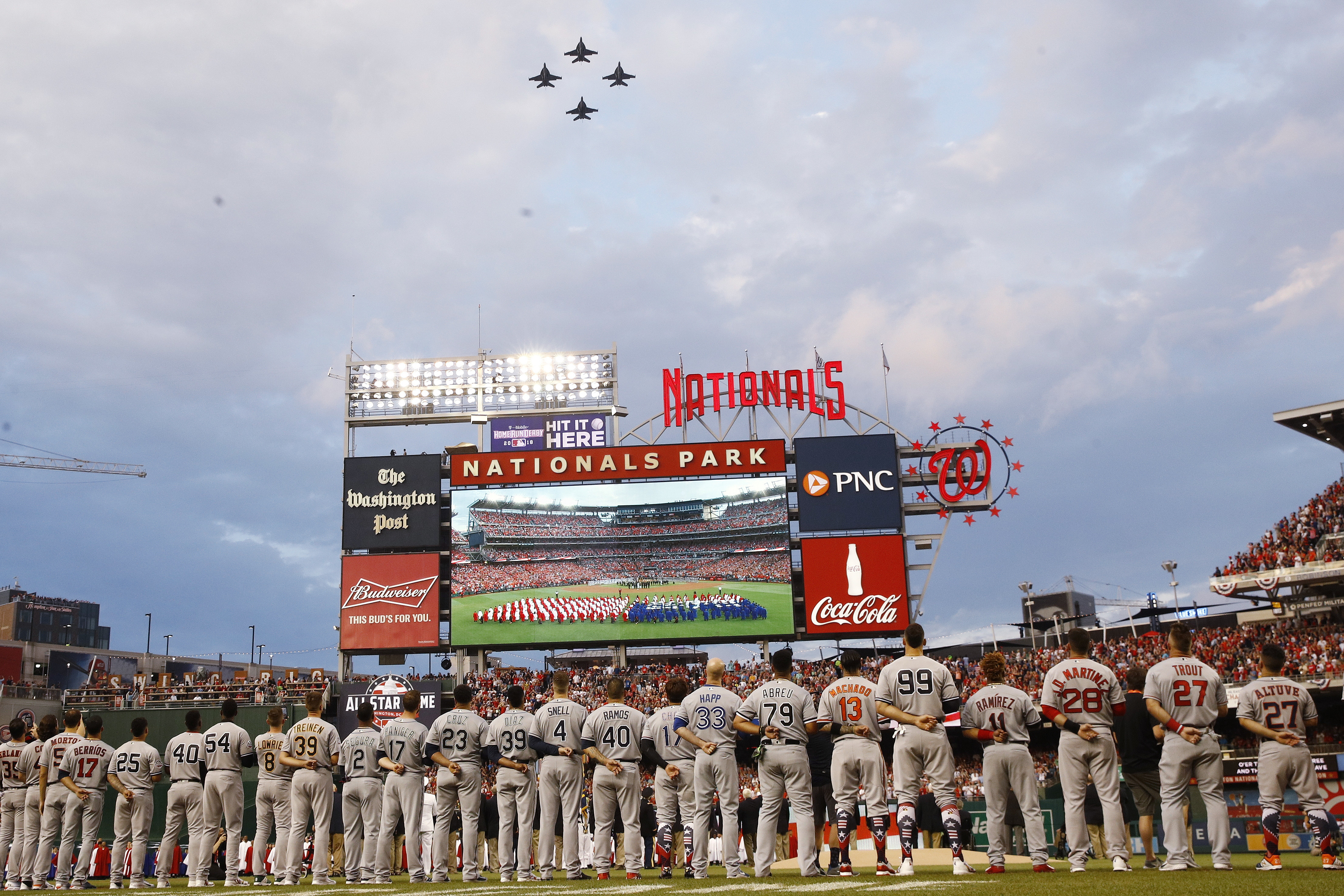 Anyone who's been to a baseball or football game recently must be wondering where the line is between honoring veterans and the military, and using their experience and wounds for marketing gain.
At Target Field, there are no more openings this year to be the veteran that raises the American flag — the moment which sparks loudest cheers at a Twins game these days. The games are all booked up for the rest of the year.
It's a nice moment, for sure, but does the continuing exposition of the military have some exploitation involved?
Nick Francona, a former Marine (he was a sniper in Afghanistan), and the son of a near legendary baseball manager, blew the whistle on Major League Baseball during this week's "Only a Game" from WBUR. He's seen reality close up because he was a liason to veterans for the Angels, Dodgers, and Mets.
He created a program for Memorial Day for the Mets, he recalled, in which he paired Gold Star families with a player. The players recorded videos that told the stories of the fallen.
Mickey Callaway, David Wright, Brandon Nimmo, Wilmer Flores and Paul Sewald each share a personal connection to a member of the mIlitary that lost their life on duty. On #MemorialDay they honor those men and women that paid the ultimate sacrifice. If you have a story of a fallen service member we encourage you to share it and join us in honoring them today.

Posted by New York Mets on Monday, May 28, 2018
He says the players were emotional and authentic. They wore wristbands honoring the dead.
Major League Baseball? Not so much, he says.
"So I'm on the flight back, and I get an email from someone with the Mets asking, like, 'Oh, great job. Now we need to get all the families to sign these waivers, to waive the rights as licensees for the bracelets that these guys wore.' And I'm, like, 'Whoa, whoa, whoa, were not … like, absolutely not.'

"They referred to them as 'license holders.' The families. And I'm, like, 'I think you mean parent of dead Marine or soldier.' Patently offensive. And there was no way I was going to have them sign that and refused to do so. I wanted to know exactly whose bright idea this was and was going to give them a piece of my mind. And that ended it pretty quickly. And the next day was my last day there.

"They called me in and said, 'You've done a great job here, really had a huge impact. You've also had a big impact on the veteran stuff with Major League Baseball, but your comments aren't compatible with having a career in baseball. So we're going to have to part ways.' "
He's out of baseball now.
"I'll find something else. I think it's sad. And I think it speaks volumes about the state of Major League Baseball," he said.
Much of this springs from 9/11, when patriotism — the real patriotism — brought the nation together in the pre-war aftermath of an attack on the country. The rituals served their purpose, says Bill Astore, a retired Air Force officer who writes about militarization in sports on his blog, "Bracing Views."
"We sing 'God Bless America' during the seventh-inning stretch, because, well, that's what we do now," Astore says. "We have a huge flag and military flyovers because that's what we do. We celebrate a military person after the fourth inning because that's what we do. And we've come to expect it.

"I think we as Americans need to come together and recognize that all of this needs to be ratcheted back, that we need to return to a simpler time — when you played the national anthem, you respected our country and then you play ball. And you just enjoy the game the way it was meant to be enjoyed."