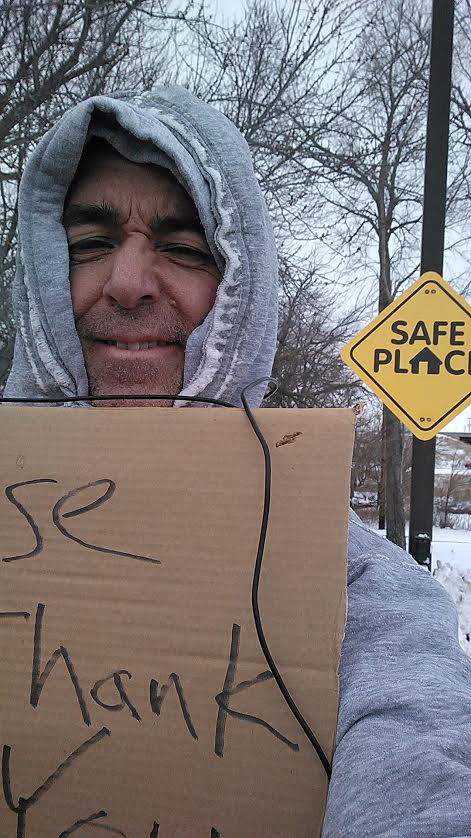 In Johnston, Iowa Jonnie Wright stood by the side of the road on Christmas Eve. A few people stopped to help the apparent homeless man. But when they rolled down their window, he gave them an envelope.
Inside was a letter explaining that he wasn't homeless. And some money.
He explained on his Facebook page:
I have never been homeless but I know what it feels like to feel like you can't go home.

And so I am so thankful to be able to share with you what happened today. I was able to do something to give back to my community in a way I have dreamed of doing for some time. Today I made a sign out of a cardboard box and audio cable. I wrote a note (see note attached) and put 50 copies in 50 envelopes along with $10 in each. (A few envelopes got more.) I parked at Quik Trip in Johnston, walked to the intersection of Merle Hay Road and the westbound exit ramp off I-80/35, hung the sign around my neck and stood there for a few hours. Thinking I was homeless, people stopped and gave me cash. They searched through wallets and purses for paper money and change. They scurried to round up change in their cars. Some drove to ATM's and returned with cash.

Each time someone stopped to donate money I handed them an envelope with the note and cash. In 2 hours 30 people had stopped and donated, until an off duty police officer pulled up and reminded me that it is illegal to panhandle in Polk County.

So I drove to Ames (where it is legal) and did the same thing at the NW corner of Lincoln Way and Duff. I gave away the 20 remaining envelopes to the 20 people who stopped and donated.

Across those four hours, wearing inadequate clothing in 12 degree temps, shivering with head bowed, standing in front of strangers, afraid to look them in the eye and silently begging for their help I felt helpless and cold and humbled and ignored and broken – and proud and grateful and thrilled and honored and loved. The power of human kindness and generosity carved a permanent place and space in my heart and I will never forget their loving faces and gentle touch as they placed their hard-earned money in my hand.

Total donated today by people who stopped (see pic attached): $363.02, 3 pepperoni sandwiches, 2 donuts, 1 pack of M and M's, 1 apple and 1 pair of gloves.

Total to be donated to the Bethel Mission: Food and gloves plus I'll match every dollar donated for a total donation of $1,000. (I was never any good at math.)

A few amazing stories.

Maria was the first to stop and donate in Des Moines. Her envelope contained $100. She left a voice message on my cell phone and, in tears, said, "I only had $16 but I saw you and wanted to help so I bought some donuts and gave them to you along with a dollar. I have a Christmas get-together with my family tonight and I didn't know how I was going to get gifts for everybody. Now I can."

A man in Des Moines donated cash and his gloves.

Another man in Des Moines gave $10, read the note and left a voice mail. "I took the $10 you gave me and am going to donate $200 to a charity."

In Ames a man donated 40 silver dollars. After reading the note he came back, introduced himself (his name escapes me) and said he is the cousin of a pastor that works at Bethel Mission in Des Moines and that he just messaged him on Facebook.

A young Ames couple pulled up and handed me $5. 20 minutes later they returned and this time handed me a $50 bill.

Nikki, who attends St. Thomas Church in Ames, texted me: "You made our Christmas! At our church electrical rates are going up so the money you gave us will help our church."

Another person texted me: "I don't even know how to begin! You touched my heart today and I'm sure many many others! Thank YOU for your kindness. God bless!"

Through kindness and compassion we are all connected. Through smiles and tears and joy and pain we are all connected. Through faith and love we are all connected. Through the birth of Christ and the power of God's love we are all connected.

Tonight please join me in thanking those who gave today and those who give of themselves every day, and say a prayer with me for those who don't have the option to stop pretending to be homeless and walk back to their warm Prius because their homelessness and helplessness is real. But more than anything, join me in holding those closest to you even closer, and loving those who you love even more.