Every sports team declares its fans to be "the best," but Seattle has upped the ante today.
The "12th man" is a rallying cry for the team this season, a tribute to the fans who support the Seahawks, who'll play in the Super Bowl on Sunday.
Today, the Boeing Company rolled out a 747 freighter jet, painted in the team colors.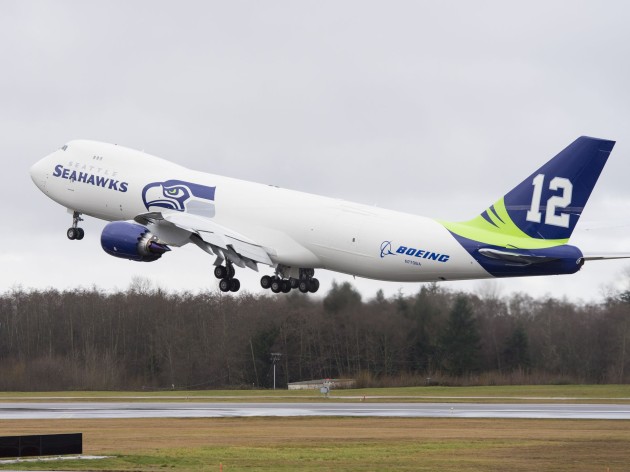 And then filed this flight plan with the FAA for a journey this afternoon…
SEA146051 KS06G 4625N 12000W 4625N 11945W 4725N 11945W 4725N 12000W 4743N 12000W 4800N 11945W 4800N 11925W 4625N 11925W 4625N 11910W 4600N 11910W 4600N 11850W 4653N 11850W 4712N 11830W 4712N 11800W 4737N 11800W 4737N 11825W 4725N 11825W 4725N 11850W 4743N 11850W 4800N 11830W 4800N 11753W 4743N 11733W 4707N 11733W 4649N 11753W 4649N 11825W 4625N 11825W 4625N 11800W 4635N 11800W 4635N 11730W 4600N 11730W 4600N 11850W 4600N 11910W KS06G SUMMA SEA
… which are all waypoints and coordinates for the flight, whose route actually looks like this: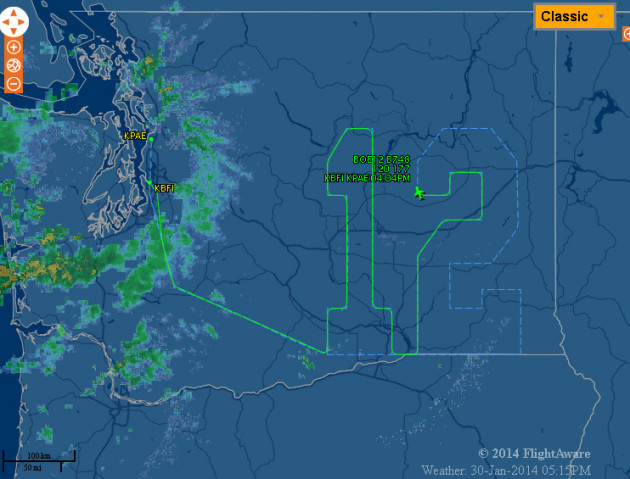 You can follow the flight here.
That would appear to jump Seattle to the lead in the aviation-themed lead-up to the Super Bowl.
In recognition of Denver Bronco quarterback Peyton Manning's trademark hollering of "Omaha!" to signify a play when he brings his team to the line of scrimmage, the Denver airport has been adjusting its signage.
@darrenrovell From a friend flying home at the Denver airport pic.twitter.com/lDR1hFQHic

— SC (@scott_says_) January 28, 2014