I turned on the TV news this morning and they were pretty excited about this map: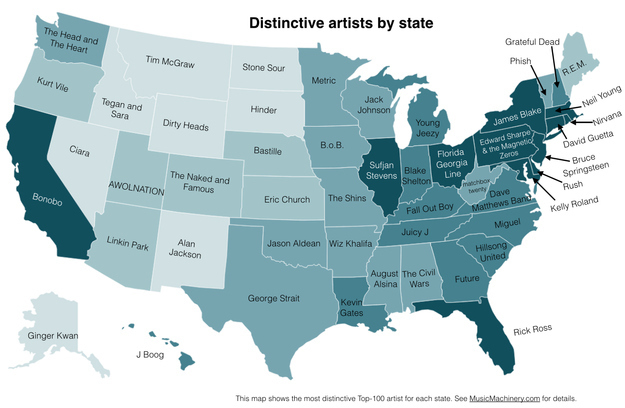 I flipped over to Twitter, and my feed was pretty excited too about the map that purports to show every state's favorite band, or so BuzzFeed — not noted for a high degree of nuance — claims, and that's good enough for Twitter and Facebook. And TV.
Stand down, Minnesota. Metric is not Minnesota's favorite band. It's probably not its most distinctive band.
But people in Minnesota tend to listen to Metric more often than other states because that's what the creator of the map, Paul Lemere, was trying to show.
What the map actually shows is either (a) Minnesota "gets it" when it comes to Metric or (b) Minnesota doesn't really "get it" when it comes to Metric.
What the map shows is the difference between how a particular band ranks in a state with how it ranks in the rest of the country. In this case, the map shows that the rest of the country isn't that into Metric.
But Minnesota isn't really that into Metric, either. The band ranks 41st on the most-favorite list of Minnesota listeners. But Metric ranks 211th in the country as a whole. That's the biggest disparity (by band rank) where Minnesota is concerned.
The man who built the map also built a web app to further investigate our musical tastes.
Some findings:
The artist most listened to in Minnesota who is most not listened to in Texas is POS.
Muse, Bob Dylan, Phoenix, Frank Ocean, and CHVRCHES are all more popular in Minnesota than Metric. But they're popular everywhere else, too.
Need proof that Minnesota is a local music state? Solid Gold, Communist Daughter, Jeremy Messersmith, The Okee Dokee Brothers, Caroline Smith, Har Mar Superstar, Dessa, and Doomtree lead the list of artists who are more listened to in Minnesota than any other state.
There's a pretty surprising gap (at least for me) between Minnesota and Wisconsin when it comes to Bob Dylan.
The biggest gap between what Wisconsin listens to and what Minnesota doesn't is R Kelly, the Chicago R&B artist and record producer.
In the battle of cool states — Minnesota and Oregon — Miley Cyrus is listened to much more here than there. And Fleet Foxes is listened to much more there than here. Advantage: Portland. Oregon. Same thing.
Most of the differences in listening tastes between Minnesota and the rest of the Upper Midwest seems to revolve around hip hop and black artists.