Northern Minnesota, you missed a perfect opportunity to increase February tourism during the Olympics. It's one of the few places in the U.S. where you can see more-than-halfway-decent coverage of the Olympics, Regressing says.
To do it, you have to stop watching NBC's coverage, the highlight of which has mostly been Bob Costas' infected eyeball.
People on the Canadian border can access CBC coverage, which is much more robust — almost three times the number of hours of coverage as the U.S. side.
Whether that translates to coverage of actual sports, only its viewers can say. The American media has a difficult time with the Olympics after the first four days, which might explain — but probably not — the NY Daily News coverage of today's defeat of the U.S. women's curling team.
That's not to say we haven't enjoyed the local media's presence in Sochi, covering the Minnesotans in the Olympics. But the coverage of the coverage has been almost as entertaining.
Pity poor @murphPPress in #Sochi, so tired from watching all that awesome action. Postcard: http://t.co/BBK872aWTR pic.twitter.com/OqkAJgoOBj

— Pioneer Press (@PioneerPress) February 11, 2014
KARE 11 posted this picture on Facebook of one of its photographers getting "big footed" by another cameraman at the news conference for U.S. hockey today.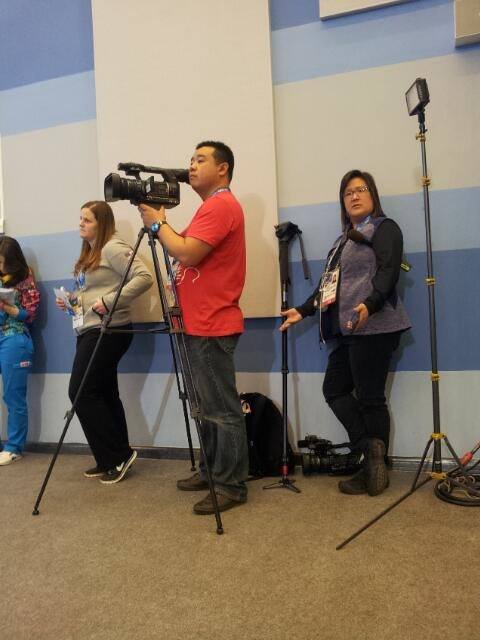 Pretty funny stuff. Except to Minnesotans on Facebook, apparently. It sparked a lengthy thread on social norms, cultural sensitivity, and passive aggressiveness.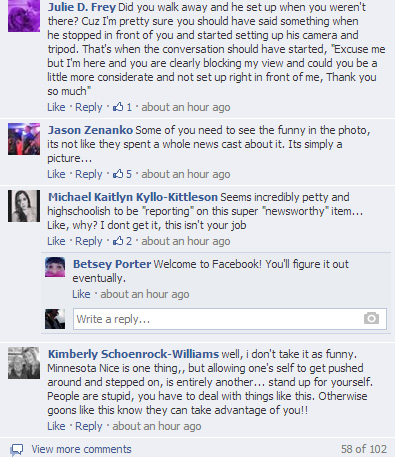 It's February in Minnesota.