For many years now, NewsCut has been an experiment and it's time to evaluate one of those experiments: 5×8. I've been considering making some changes to NewsCut, principally with eliminating the daily 5×8 aggregation, which, frankly, takes an increasing amount of time to put together, in favor of merely putting up several individual posts in the morning hours. Would all the typical 5×8 items end up appearing on NewsCut? Probably not, since the "mix" of stories I find on a given morning are as much a part of what I've been trying to do as what the stories are. But this might be a nuance that isn't apparent or even desired. Or maybe it is; I don't know.
Your feedback on how — or even whether — you consume 5×8 will help give me some more information. Here's a short survey you can take to provide that feedback. There are only a few questions (and room for you to tell me whatever else you might want to tell me). I'd very much appreciate your taking a minute (or less) to provide some feedback. It will only be helpful if most of you take the survey.
Why did Pope Benedict resign? In its documentary last night, PBS' Frontline uncovered "threats and scandals" beyond the clergy sex abuse crisis — money laundering and corruption at the Vatican Bank; the release of internal documents revealing cronyism, power struggles, and allegations of blackmail within the Holy See.
The documentary said there is a "don't ask, don't tell" culture within the Vatican when it comes to priests' sexual orientation and finds that some priests are embarking on illicit relationships despite vows of celibacy.
"Here in Rome it's very easy to meet a gay priest, on a bus, in a church, and in important churches like St. Peter's," one Vatican guide who says he has had relationships with several priests told Frontline. "It's even easier when you go to gay clubs and gay bars. You see them in the bars, and then at the altar the following Sunday."
The documentary said the current pope had intended to resign as cardinal at the time he was elevated to pope.
Related: Benedict Dismisses Renewed Rumors About Why He Left The Papacy (NPR).
Priest searched online for sexual images of children, according to police report (Minnesota Public Radio News).
One-Third Of Millennials Who Left Their Religion Did It Because Of Anti-Gay Policies: Survey (HuffPo)
2) MAIL CARRIER BLUES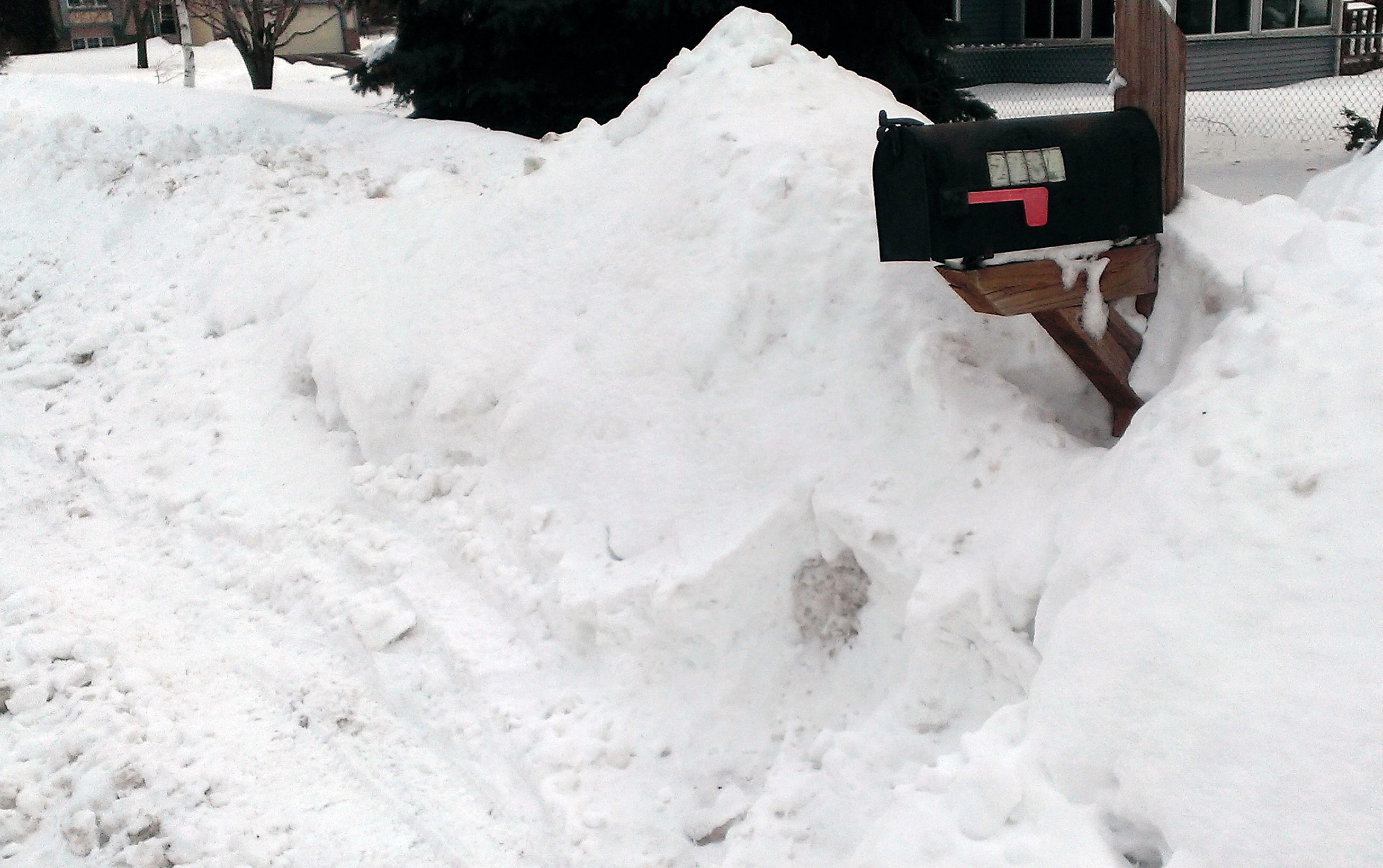 We have reached the point of winter where we've done all we can to outsmart it; now we just face the realities of it and adjust as best we can. The roads are horrible and likely to stay that way until it warms up. We complain, but we're smart enough to know the reality.
The newspaper doesn't quite make it to the front door, so we walk a little farther down the driveway. It's rough being a newspaper carrier. He/she makes the adjustments she can make, so do we. That's the way it is in winter in Minnesota.
We drive a little slower down the street because the cars are parked a little farther away from the curb because of all of the snow. It happens. It's winter. That's reality.
Reality and the U.S. Postal Service have never been familiar to one another.
I went out in the middle of the storm last week — at night — to snowblow around the mailbox, mindful of the gratitude my mail carrier would have for my effort. But it didn't matter. In the middle of the night, the city plowed the sopping-wet snow four feet high along the road, the temperature dropped, and it froze.
I snowblowed a path to the mailbox and I tried to get rid of as much snow as I could. But it would take C-4 explosives at this point. Not that I didn't try, mail carrier, but I broke an auger on my snowblower doing so. That cost me $150.
A little appreciation of my effort? I didn't get it. I got this: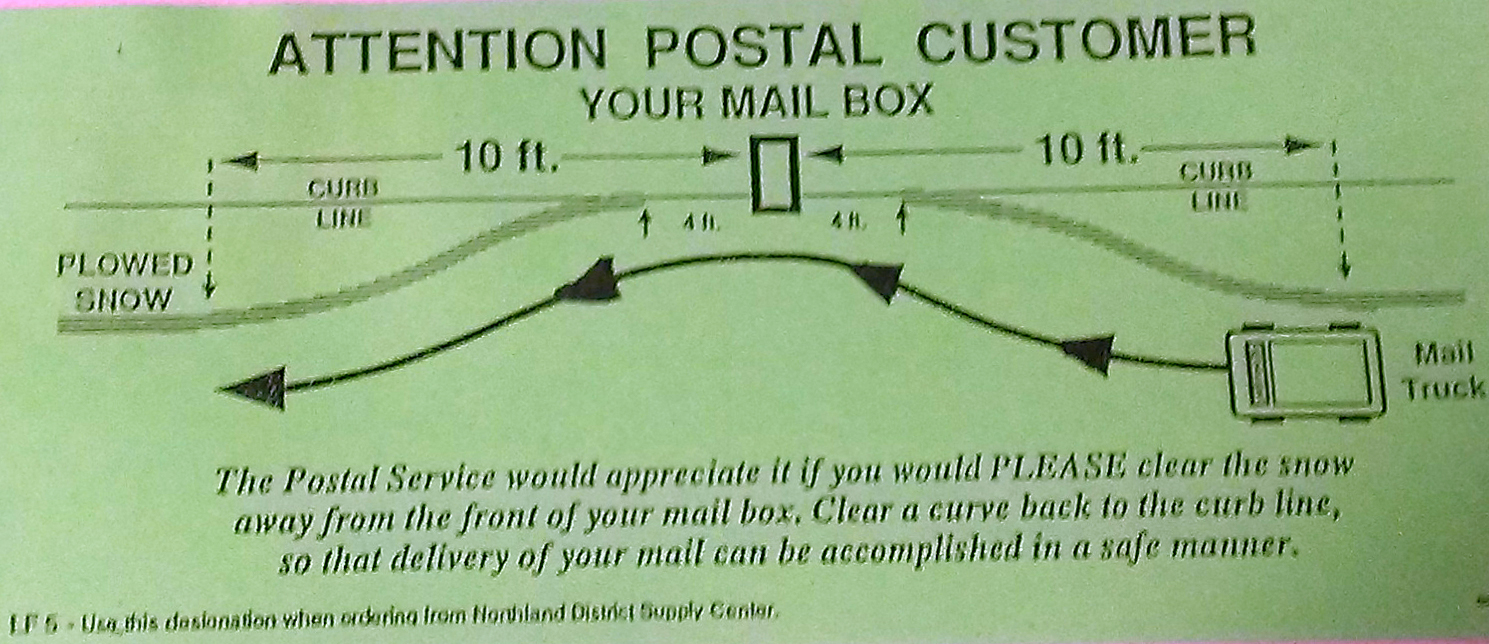 And yesterday I got this: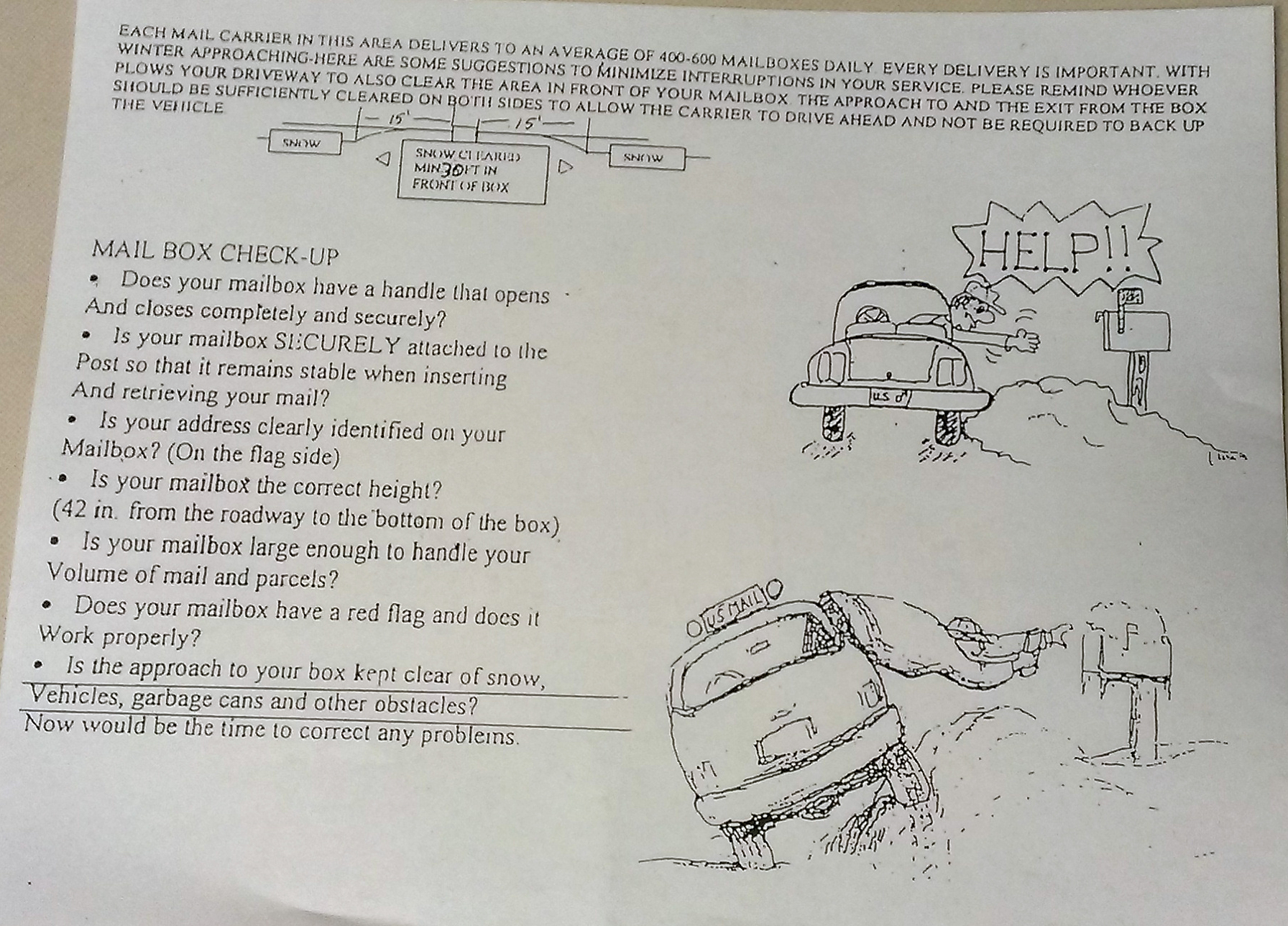 As everyone in Minnesota has been told, you'll just have to be patient, mail carrier. We're all in this together. I know this makes it difficult to drive right up to the mailbox, but there was actually a time when people threw a satchel over their shoulder and walked from house to house.
The mail carrier can't do that anymore. It's against the rules to step down from their truck, and take two steps along the shoveled path to the mailbox.
And so we've reached the point of winter where unrealistic expectations collide with a people who have made every concession to winter that we can make.
Related: Global warming/climate change won't affect the number of cold-weather deaths (Weather Channel).
3) THE NEW SKYMILES
The era of accumulating frequent flier miles on the cheap is over. Delta is announcing its revamping its SkyMiles program. You'll get miles based on how much money you spend, not how many miles you fly, the Atlanta Journal Constitution reports today.
What remains to be seen, however, is whether consumers, who are tethered to airlines because of these types of programs, start flying other airlines. If it's harder to get frequent flier miles, is it easier for you to fly another, cheaper airline?
4) WHERE ARE THE WOMEN?
The next time you watch a movie with a crowd scene, take notice of how many women aren't in the crowd, actress Geena Davis told students at the College of St. Benedict yesterday. Leading roles and crowd scenes feature only abut 17 percent women, the St. Cloud Times says.
"That means that all the fictitious worlds that are created, the underseas kingdoms and the villages and planetary colonies are made up of only about 17 percent female presence. You think you'd almost have to go out of your way to leave out that many women," Davis said.
Related: Young girl's generosity on display at Paint the Rink Pink (Rochester Post Bulletin).
5) AFTER THE ARROWHEAD
When we last left Christopher Tasava of Northfield, he was finishing the Arrowhead 135, the International Falls-to-Tower bike, hike, or ski race held in the coldest weather of the year.
But what happens to people who ride their bike for two straight days in -40 weather? His new blog post provides the answer:
Unlike my raging appetite, other physical effects have mostly disappeared. My frostbitten nose healed disgustingly but rapidly, and is now back to normal in both appearance and function. That is, it's still "very big" (according to the girls) but doesn't get especially chilled when I am out in the cold. I am sorry that anyone had to see my nose repairing itself. The process was pretty gross.

My fingers and toes also got mildly frostbitten. The fingers are fine now, but my toes continue to feel somewhat numb, as if they're perpetually waking up after "falling asleep." I debate whether this numbness is due more to the extreme cold or to the fact that I wore the same boots for something like 30 hours, but either way, I am still dealing with it. I think that the numbness is gradually diminishing. I sure hope it is.

One somewhat odd effect, or perhaps side effect, of the race is how comfortable I feel on my bike right now. I've always felt good on the Beast, but my riding position – long, deep pedal strokes; a slightly hunched back; hands wide on the bars – is now familiar and pleasing, as well as comfortable. Some of this comfort is physical, but some of it is also psychological: this is how my body survived those hours and hours in the middle of the night…
Bonus: The latest viral documentary that's actually an advertisement comes from a lingerie firm in Thailand:
TODAY'S QUESTION
How has your view of President Obama changed over time?
WHAT WE'RE DOING
Daily Circuit (9-12 p.m.) – First hour: Why women are more likely to suffer from chronic pain
Second hour: As the President comes to St. Paul as part of his "year of action" tour, we will take a look at his initiatives over the course of his presidency and how they've fared compared with those of other presidents.
Third hour: Why I read.
MPR News Presents (12-1 pm) – American RadioWorks documentary "State of Siege: Mississippi Whites and the Civil Rights Movement."
The Takeaway (1-2 p.m.) – A stunning new report shows that childhood obesity rates have dropped by 43% for kids 2 to 5 years old. What has changed in the last decade and what does this mean for the country's obesity epidemic?
All Things Considered (3-6:30 p.m.) – MPR's Mark Zdechlik will wrap up President Obama's trip to Saint Paul.
California's drought has state officials there looking at alternative water sources, like the ocean. Tapping into seawater requires an expensive desalination plant, which some say can harm the environment. Others argue that it's worth the price for this reliable, drought-proof resource. NPR reports on California's debate on desalination.