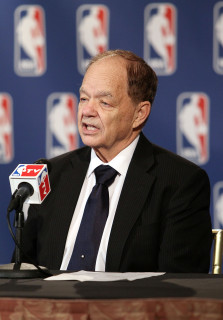 The third-richest man in Minnesota may be buying the Star Tribune newspaper, a report today says.
Glen Taylor, owner of the Minnesota Timberwolves, former legislator, and owner of companies in the wedding invitation printing business, is nearing a final agreement with the paper, according to the business newsletter, Business Take.
According to multiple people "in the know", Taylor Corporation and MN Timberwolves owner Glen Taylor is very close to reaching an agreement to buy the Star Tribune. Taylor has expressed an interest previously, and has intensified negotiations recently. One person with knowledge of the transaction suggested that think that there is "an agreement in principle."

The Star Tribune is currently owned by a series of outside investment groups led by Wayzata Investment Partners. who bought the newspaper out of bankruptcy.
Taylor has been trying to get a piece of the Star Tribune for several years.
It's not unusual that an individual who owns a sports team also tries to buy the newspaper in town. John Henry, owner of the Boston Red Sox, recently bought the Boston Globe. The Wrigley family, who owned the Cubs for years, owned the Chicago Tribune.
That doesn't mean it's a great idea, some journalists say.
Writing in the New York Times last year, Peter May suggested Henry's acquisition of the newspaper would silence critics of his team…
The team's stunning collapse in September 2011 was followed by a Globe investigative piece by Bob Hohler, revealing that pitchers John Lackey, Josh Beckett and Jon Lester had been eating fried chicken and drinking beer in the clubhouse during games. Hohler also wrote that management had concerns that Francona's deteriorating marriage and his use of painkillers may have affected his performance.

In a radio interview at the time, Henry said of the article, "It's reprehensible that it was written about in the first place."

Henry would now be in a position to kill such an article, which concerns Ryan, who retired from The Globe in 2012 but who has a verbal agreement to write up to 40 columns in 2013.
It's a little different in Minneapolis, however. The Star Tribune already had a conflict of interest with a team in town because its real estate holdings were a part of the negotiations around the taxpayer-financed new stadium for the Minnesota Vikings, which the paper championed in editorial pages, but which were fairly covered by its reporters.
Taylor also benefited the stadium deal because it earmarked millions of dollars for renovation of Target Center, whose main tenant is the Minnesota Timberwolves.