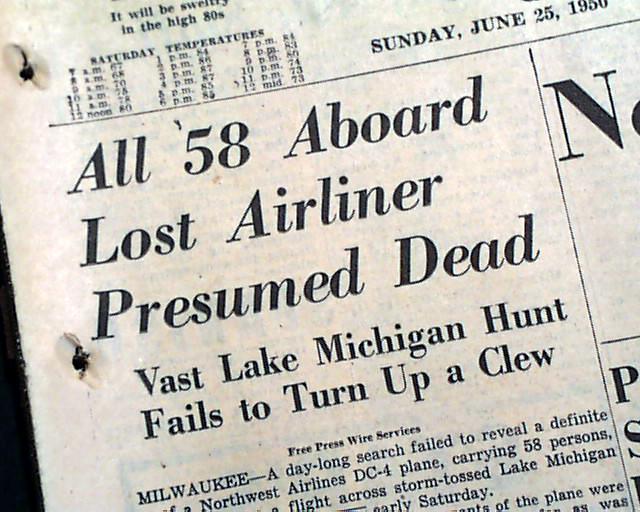 It may well be that searchers never find the Malaysia Airlines Boeing 777 that disappeared without a trace — so far — over the weekend. Sometimes, that's the way airline crashes go.
The Milwaukee Journal Sentinel today recalls Northwest Airlines 2501, a DC-4 that disappeared over Lake Michigan in 1950 with 58 people aboard, then the worst commercial airline disaster.
After taking off from LaGuardia Airport in New York with a scheduled stop in Minneapolis en route to Seattle, the plane went down in a thunderstorm — somewhere.
At first searchers thought the plane dropped from the sky near Milwaukee. The Coast Guard began looking near Cudahy and South Milwaukee, where oil slicks had been found. It would be 48 hours of searching in the wrong place before authorities learned of residents on the other side of the lake near South Haven, Mich., finding debris: a doll, clothing with price tags still on them, a flight kit containing Northwest brochures and schedules, eight blankets printed with the Northwest Airlines logo, a bible, a girl's red sandals.
There were no black boxes to record flight information back then. When the Korean War started a few days later, the need to find the wreckage and figure out what happened had diminished.
Volunteers still looking for the plane have so far found 14 shipwrecks, but no plane. They'll resume their search this spring.
(Volunteer Valerie)Van Heest has solved one mystery relating to Northwest Flight 2501. Until 2008, none of the families knew what had happened to the human remains recovered from the lake. Van Heest found a man who studied cemetery records, and through him she learned of a notation in the archives of Riverview Cemetery in St. Joseph, Mich., of unidentified remains of aircraft victims that had been buried July 1, 1950.

When she discovered the burial site had no marker, she thought that was disrespectful. In 2008 she attended a ceremony at the cemetery with 58 family members of Flight 2501 where a large black granite marker now lists the names of the 58. And these words:

"In Memory of Northwest Flight 2501, June 23, 1950. Gone but Never Forgotten."
Related: Remembering NWA Flight 2501 website