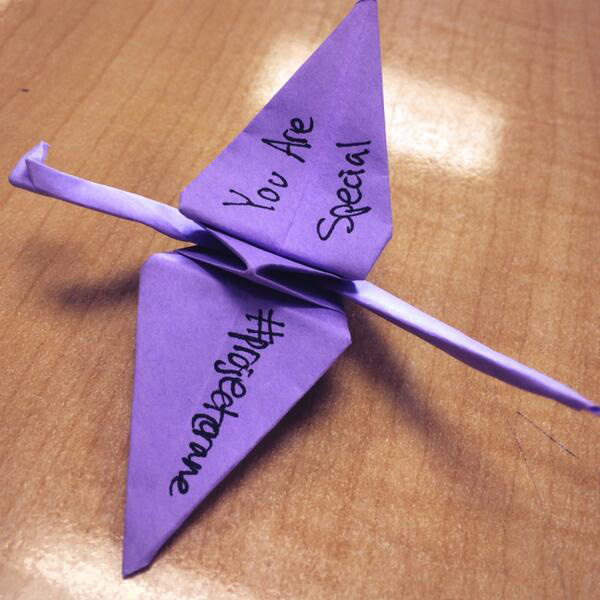 From the look of things, Edina High School is about to lose a neat person to graduation.
An anonymous senior at the school today left 3,000 paper cranes around the school, apparently to help dispel the image of the Edina student as a self-absorbed rich kid.
According to a news release from the school:
Earlier in the semester, this anonymous senior and paper crane maker approached (Principal Bruce) Locklear to discuss what they wanted the legacy of the EHS Class of 2014 to be. According to Locklear, they wanted every student and staff member to know that they were cared for, not only by those who were a part of EHS, but also by the community at large. They planned to anonymously accomplish this goal by making 3,000 inspirational paper crane messages to place on each desk at EHS on the last day for May Term participating seniors: May 16.

Though they wish to remain anonymous, Edina Public Schools (EPS) was able to communicate with them on Twitter @theprojectcrane. According to @theprojectcrane, this random act of kindness was a way for them to defy EHS stereotypes.

"I wanted to do this at EHS because Edina is always associated with everyone being a rich kid and not caring about others," they wrote. "I knew that if even one person that received a crane was positively influenced, that it all would be worth it…the legacy piece was to make sure each and every student and faculty had a great day."
Earlier this year, the same student left paper cranes scattered around the Mall of America.
500 paper cranes to leave all over the Mall of America. First operation of #projectcrane tweet if you found a crane! pic.twitter.com/veqUTFXZZI

— Project Crane (@theprojectcrane) January 6, 2014
Meanwhile, at Prior Lake High School….