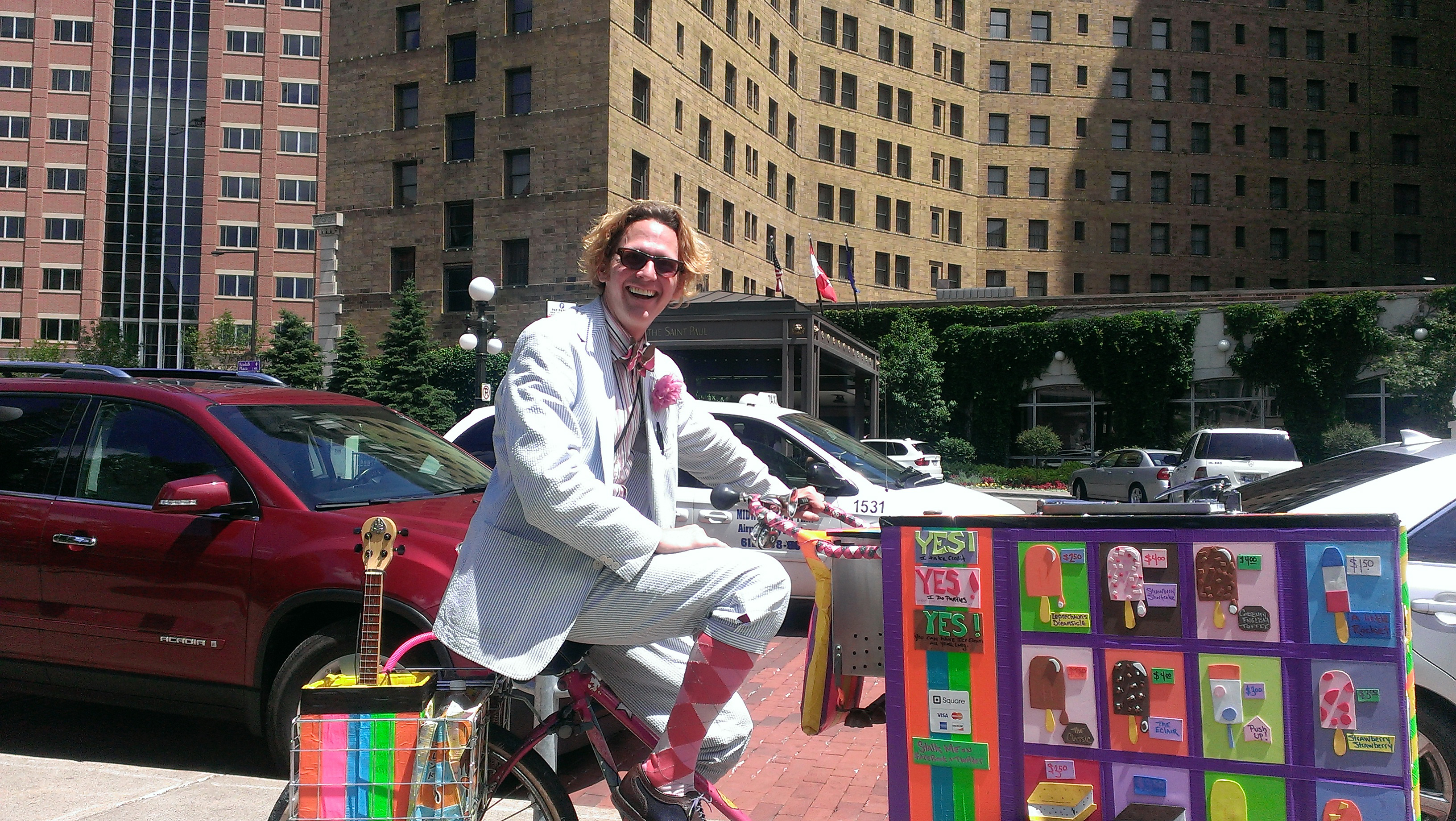 Like most great performers, Stephen Dragert Gallivan is a shy guy. Put him in a seersucker suit, stick him on a tricycle, and give him ice cream to sell, however, and he's Wally Wonka, who has become a fixture in St. Paul since he gave up his gig as the head concierge at the Saint Paul Hotel a few years ago and turned to ice cream for a living.
"I'm a lot of things," he says when asked to define himself.
Ice cream wasn't his lifelong goal.
The Woodbury native wanted to be a mental health counselor and, for a time, he had the perfect place to practice: the Army. "It wants to get someone just healthy enough to send them back to a unit," he says.
But he's an artist at heart and by education, too. So during his nine years stationed at Fort Benning, Georgia, he played music gigs on the weekends. "When they found out, I basically became a two-star general's private minstrel. I had to work in the mental health clinic one day a week. The rest of the time I was rehearsing and singing. But my intention was to be a mental health counselor for a vocation," he says.
Then he heard "the calling" and entered a seminary in Iowa, but quickly became disillusioned with the proclivity of the church to look the other way on matters of the behavior of priests.
Returning to St. Paul, he met the woman he would marry and settled down. The head concierge job at the tony St. Paul was the ideal job, and he was good at it. The rich and famous knew him by name. And he acknowledges that it takes a performer to be a good concierge.
When his wife, Tena, developed a brain tumor, a concierge's salary wasn't going to cut it. He needed more money and even thought about going back to the infantry. He picked up the ice cream business on the side instead, then realized there's a fair amount of money in milk, especially if you give every customer a balloon animal too.
The nearby Heimie's Haberdashery, to whom he sent plenty of business in his concierge days, staked him with a seersucker suit. You can't be an ice cream guy without seersucker.
"I'm a street performer," he says while acknowledging his shyness. He wants to be identified as a fixture in St. Paul. So far, so good. He's in demand for weddings and corporate functions, he's most visible at the Minnesota RollerGirls events.
He knew he'd made the right career choice, he says, when a kid shouted "hey, ice cream man!", sounding like he was flagging down Santa Claus.
That's when Wally Wonka — a combination of Willy Wonka and Wally the Beer Man was born.
Back in the day, Tina wasn't sure giving up a steady paycheck was a good idea.
She's sure now.
"We had a crow-eating party a few years ago," he says proudly, while picking up litter a cab driver tossed on the ground at Rice Park, disgusted that someone would treat his city that way.