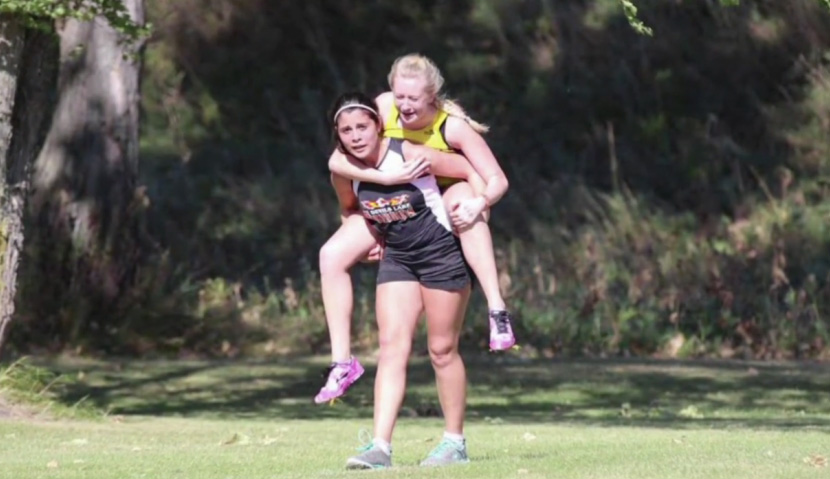 The coolest kids in my high school many decades ago were the cross country and track kids. Apparently, nothing has changed.
Melanie Bailey, a senior at Devils Lake High School in North Dakota, proved that last Saturday during a meet in Glyndon, Minnesota.
Danielle Lenoue, a senior at Fargo South, was ahead of Bailey a few miles into the race went she went down. She later was found to have torn her patella tendon and meniscus, according to the Devils Lake Journal.
So Bailey stopped and although Lenoue kept shouting for her to "go!", she didn't.
Instead, Bailey picked her up and carried her a quarter mile to get some help.
"She was just sobbing, I couldn't leave her," she explained.
It's not just cross country with the cool kids. There's also volleyball.
Take this example from Michael Isola, who covers sports around Wadena, Minnesota, and reported on something he saw to John Millea on his Minnesota State High School League blog:
Good afternoon John,

Attached you'll find a photo I had taken during the Pink Out Breast Cancer volleyball match between host New York Mills and Verndale on Thursday, October 2.

Both teams are Park Region Conference rivals and the match was a key battle between the two schools. Although Henning is the conference leader and will win the title, there is a three-way battle between NYM, Verndale and Sebeka for second place. So this was a big match with a lot at stake.

However, something happened that still gives me goose bumps.

Prior to the match, a program was held to honor breast cancer survivors. This year the annual Pink Out event took on a much more somber tone due to the fact that the Verndale head coach, Shelley Glenz, was recently diagnosed with cancer and was undergoing treatment. Shelley was unable to coach from the bench as she was recovering from a recent chemo treatment, I believe.

Her oldest daughter Jordyn Glenz (a junior) read a statement from her mother that night that brought a lot of emotions to light. When she was done speaking, two players from New York Mills came over to comfort her and give her a hug (which I captured). All of a sudden, the whole New York Mills team came over and surrounded Jordyn for a big group hug.

I was very touched by this gesture. In my 20-plus years of covering sports at all levels, I have never seen such a class act towards another player, and a rival player. Sure, I've read about plenty of wonderful displays of sportsmanship (including quite a few by you), but have never witnessed something like I saw on that Thursday night. Of course, I've witnessed the occasional player helping another player off the field or giving a hand once in awhile … but not this.

Shelley has three daughters who play volleyball for the Lady Pirates: Jordyn, Shania and Morgan. This display by a rival team affected everyone that night.

This act of compassion toward a player on the "other" team, especially one who is scared of losing her mother to cancer, speaks volumes about the character of these fine young ladies that was on display that night. Volleyball took a back seat to something far greater … and that is love and compassion. To show you care and support another player in a time of need was one of the greatest things I've had the pleasure to witness.

Kudos to these athletes, and to their coaches and their parents for raising such wonderful young ladies.

The photo shows Lydia Irons (left, obstructed) and Ellie Rutten (facing camera) of New York Mills hugging Jordyn Glenz (back/sideways to camera) after she finished reading the teary and touching letter from her mother.

I was unable to post this photo to my Beyond the Bleachers Facebook page until Sunday after I had gotten back from attending an out-of-state wedding. Within four hours the photo had exploded online … as of now I have more than 12,816 hits, 449 likes and 26 shares. Unbelievable.

Thanks John, have a great week

Mike