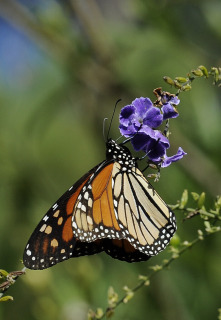 There's a little bit of good news for the Monarch butterfly. Initial estimates from their winter grounds suggest there are more arriving this year than last year.
That would appear to confirm evidence in these parts over the summer that there were more Monarchs around than in previous years.
But that's not saying a lot. They've declined by 90 percent in the last 20 years, according to the Center for Biological Diversity, which today applauded a decision by the U.S. Fish and Wildlife Service to consider adding the Monarch to the endangered species list. It will now conduct a one-year status review on Monarchs.
Twenty years ago, the Monarchs covered about 50 acres at their winter grounds in Mexico. Last year they occupied less than two.
At another winter grounds in Pacific Grove, California, a sanctuary spokeswoman says the number of Monarchs have increased this year.
They're still arriving in Mexico, so an acreage number for comparison isn't yet available.
Related: Efforts to Restore Monarch Butterflies' Milkweed Habitats May Be Doing More Harm Than Good (KQED).