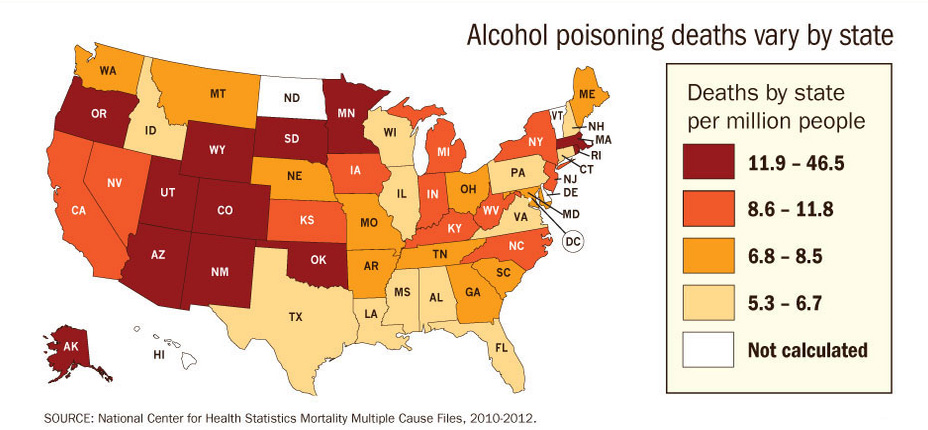 We don't usually see Minnesota at the bottom of surveys but that's where the state is in the ranking of states with the most alcohol poisoning deaths.
Between 2010 and 2012, 16.4 people per million population died in Minnesota from alcohol poisoning, the Centers for Disease Control said today. Only seven states are worse. On average, six people nationwide die every day from alcohol poisoning, the CDC said. And 76% of them were between 35 and 64.
It says the report shows the problem of binge drinking is worse than previously thought.
Says the Washington Post:
The new CDC report, based on death certificate data from 2010 to 2012, showed that 2,221 Americans die each year of alcohol poisoning. Most (68 percent) are white, but American Indians and Alaska natives have the highest rate of deaths per million population. The highest death rate is in Alaska (46.5 per million) and the lowest is in Alabama (5.3 per million).

Some 38 million U.S. adults report binge drinking an average of four times a month, and here the common perception holds that the 18-34 age group has the largest number of binge drinkers, according to a 2012 CDC report. The same report also showed, however, that people over 65 binge drink most often.

A binge is defined as five drinks for a man or four for a woman in about two or three hours. A drink can be 12 ounces of beer, eight ounces of malt liquor, five ounces of wine or 1.5 ounces of distilled spirits.
Most binge drinkers are not alcoholics, the CDC said.