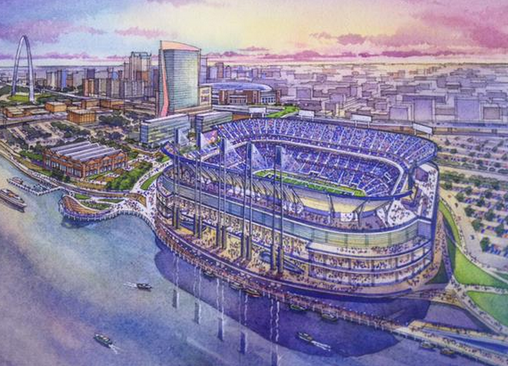 There's an old saying in sports: If a play is working, just keep running it.
The National Football League ran its stadium play again this month in St. Louis and, just as it has in every other city, it's working perfectly so far.
Today, planners in St. Louis unveiled an estimated $900 million stadium plan to "save" football in the city.
As usual, it took the not-at-all-subtle move from the owner of the St. Louis Rams to gin up the panic.
"This is about the future … and that we need to fight for what it rightfully ours," said former Anheuser Busch executive Dave Peacock, who was appointed two months ago to come up with "options" to keep professional football in St. Louis.
The only real option in the NFL, of course, is a publicly subsidized stadium.
Today's unveiling comes just four days after the owner of the Rams — Stan Kroenke — said he's planning to build a stadium near Los Angeles.
He and St. Louis and Missouri officials are $575 million apart on how much he'll contribute to a stadium in St. Louis.
The local media, predictably, is in full panic mode, explaining how public financing is doable and not really that challenging, but questions whether the owner wants to stay in St. Louis.
Stop me if you've heard this before.
But there's a reality here that should've been proven when Vikings owner Zygi Wilf ran the same play: The NFL can't really afford to have a team actually move to Los Angeles.
"The NFL appears to be in no hurry because an empty L.A. market has been more valuable to the League than an occupied market since the Rams came to St. Louis 20 years ago," John Vrooman, an economics professor at Vanderbilt University economics professor, told the St. Louis Business Journal .
He also provided the X's and O's on how to defend against the play.
"First, relocation threats from the (Oakland) Raiders and the (San Diego) Chargers obviously weaken the bargaining power of (St. Louis Rams owner Stan Kroenke) with St. Louis, even if the League is shopping a double your money two-for-one relocation package," he said. "The other advantage for St. Louis is that the more crowded the field of potential L.A. developers the weaker the overall position of any one developer. This competition among stadium proposals along with L.A.'s political quagmire, is what killed the L.A. expansion chances in the 2002 expansion into Houston. L.A. is economically powerful but it is also economically divided and politically dysfunctional."

Vrooman said he believes Los Angeles will eventually get a team along with San Antonio becoming the NFL's next bargaining chip.
"When dealing with the NFL, it is critically important to realize that the league is more effectively diversified and risk-free through time and space than any local or regional government or sports authority in any mid-market or large market," he said.
But nothing will change until some community is willing to "play defense." The NFL is smart enough to know that's never going to happen.