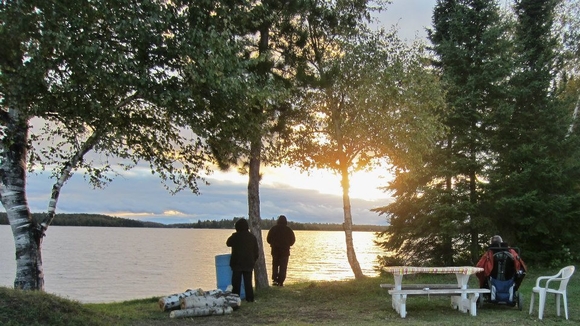 A camping resort for people with disabilities may have to close near Thunder Bay, Ontario.
The province of Ontario, which owns the land that the The Wilderness Discovery Resort at Lake Shebandowan leases, wants to sell it for market value but the owners of it can't afford to buy it.
"Our work, as a result of all the programming we provide to people with disabilities at no cost to government, is saving the government hundreds of thousands of dollars every year," owner David Shannon tells the CBC.
Kevin Johnson of Madison Lake, Minn., calls it a "unique treasure." He's spearheading the efforts to save it.
My wife and I have cared for a disabled veteran for nearly 25 years. The ability to travel and find suitable accommodations is an immense challenge. There are so many obstacles to the disabled that you may not realize.

Hotels and resorts do not cater to people with special needs because they don't really have to. They typically do the bare minimum required by law. This leads to unpleasant surprises and compromises in safety and comfort. Personally, I find that very unfair to the brave individuals who have served for us and unfair for anyone who wishes only to be treated equally and fairly.

When we were fortunate enough to hear of Wilderness Discovery, we saw an opportunity to venture to a destination developed to accommodate people that had been neglected for far too long. The resort is barrier-free, managed by a compassionate organization, and provides a place for everyone to feel welcome. If there is another resort that comes remotely close to this, we have yet to find it. Trust me when I tell you that we have searched extensively for anything similar and nothing else compares.

Wilderness Discovery is a day's drive for us from southern Minnesota. We rendezvous with others in Duluth and arrive at a beautifully scenic cabin where we spend precious family time and create irreplaceable memories.

We love to dine, shop, and visit other attractions. We bring important tourist dollars to the area. We share our experiences with our neighbors and friends. We have brought this unique resort to the attention of nearly every department at the Minneapolis Veterans Hospital, Paralyzed Veterans of America, and Disabled American Veterans.

Wilderness Discovery should not be disbanded. It should be expanded. Families should continue to have a refuge with their needs met by thoughtful design and a caring staff in a picturesque setting. To lose this would deprive some people of the only place of its kind. That would seem contrary to HAGI's very mission and uncaring by the government in meeting the needs of those that need them the most.
"Our mandate at Infrastructure Ontario is to obtain fair market value to ensure the best value for the people of Ontario for the land," a spokesman for Interior Ontario said.
Johnson is hoping an online petition can pressure the government.
(h/t: Carol Lostetter)