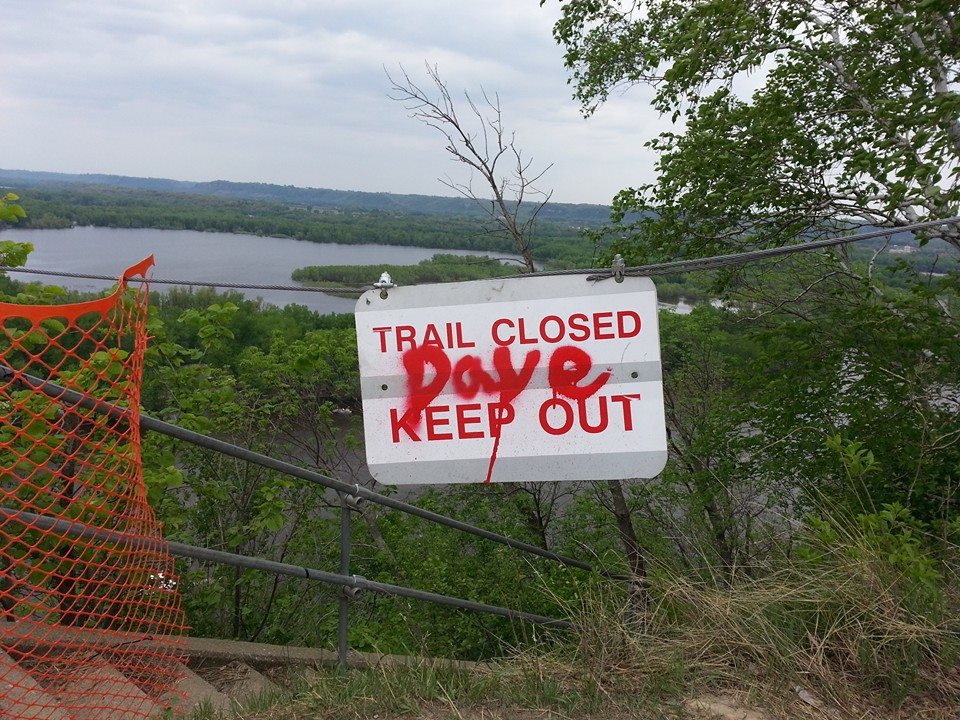 The last time we were up on Barn Bluff in Red Wing — last summer — we noticed something fairly disturbing. People were ignoring this sign. They were also ignoring the fencing stretched across the steps that lead to the North Trail on the bluff overlooking the Mississippi River.
The signs of danger aren't hard to miss. But people ignore them and an incident yesterday afternoon is yet another reminder of what can happen.
An Iowa man is the latest to ignore the signs and die, the Rochester Post-Bulletin says.
The incident occurred just before 1 p.m. when officers were called to assist a victim that had become stranded just above the city's wastewater treatment plant while hiking on the North Trail. According to a press release from Jim Eppen, shift captain of the Red Wing Fire Department, that "very dangerous hiking path" has been closed to the public for the past two years due to safety concerns.

Seconds after 12 emergency responders arrived at the scene, the victim "continued to fall until he came to rest on the ground adjacent to the railroad tracks" at the bottom of the bluff. According to the press release, lifesaving efforts began immediately and continued until a Mayo One helicopter arrived at the scene.

The decision to discontinue resuscitation efforts was made at that time "due to the nature of the injuries."
The dead man is the second hiker this month to fall from the closed trail. A woman ignored the signs on April 4.
The Star Tribune says a 54-year-old man from St. Louis fell to his death while jogging on the bluff in 2013 and a 75-year-old woman was killed in 2011 after slipping off the north trail.