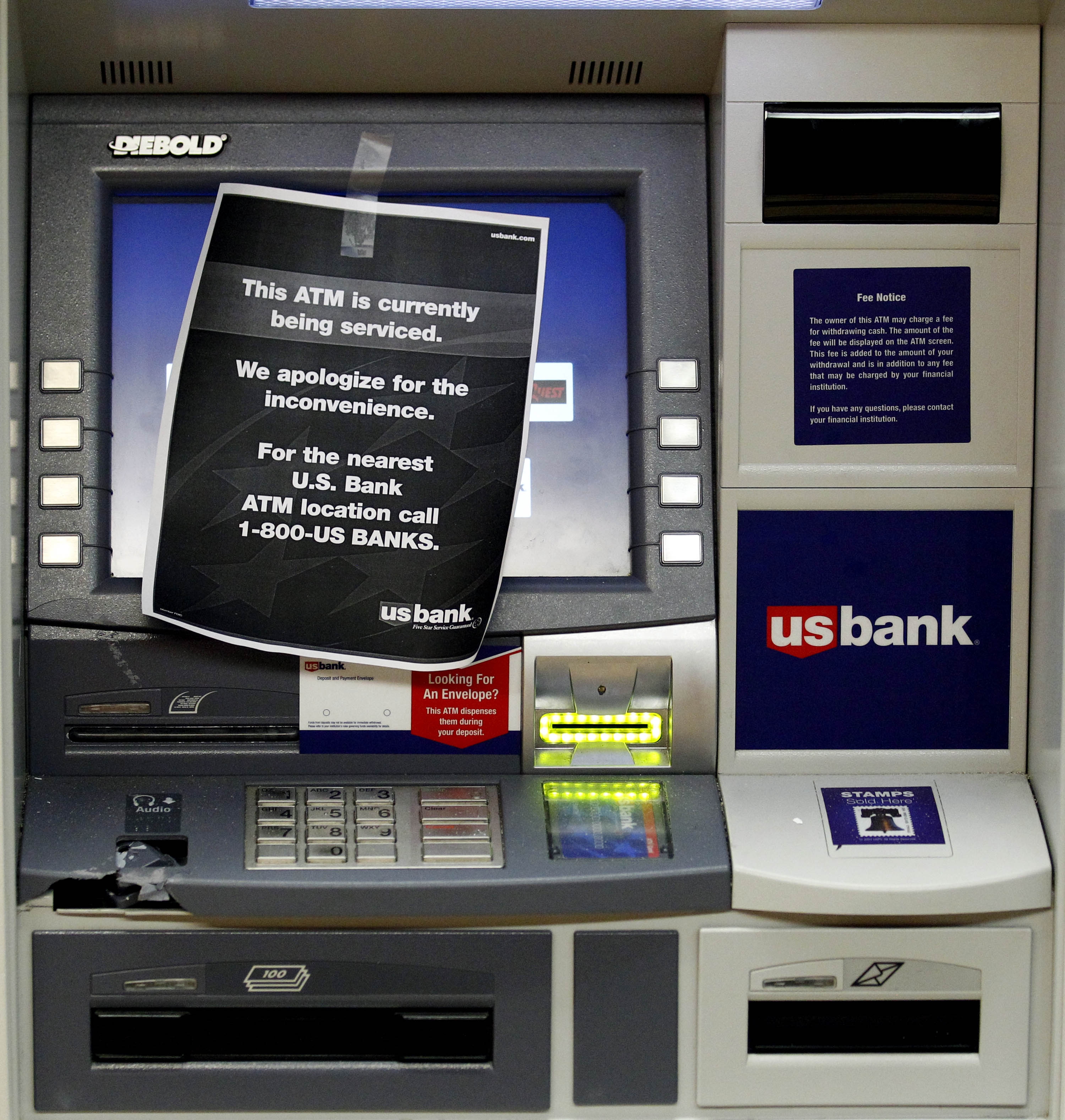 U.S. Bank is losing a fortune giving away cash, Minneapolis/St. Paul Business Journal writes today.
The bank is asking the Metropolitan Airports Commission for a better deal at the airport, where 35 million passengers a year are a "captive audience." And the bank still can't make money charging people for money.
The bank pays the airport $636,000 a year for the right to place ATMs around the property. Half of the $3 transaction fee goes to the airport (Funny, they don't tell you that).
Perhaps U.S. Bank should've known something was up last year when the airports commission put the ATM contract out for bid and the bank was the only one to bid on the deal.
Apparently, there's a cultural change going on. Cash? It's so yesterday. ATM transactions declined 15 percent from 2010 to 2015 and are expected to keep deteriorating by 2 to 5 percent annually.
The Smithsonian, in an essay on the history of the ATM, says banks have seen the end coming for some time.
Basically, people are using cash less and less. Boston-based research firm Aite Group said in 2011 that US use of cash was expected to decline by $200 billion by 2015.

The Federal Reserve's 2013 study of payment methods in America found that on the whole, payments are increasingly card-based, especially debit card. The study also found that the average payment made using a card, whether debit, credit or prepaid, is decreasing, meaning that people are using cards for the kinds of small purchases they once would have used cash to make.

MasterCard estimates that 80 percent of consumer spending in the US is cashless, a figure that came in a press release heralding their claim that a number of nations are moving to a cashless society (and should be taken with a grain of salt, given its source).

Then there's the much-talked-about, almost-cresting mobile payments wave, which allows consumers to use their smartphones to pay for purchases. Venmo, a mobile wallet-cum-social network app that serves up peer-to-peer payments with emoji and millennial élan, is growing dot.com fast: According to Bloomberg Businessweek, it processed $700 million payments in the third quarter of 2014, up $141 million from last year.

Apple's new iPhone 6 comes with Apple Pay, which allows users to use tap existing contactless payment terminals to tap and pay (although, for the moment at least, it seems to be confusing cashiers the world over). The funds come either from the credit card the user's iTunes account is connected to or another that the user wishes, but, crucially, credit card information is not stored on the phone.
The U.S. may not ever be a cashless society, but ATMs provide a service that is increasingly available elsewhere. You can deposit a check by taking a picture of it with your smartphone, for example.
Still, the ATM might have a future, Smithsonian argues. It just needs to do something else.