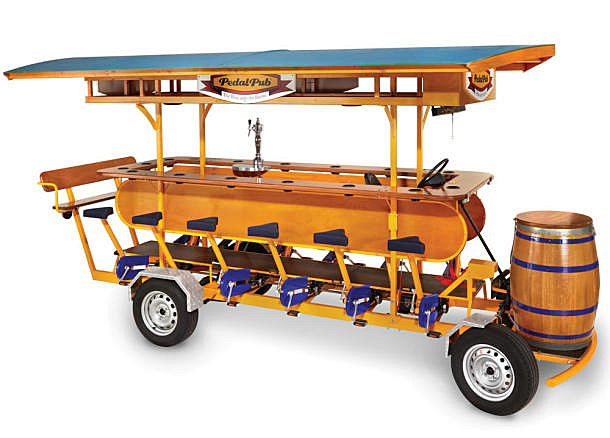 Pedal pub hatred hit its peak earlier this spring when bicycling vigilantes in Minneapolis attacked several of the slow moving, partially alcohol-fueled vehicles with squirt guns and water balloons.
One of those attacks, however, happened to be against a bunch of off-duty cops, who did not see anything fun about being sprayed with water and went after their attackers. No one was injured but five people were charged.
The controversy created a public stir that required anthropologists to plumb the depths of our societal contempt for pedal pubs and those aboard them.
Today, though, comes word that the arrests and charges brought a single misdemeanor conviction. The Star Tribune reports:
John D. Rock Jr., 25, of Shakopee, pleaded guilty Monday to misdemeanor disorderly conduct in connection with the prank. Rock was fined $300, ordered to pay restitution of $395 to the Pedal Pub proprietor and also has a stayed 45-day jail sentence hanging over his head for one year.

Dropped were misdemeanor charges of fifth-degree assault and disorderly conduct involving fighting or brawling.

"It was a dumb mistake intended for fun, and the rest of the world thought otherwise," Rock said Wednesday.
There's a valuable lesson here, but I can't quite find it. Let's set aside our pedal pub hatred and move on.