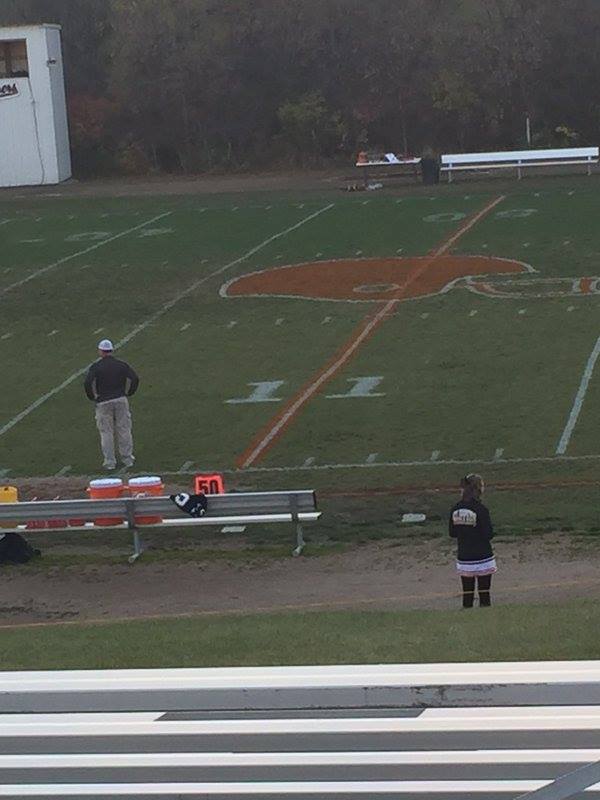 Thanks to John Millea at the Minnesota State High School League, we know a little more about the person responsible for stenciling a large #11 on the field at Cleveland High School last Saturday for its winner-goes-to-state game against Renville West.
The number honored Brandon Limones, a Renville West player who died in March.
Millea writes that Cleveland activities director Rich Kern saw his column about the burden carried this year by his team's opponent and came up with the idea.
So you think to yourself, 'How can we as a school show our support to the visiting team, that we care about their team and school?' Yes, we have a championship game to be played and competition between each other, but there is more to the game than just the score."

As Rich was painting the field lines, hash marks, the orange Clippers helmet at midfield and then the numbers on the yard lines, it came to him. He realized, "We can show our Cleveland Clippers support on the field before the game even starts by painting Brandon's number 11 in the center of the field."

"I just wanted the players to feel that they are not alone and that during that game he would be right there on the field with them, on the field and in their hearts," Rich said.
Renville West's coaches saw the tribute before the game, but didn't tell their players.
"I just let them see it," coach Ryan Hebrink told Millea. "I think in general, like everybody, they were so impressed that anybody would think about doing that. And when you think about the type of person that Brandon was, it means even more. He really left an impact on a lot of people, even people who didn't even know him."