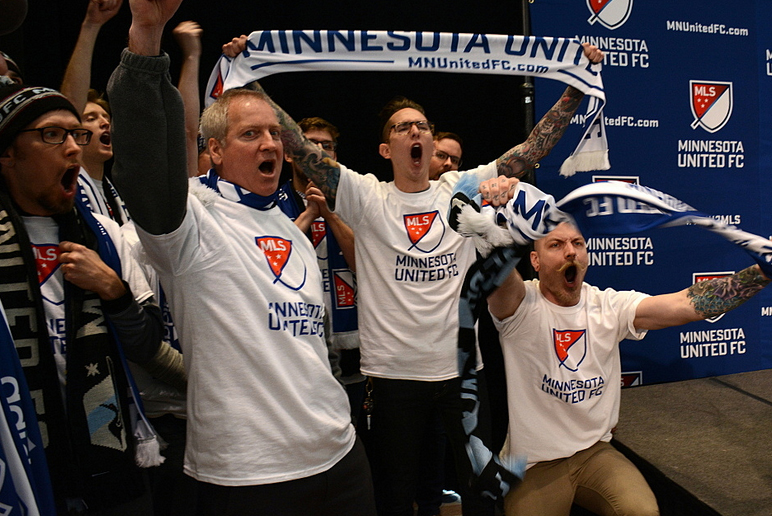 There may be a very good reason to build a soccer stadium in St. Paul using taxpayer funds in some capacity. There may be a very good reason to build a soccer stadium in Minneapolis using taxpayer funds in some capacity.
But the secrecy with which Minnesota United has wandered the landscape looking for a soccer friend has been troubling right from the start. Now, the people in charge of the taxpayer-portion of a deal are climbing into bed and pulling the covers, MPR's Curtis Gilbert reports today.
This week, he reports, the city of St. Paul, St. Paul Port Authority, and the Metropolitan Council will each vote on an agreement designed to shield negotiations from open records laws.
They are allegedly worried that trade secrets, real estate appraisals and applications for "public financial assistance" will be revealed.
Trade secrets? Understandable. Real estate appraisals? Fair enough. Applications for public financial assistance? Well, hold on just a second. The people being shut out have a dog in that fight.
The push for more secrecy isn't that surprising. The participants telegraphed that earlier this year. And there wasn't much pushback.
The city of St. Paul and Ramsey County have passed resolutions supporting a tax break, although neither city council members nor county commissioners publicly discussed the dollar value of the exemption or precisely what they were exempting, MPR's Tim Nelson reported last month.
"I thought it was important … that we lay out some more of our collective thinking about what a deal would have to include for us to be supportive of it," Council Member Russ Stark told MPR News, adding some of his constituents worry that the proposal is moving forward too quickly.
What about too quietly?
MinnPost reported last week that the once-private stadium would be owned by the city under the current deal. No part of the article mentioned a dollar figure for any part of the project. How could it?
"This is as far from transparency as one could get, and it's all based on a bunch a legal gobbledygook," Don Gemberling, an expert on the state's data practices law added. "Members of the City Council and the Metropolitan Council ought to be saying, 'what are we doing here?'"
There's a fair chance — given the history of sports franchises in America — that they know what they're doing there. They're trying to cut a deal for public assistance for a private sports facility knowing that sports stadiums have become a political third rail. There are only two ways around that: Don't use taxpayer money for wealthy sports teams owners — the soccer team project is being spearheaded by some of the richest men in Minnesota — or keep things secret.
There's plenty of reason for concern. McGuire may pay up to $100 million for the MLS franchise and indicated he can't make money without taxpayer involvement.
MLS' and the United's strategy so far is to point at public deals for the Vikings, Twins, and Timberwolves and say, "where's ours?"
Neil deMause, at Field of Schemes, isn't buying it and has challenged McGuire to prove his claim by opening the books and presenting a plan.
He and MLS may do that if the cone of silence is dropped surrounding this deal. We just won't be able to see them.
Update 2:52 p.m. 10/14/15 – St. Paul backs off on secrecy for soccer stadium talks (MPR)