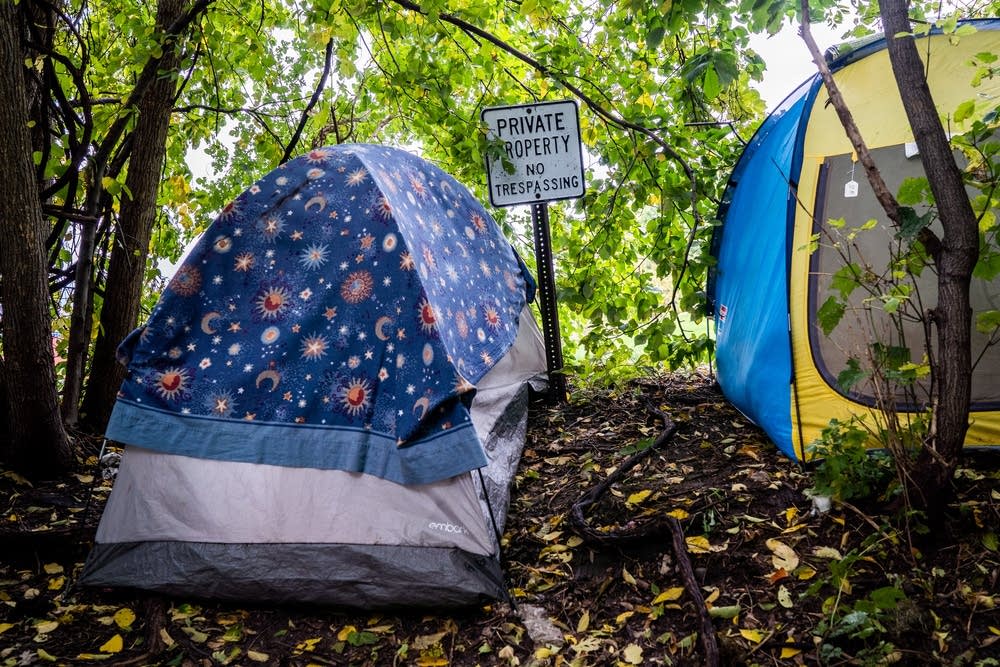 The homeless camp in Minneapolis has been getting the attention, but the one in St. Paul is going to be, perhaps, more indicative of what happens when authority meets the homeless around here.
St. Paul officials had previously suggested there won't be forced evictions of the camp at the base of Cathedral Hill. Now it appears there are going to be forced evictions, courtesy of the Minnesota Department of Transportation.
"I don't know either what the long-term answer to this is," Kevin Gutknecht, the MnDOT spokesperson tells the Pioneer Press. "But we do believe that if we allow those folks to stay there, it's not safe for them. It's weather, it's Minnesota, where were they last year at this time? … It just doesn't seem like it's right for them to stay there."
There have already been three fires at the camp and officials are concerned that whatever is being used to heat the tents in the bitter cold of November will spark new blazes.
So the homeless have to go … where, exactly?
"The shelters are full. Their choices are either the (Metro Transit) trains or somewhere else outside. Should they just go to another neighborhood? Which one?" Monica Nilsson, a former chair of the Minnesota Coalition for the Homeless, tells the Pioneer Press' Tad Vezner. "I want people to be aware of this shell game with people's lives."
More than likely, another camp will sprout somewhere else in the city. There are dozens scattered throughout the metro.
"The encampment did bring some visibility to the general public," Ramsey County Board Chair Jim McDonough told MPR's Austen Macalus last month. "Certainly, it's not always acknowledged or recognized or even understood how large our homeless population is."
The shelters are all full in St. Paul. And in some cases, even if homeless people can get into a shelter, they're separated from partners of the opposite sex, and they can't bring their belongings inside.
The cops will move in to clear the camp on Thursday morning. The problem of homelessness will move somewhere else.
Related: Jerome Christenson: No more Zero Heroes (Winona Daily News)