We suspect there is no greater challenge of "toughness" in Minnesota than the race that's underway in northern Minnesota at this hour.
The Arrowhead 135 challenges its participants to either run, ski, or bike from International Falls to Fortune Bay, against a nature that would kill lesser people, although no one has ever died in the 12-year history of the race.
It started yesterday morning.
"The one thing you cannot do is sweat," he said. "If you get sweaty, your race is over, or worse yet, you're dead," Scott Kummer of Chicago says. He's running while pulling a sled and not sweating.
He's also carrying a picture of a friend who died from ALS in November.
"I love the idea of being alone on a snow-covered trail, with no one to save me, having to push through the night," he tells DNAinfo. "While in the moment it has a certain 'suck' factor, when it is over, and you look back at what you did, there is a certain elation in knowing that you went to the depths of your capacity and pulled through. I love the challenge."
Our favorite every year is Christopher Tassava of Northfield, who bikes his way through the race. He checked in at checkpoint three this morning on Facebook, where he has a big cheering section.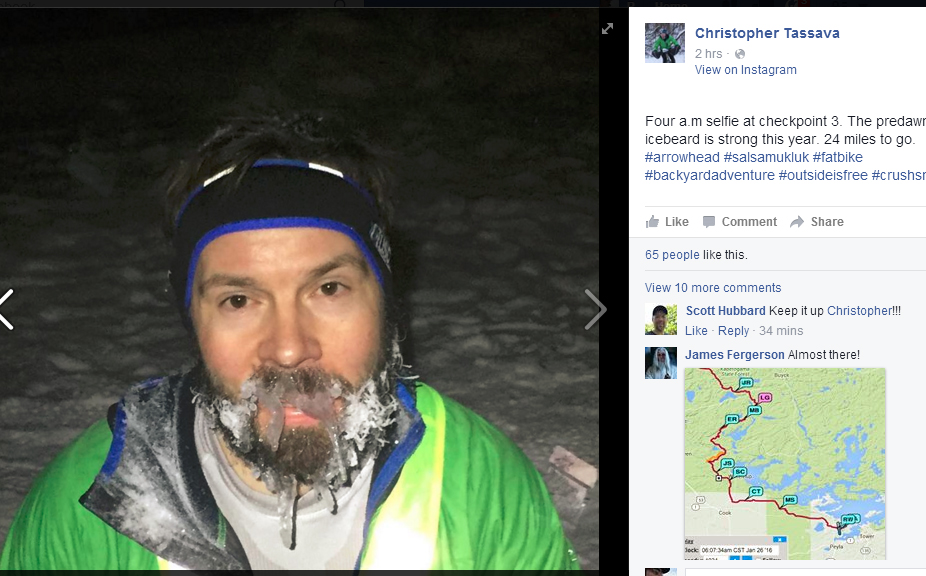 He said the conditions are "tropical" in the "nation's icebox." It's 21 this morning.
Tassava's annual story of riding the race is must reading. Here's last year's.
Apparently the whole beard thing is of some debate.
"There is a reason most big mountain climbers and polar guys don't let the facial hair get out of hand," John Storkamp, who's won the race three times, tells Gear Junkie. "It accumulates ice and can cause problems like frostbite."
Mike Brumbaugh of Minnesota set a new record in the race this morning, finishing in 22 hours. Runners are still on the course. At last check it is being led by Jim Reed of Duluth. Jay Petervary of Idaho, who won the race in its Polar Vortex year in 2014, crossed the finish line first in the cycling competition just before midnight.
[Update] – Tassava's thoughts after finishing this year's race