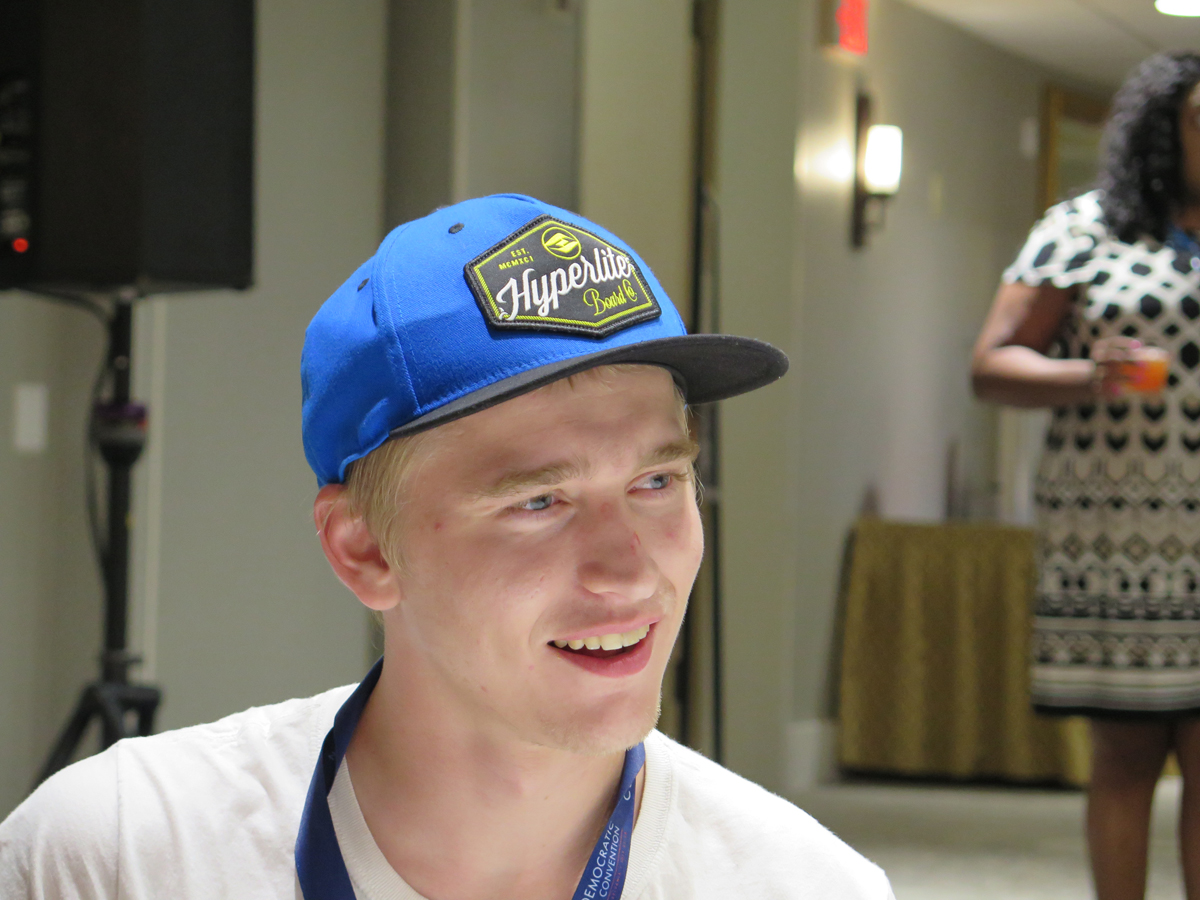 America, you've just got to pull it together.
In a campaign season that's been an embarrassing portrayal of we the people from start to finish, what Sean Kehren said in answer to a question from MPR's Mark Zdechlik in Philadelphia today is a jaw dropper, even by the standards of politics in 2016.
"What is your name and where are you from?" Zdechlik asked, a typical question when starting up the tape recorder to record an interview.
"My name is Sean Kehren," he said, "and I'm not going to tell you where I live."
Why not?
Kehren said it was for the safety of his mother, with whom he lives since he graduated from Gustavus Adolphus College in St. Peter in May.
"There's been a lot of hate directed at me," said Kehren, whose heroic record in Minnesota we introduced you to yesterday.
Because of this:
We are all Crying Boy Robin Hood pic.twitter.com/2vE0buAfy2

— Andrew Couts (@AndrewCouts) July 26, 2016
Zdechlik, who covers serious news and issues, admitted he hadn't followed the sudden fame from the memes created online.
Kehren, 22, has had a little more time to digest how he's been portrayed and while he dismissed it yesterday, today he's a little more unnerved by the pitchforks of today's political character assassinations, particularly the meme that suggested he was crying for lost white privilege.
"I am white privileged," he said. "I'm male. I'm white. I have blonde hair and blue eyes. So I gain privilege from that. But there have been a lot of memes that have made fun of me for being a white elitist, saying that me crying was a result of me not being able to find my privilege and things like that."
"There are a couple of media outlets who have stood up for me — MPR and a couple of other media outlets who have stood up for me and said, 'I'm not that Bernie bro who's just trying to separate the party.'"
Kehren's experience is shared by thousands of people every day in the world of social media that cannot draw the distinction between what it thinks it knows, and what it actually knows. That the dynamic of willful ignorance has so shaped political discourse this year should be enough to bring tears to everyone's eyes.

Listen to Kehren talk about the meaning of watching a woman being nominated for president, and maybe his tears and his concern for the safety of his mother will be a little more clear. And the memes about white privilege will be condemned to the trash of Internet nonsense.
"I don't really have association with my biological father," he told Zdechlik. "My mother is the person who raised me. I've been raised by women. I'm extremely excited that a woman is going to be president because it's going to give hope to my mother. I mean, how many white men have been elected president? Forty-three? The forty-fourth is the one who changed the cycle and the forty-fifth will also be another one to give progressive values, show that someone other than a white, male can be elected president."
Kehren says he tries to mention his mother in every interview he gives. "She's the only reason why I'm out here," he said. This is the second time he's been a Minnesota delegate to a national political convention.
"If you can't show your emotions and if you have to hide them back, then you're not being yourself anyway. We have a hyper-masculine ideal of what it is to be a man and me crying is no different. People can laugh at me and make fun of me and it really doesn't matter to me as long as I felt genuine ideals when I was crying. I'll back that up for the rest of his life."
Sean Kehren doesn't want to tell you where he's from.
What matters is that he's a man who's going places.