[This post has been updated]
It can't be much fun if you're a Delta traveler today. All of Delta's flights were grounded because of computer woes. Even when the systems are restored, the effect will ripple throughout the system for hours, if not days. That's what happens when the airline industry consolidates.
Around Delta's hubs, like Minneapolis, the skies were fairly clear. [Update 8:08 am.: Ground stop lifted. This is going to take awhile.]
Here's what it looked like at 6:45 a.m. today, via FlightRadar24: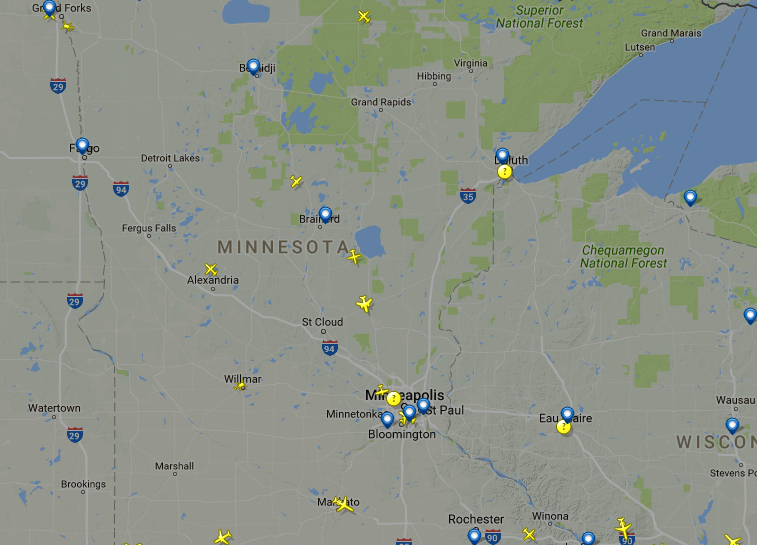 And what it looked like at 6:45 a.m. last Tuesday.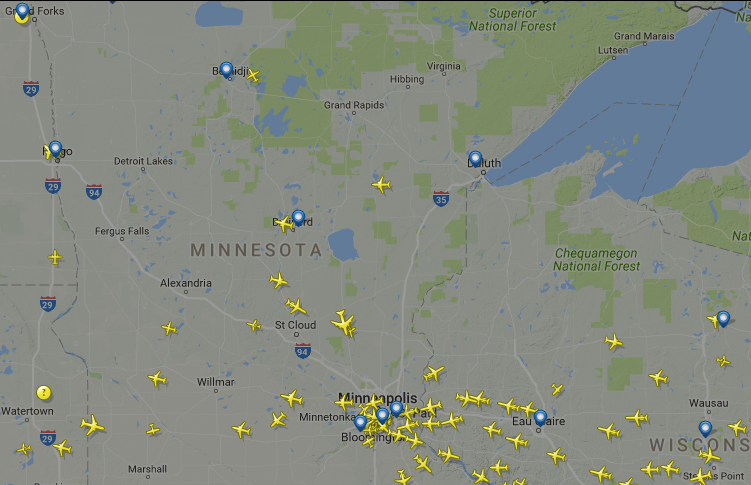 That long line of planes heading for MSP from the southwest southeast is the long line of planes heading out of the airport a few hours later. Today? Not so much. That's how this thing is going to snowball into a bigger mess.
There's a lot of benefit — mostly convenience and options — to being an airline hub town. But not on days like today.
@Delta Did someone check with Johnny? #Delta #stranded pic.twitter.com/IwwVeHyx92

— Matt Mayse (@matthewbmayse) August 8, 2016
The good news is you can play Pokemon Go at the airport.
Long lines at the Delta counter inside @mspairport with a nationwide computer outage affecting outbound flights. pic.twitter.com/USZ3GFwuK4

— Joel Thurston (@joelcam4) August 8, 2016
Panoramic view of the growing lines @delta counters in @mspairport. @myfox9. Computer outage to blame. @MyFOX9 pic.twitter.com/kM3W6Qs1fa

— Greg Kellogg (@Overnights_at_9) August 8, 2016