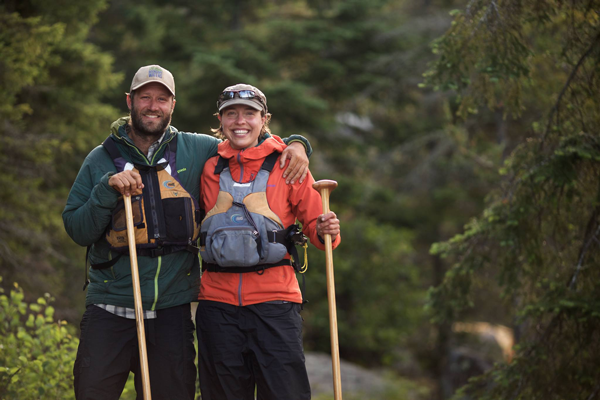 Dave and Amy Freeman tomorrow will hike and paddle out of the Boundary Waters wilderness, emerging into a world that tries its darndest to convince them they should turn around.
They've been living in the wilderness for a year to call attention to the threat posed by the proposed sulfide-ore copper mining on the Wilderness edge.
They were hardly disconnected, however. They posted constant updates to their website, blog, and Instagram accounts to help pressure officials not to renew mining leases.
"It's also worth noting that it's this weird paradox that we're living. We want to encourage people to get out here and unplug, but at the same time we need to communicate with the outside world," Amy tells the website, Outside, in its article today.
"Everything we do is around figuring out how we can share the story, even if that means walking onto Saganaga Lake in a blizzard to set up a satellite terminal to send a daily update, Dave Freeman said in the interview, which was conducted after he hiked to the top of a mountain to get a decent signal out.
He admits that returning to the world will be jarring.
"We've spent months alone on many of our past expeditions, but this year has truly changed us," he said. "Our senses have become heightened in a way we have never experienced. We expect leaving will be similar to returning from war, the international space station, or a year spent with an uncontacted tribe in the Amazon. We exit on a Friday and that Monday we will be in Washington D.C. for the first of many meetings with elected officials and government agencies."
On their last blog post, they said they want to live more simply. It's not a new lesson, they said.
We hope that when we leave the Wilderness we can remember this lesson. We want to surround ourselves with more people we care about and more experiences, remove some of the noise and clutter that can easily create barriers and distractions. It won't be easy, but "easy" and "worth doing it" often don't go together.
(h/t: Jeff Conrod)