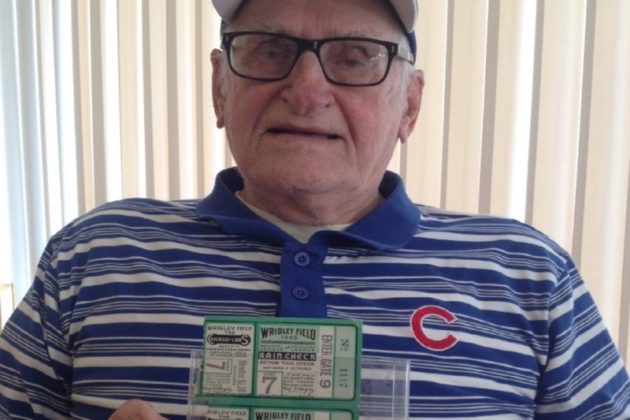 Jim Schlegel, the 97-year-old veteran of Pearl Harbor whose daughter wanted him to see one more Chicago Cubs World Series game, is going to see one more Chicago Cubs World Series game.
With ticket prices in the tens of thousands on the secondary market, Helen Schlegel turned to a GoFundMe page earlier this week to raise the cash to buy the tickets for her dad, who was at the sixth and seven games of the World Series the last time the Cubs lost one.
She needn't have bothered because social media is free and there's always someone out there willing to be nice to an old vet
Like Marcus Lemonis, the star of a CNBC reality show on small business.
I found the person I want to take to the game but I need help finding him @fox32news @Cubs @chicagotribune https://t.co/aZVNWLPkKR

— Marcus Lemonis (@marcuslemonis) October 25, 2016
On Friday night, Schlegel will be using Lemonis' front-row tickets. No charge.
Thank you again! @marcuslemonis @Hugsandxoxo4u2 pic.twitter.com/ytgOXBeR9S

— Helen Schlegel (@BoogBoog88) October 25, 2016
He's taking his son to the game.
But what about the $12,000 Schlegel raised to get her dad to the game?
It's going to charity.
"The Purple Heart Foundation celebrates our heroes by helping them access benefits and help they need and are more than worthy of," she writes. "It would mean a lot to my Grandpa and I for us to band together to make this campaign a success for more veterans in his honor."
(h/t: Matthew Schneider)