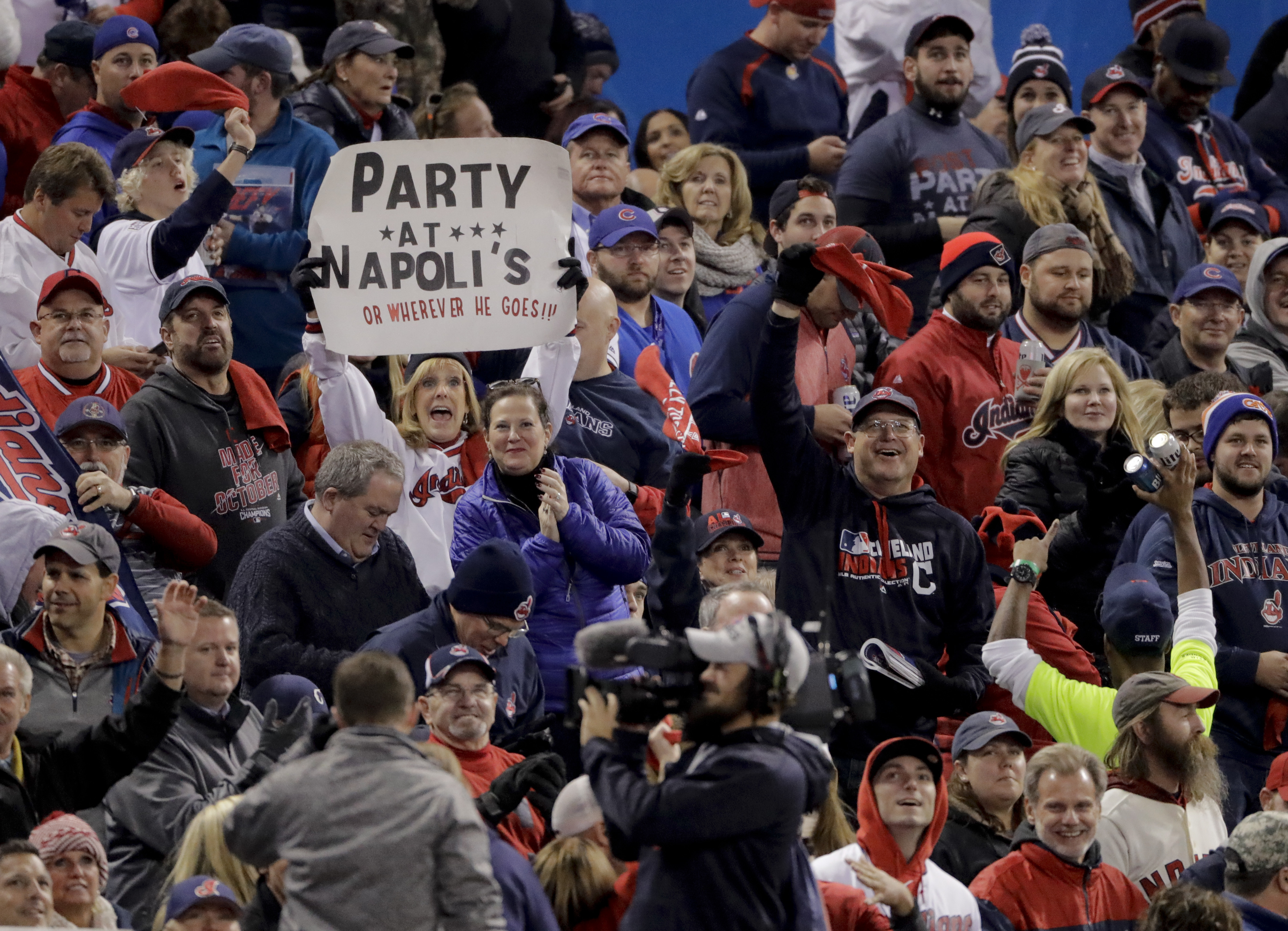 Public radio program directors and news directors are ready for you if you try to argue that public radio newsrooms should extensively cover sports. They've got research — lots of research — showing that the public radio audience, being all educated and everything, doesn't care for sports.
Spend 10 minutes listening to the "bro talk" of local all-sports radio stations in the Twin Cities, and it's hard to argue that there's anything to be gained by polluting the airwaves at the low end of the FM dial with more talk about sports. The research ain't lying.
Where it becomes a challenge for reporters, though, is when there are big sports events that even the research says public radio can't ignore. The World Series, for example.
When reporters parachute in to provide sports coverage to an audience which hates sports, you get the kind of story NPR provided today ("Hey, Indians Fans – Where Was The Love Before The World Series?")in a perceived slight to the fans of the Cleveland Indians.
The premise is based on the fact that 35,225-seat Progressive Field, home of the Indians, was sold out for the last two nights for games one and two of the World Series.
But the Indians during the regular season averaged only 19,650 fans per game for a team that spent much of the season winning baseball games.
Where did these 15,575 "new" fans come from?
NPR's Tom Goldman, who's pretty smart about these things, suggests this obvious and somewhat cliched answer:
The Indians had a great season and won the American League's Central division by a comfortable eight games. But that apparently didn't move people until the playoffs.

So what gives? Are gritty, rust-belt Clevelanders, known for their loyalty and other bedrock Midwestern values, actually flighty, fair-weather baseball fans?
No, they're not and because you're a public radio listener, you've probably already figured out why a full stadium doesn't prove they are.
The hypothesis assumes that the 19,650 fans per game, on average, who showed up during the 81-game schedule, were the same 19,650 fans every game.
The Indians, Crain's Cleveland Business reports, have only 8,700 full season ticket seats sold. But that's not 8,700 people interested in going to the game because people who share season tickets or buy only a 40- or 20-game season ticket package are counted as one person. The Indians will say only that "a lot" of their season ticket holders bought only a 20-game package.
Let's say that "a lot" means — and I think conservatively — 30 percent of season ticket holders bought only a 20-game package. And let's assume they all took advantage of the Indians' preferential treatment that allowed them first crack at limited availability of World Series tickets.
So a third of 8,700 seats being 20-game packages means 2,900 seats are shared by 4 people. Given that the Cleveland team's rules allow everyone who buys a season ticket package of any length to buy one ticket to each playoff game, that's 17,700 people at this week's games who didn't just start attending Indians games when the World Series came to town. And in this postseason, the Indians allowed every season ticket holder to buy 8 seats for every postseason game.
That still leaves 11,000 fans per night unaccounted for — the fans who went to games during the season but didn't buy season tickets. Assuming — because I couldn't find research — that the average baseball fan who goes to games, attends an average of four games per year, that's 222,750 people over the course of the season who showed up to "support" their team.
Assuming they wanted to see a World Series game, that's almost a quarter million people — legitimate non-bandwagon fans — who wanted to get into one or both of the last two nights' games.
Keep in mind, too, that Major League Baseball takes plenty of the available seats and gives them to fatcats like advertisers, politicians, and whomever is acting in a new Fox TV series that nobody will watch.
One woman in Cleveland says she called her ex-boyfriend — an umpire — looking for seats. She got them because umpires get extra tickets and so do players.
And all of that is how a team that finishes almost last in attendance in Major League Baseball sells out two World Series games without needing "flighty, fair-weather baseball fans" to do it.
This math, by the way, will work just fine a few years from now when Target Field is full for a Twins playoff game.
The question that Goldman should have explored — and one he couldn't because the public radio audience doesn't care (the research says so!) — is why a winning team can't get more fans to its regular season games? Not that Goldman didn't try. Sort of.
Another theory – the Cleveland Cavaliers won the 2016 NBA title in June of this year and left the city's sports fans sated.

"I think there was somewhat of a playoff hangover from the Cavs," said Steve Mansbery. He was born and raised in Cleveland. "I think the city was probably a little bit, maybe financially exhausted from being involved in committing their entertainment dollars to that team."

Mansbery continued, "I think the other thing is it's a long season for baseball, and I don't know if Indians fever caught on until after that playoff hangover left them."
That's not it.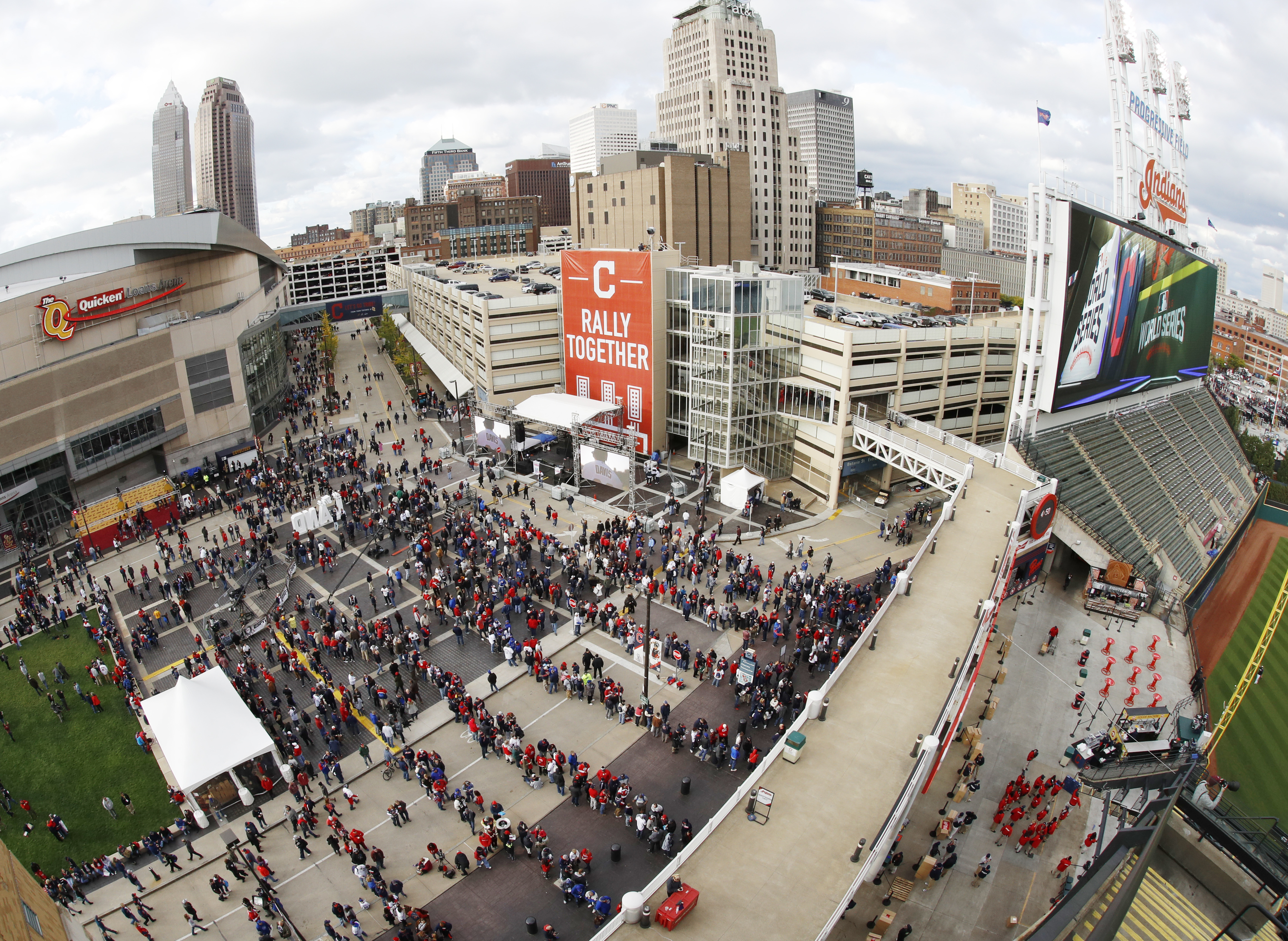 The reason Indians fans don't show up for games is because there aren't that many of them left, and it's a cautionary tale for fans of the Minnesota Twins, whose new head of baseball operations is coming from the front office of the team in Cleveland.
After dominating the American League in the '90s, the Indians were sold to a new ownership group that didn't spend the money to keep putting a winning team on the field. Stars like Jim Thome, C.C. Sabathia, Manny Ramirez and Bartolo Colon were traded or left via free agency and the Indians adopted a new strategy: Keep the payroll low, sign cheaper near-over-the-hill free agents and, maybe, get lucky. And pocket the cash.
It didn't work, despite the occasional fluke season in which the team got lucky enough to get into the playoffs, but clearly was not good enough for what Cleveland fans craved: a championship.
All but the most die-hard fans found other things to do. And this is where the real story is.
Historically, baseball owners have treated fans like sheep, knowing that no matter what they say, as soon as a team starts winning, they'd be back. So there was no reason to respond to the fans' demands for ownership to spend the money to field a better team.
Far from being "flighty, fair-weather baseball fans," Cleveland's fans aren't sheep and they know when a team is running a con.
In research for the Society of American Baseball Research in 2014, Ben Langhorst found that Cubs fans — no surprise — are the most steadfastly loyal.
But many teams' fans no longer respond to winning by going to games.
For example, the fans of the New York Mets, Atlanta Braves and Seattle Mariners all appear to respond strongly to changes in team performance, team payroll, and individual performance.

Management of these organizations can make investments in these aspects of their team knowing that their fans will be more responsive to those investments than the average MLB fan base.

Conversely, the fans of the Milwaukee Brewers appear to respond weakly to changes in team performance, team payroll, and individual performance. Management in Milwaukee should be less inclined to invest in these areas, knowing that their fans are less likely to respond to their investments by attending more games.
The lesson for baseball's owners: Sometimes, once you drive fans away, they don't ever come back. But the ones who remain will still fill a stadium during the World Series.
For sure there are problems in Cleveland. And everyone likes to be around a winner. But the last thing the city's beaten-down baseball fans deserve is another out-of-towner telling them they're really not real fans.