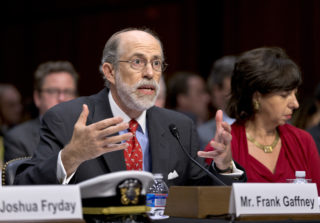 Frank Gaffney is being brought in to advise the Donald Trump transition team, the Wall St. Journal reports. He'll reportedly advise on national security issues.
The Washington Post's Philip Bump reports today on why that's a big deal and indicative of who is going to wield influence in an administration whose plans are still vague.
Gaffney is no fan of Muslims. He's one of the ringleaders of the effort to spread the rumor that Barack Obama was Muslim.
Once Obama was in office, Gaffney was one of the main drivers of the idea that there was a deep-rooted Muslim infiltration of the government and that Muslims wanted to create an alternative system of law in the United States. Gaffney opposed the "Ground Zero mosque," a proposed Muslim center that was to be built near Ground Zero in Manhattan. After he opposed a Muslim community center in Tennessee, the largest paper in that state included Gaffney in a report linking anti-Muslim rhetoric to big paychecks.

His insistence that a group called the Muslim Brotherhood had worked its way into the American political sphere (including in the person of top Hillary Clinton aide Huma Abedin) eventually meant accusing prominent conservative Grover Norquist of ties to Islamic infiltrators. Gaffney wrote an entire book — published by the Center for Security Policy — accusing Norquist of links to that group and others, which in 2011 ended up getting Gaffney banned from the high-profile annual Conservative Political Action Conference.
Bump didn't include one other target of Gaffney's insistence that Muslims have "infiltrated" the government: Minnesota congressman Keith Ellison, the first Muslim member of Congress. Gaffney's writing was Michele Bachmann's source for her own attacks on Muslims serving in government positions, pitting her in a feud with Ellison over the issue.
Gaffney opposed Ellison and another Muslim member of Congress holding seats on the House Intelligence Committee, claiming they would pass the nation's secrets to the Muslim Brotherhood.
This week, Gaffney targeted Ellison again after the Minneapolis DFLer announced he would run for chairman of the party.
One would think that the last thing Democrats want to publicize after after their wholesale repudiation by American voters is their party's ties to radical leftists and Islamic supremacists.

Yet, that will be the predictable effect of the expected announcement today by Rep. Keith Ellison of his candidacy to lead the Democratic National Committee. As a new film entitled "The Enemies Within" makes clear, Ellison has longstanding ties to communists and others on the hard Left. He is also allied with Muslim Brotherhood front groups and dissembles about their influence inside the U.S. government, even as he promotes it.

Keith Ellison is the poster child of the "Red-Green axis." Should Democrats select him as their leader, they will not only be further alienating the electorate from their party. They will underscore why it cannot be trusted to shape our nation's future.
Gaffney's views have found favor in darker corners of the Internet, but their amplification to a larger audience has mostly been provided by Breitbart News. The head of that organization, Steve Bannon, was appointed by Trump to be the chief White House strategist.
Related: How a series of fringe anti-Muslim conspiracy theories went mainstream — via Donald Trump (Washington Post)
A transition that is more than anyone bargained for (CNBC)
Amid hate crimes after Trump's election, Muslims remain resilient (NPR)