It was dueling walkouts at a meeting of the Capitol Preservation Committee today when Republicans and DFLers fought the battle of the Governor's Reception Room paintings.
This one has been brewing ever since the renovation of the Capitol started, which gave authorities a chance to take another look at the artwork on the walls.
In particular, the governor's reception room contained several paintings now considered offensive.
Like this one, for example. Father Hennepin blessing the land which would become Minneapolis.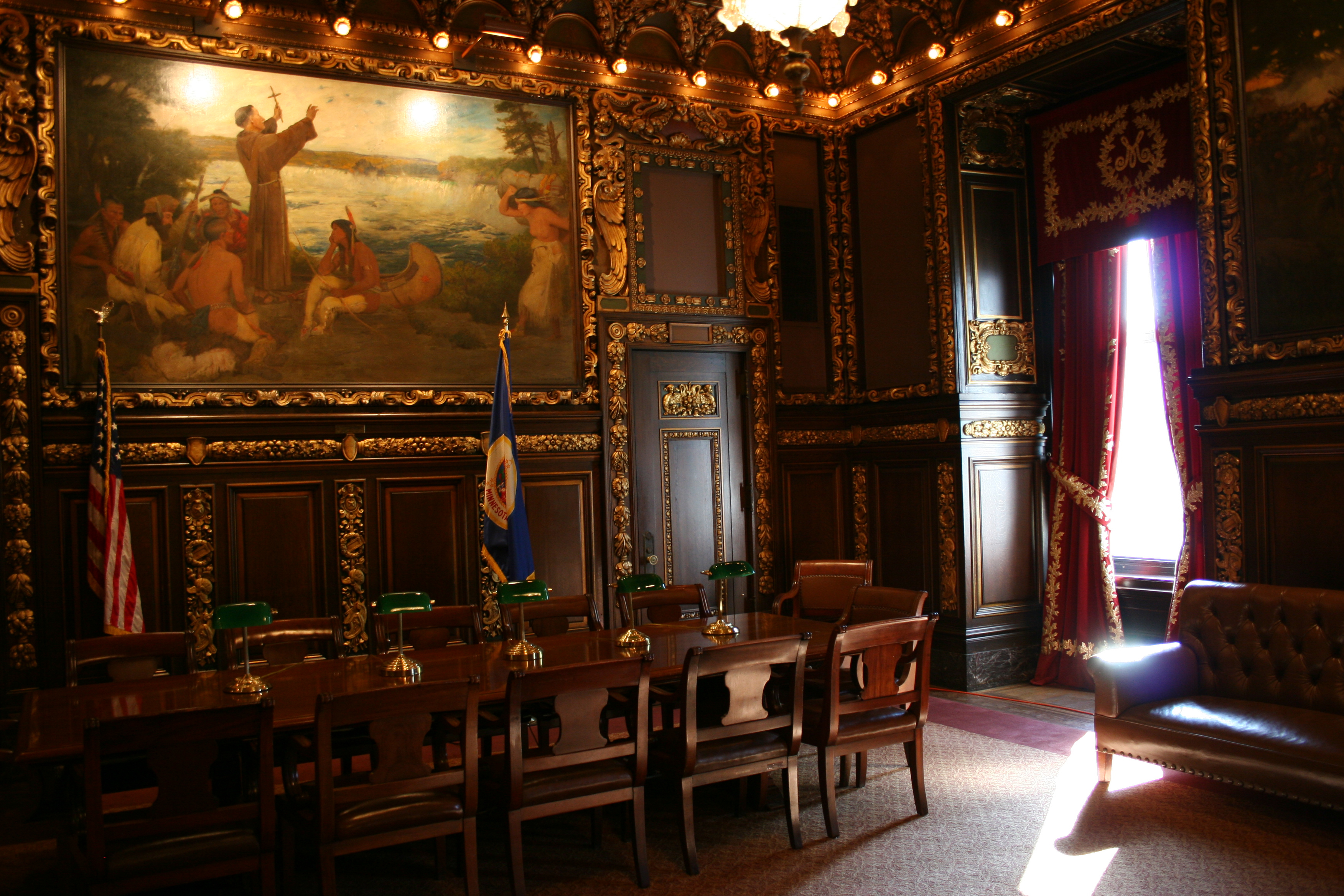 Or this one: "The Treaty of Traverse des Sioux." That "treaty" transferred ownership of southern and western Minnesota to the government. The Dakota believed if they didn't sell the land, the government would merely take it. Another treaty signed at the same time fraudulently routed some of the money to fur traders instead.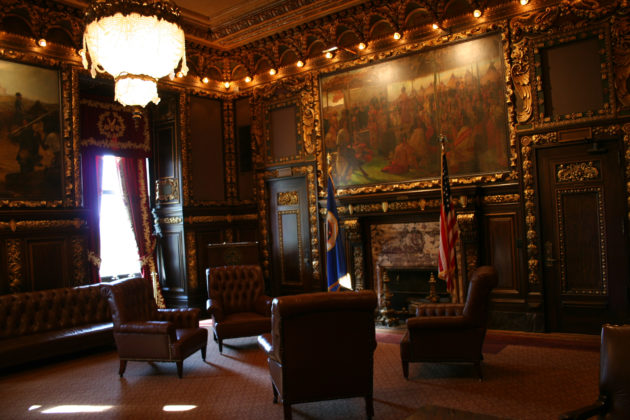 Those are, as they say, history. The Capitol Area Architectural and Planning Board voted to return those to the Minnesota Historical Society.
But there are several other Civil War photographs for which Republicans have vowed to make a stand. When the Board voted to remove those — possibly to another location in the Capitol — they became a political football.
Howard Pyle could not possibly have dreamed when painting "The Battle of Nashville" (where 87 Minnesotans died) in 1907 that almost 110 years later, it would pit political brother against political brother.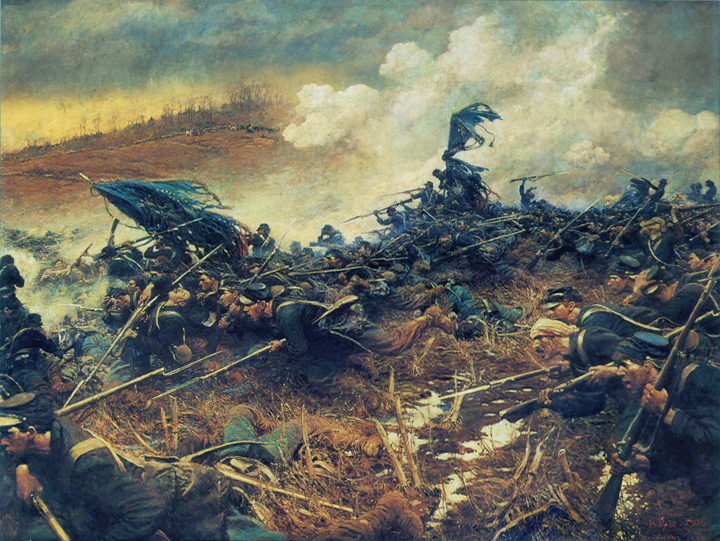 At a contentious hearing today, Gov. Mark Dayton walked out of a meeting of the Capitol Preservation Commission over a letter from Rep. Matt Dean.
News flash: Gov Dayton walks out of Capitol Preservation Comm in protest after accusing Rep Matt Dean of politicizing Capitol art pic.twitter.com/rSluZKHL2L

— John Croman (@JohnCroman) November 29, 2016
"The paintings were commissioned by the Capitol's architect, Cass Gilbert, for that room, and specifically the Civil War paintings memorialized the contributions of the soldiers and also the people of Minnesota at that time who built the building in their memory. We need to honor that and keep that part of our history with the restoration," Dean said in his letter.
The paintings could be moved somewhere else in the Capitol, but those are fighting words to Civil War historians and some legislators.
As the meeting continued today, House Speaker Kurt Daudt walked out too, after declaring it would be a "tragedy" to remove the paintings.
Now Speaker Daudt has left his post on Capitol Preservation Commission for his alternate Rep Dean to take his place #tptAlmanac @tpt pic.twitter.com/pG7gatdTTj

— Mary Lahammer (@mlahammer) November 29, 2016
Later, the commission voted to keep the Civil War paintings where they are.
Gov Dayton says he doesn't mind Civil War art in reception room but was concerned with balance of art.

— Tim Pugmire (@timpugmire) November 29, 2016
Dayton says he won't ask MN Historical Society to overrule commission position.

— Tim Pugmire (@timpugmire) November 29, 2016
All of this brings up the question: What exactly is our history, anyway?
If we don't show portraits of Native Americans giving away their territory, or brave Minnesotans fighting at Gettysburg, what's the alternative? What other of this state's history is worth displaying in such a public room? If Cass Gilbert, who designed the Capitol, dictated the artwork, are we forever bound by it? If not, are we still preserving the building?
Related: Minnesota State Capitol: Overview of the Fine Art (Minnesota Historical Society)